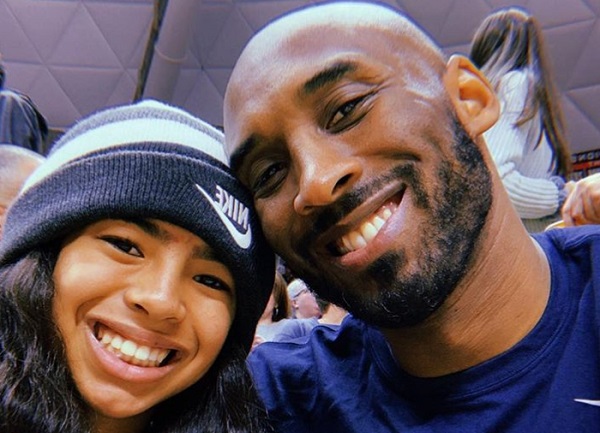 Hello World,
I cannot pretend that I'm a huge sports fan, but I cannot imagine that anyone who lives in the United States doesn't know Kobe Bryant. I'm still in shock after learning about his death at a mere 41, the death of his 13-year-old lookalike daughter Gianna (known as Gigi) and the death of the other passengers on that tragic helicopter crash on Sunday. I was encouraged when I read this article about his faith in Catholic Courier. See an excerpt below…
As the world mourned the loss of basketball great Kobe Bryant, his 13-year-old daughter Gianna and seven others killed in a tragic helicopter crash Jan. 26, many recalled how Bryant gave much credit to his Catholic faith for seeing him through the bad times and strengthening his marriage and family.

A shooting guard, Bryant was drafted into the NBA at age 17 and played his entire 20-season career with the Los Angeles Lakers. He entered the NBA directly from high school and won five NBA championships. He retired at the end of the 2015-2016 season.

News of Bryant's death quickly prompted tributes on social media. On Twitter, Archbishop Jose H. Gomez of Los Angeles said "he was sad to hear the news" and offered prayers for him and his family.

See the rest of the article HERE.
Also, Kobe and his daughter went to church that morning before they boarded the helicopter. See an excerpt of a Daily Mail article below…
Kobe Bryant and daughter Gigi prayed together at Catholic mass at their local church hours before they both died in the tragic helicopter crash, DailyMail.com can reveal.

The basketball legend and 13-year-old Gigi went to the 7am service at the Our Lady Queen of Angels in Newport Beach. They both received Communion.

The father and daughter left the church and soon afterwards boarded the S-76 Sikorsky helicopter piloted by Ara Zobyan which was taking them to the Mamba Academy in Thousand Oaks for Gigi's basketball practice.

See the rest of the article HERE.
Saints, let's pray for all of those who loved all nine of the people who lost their lives in that deadly helicopter crash on Sunday. This is a sobering reminder that our lives and time are utterly in the hands of God. I pray that we use our lives and time wisely and to His glory…
Any thoughts?
Comments
comments