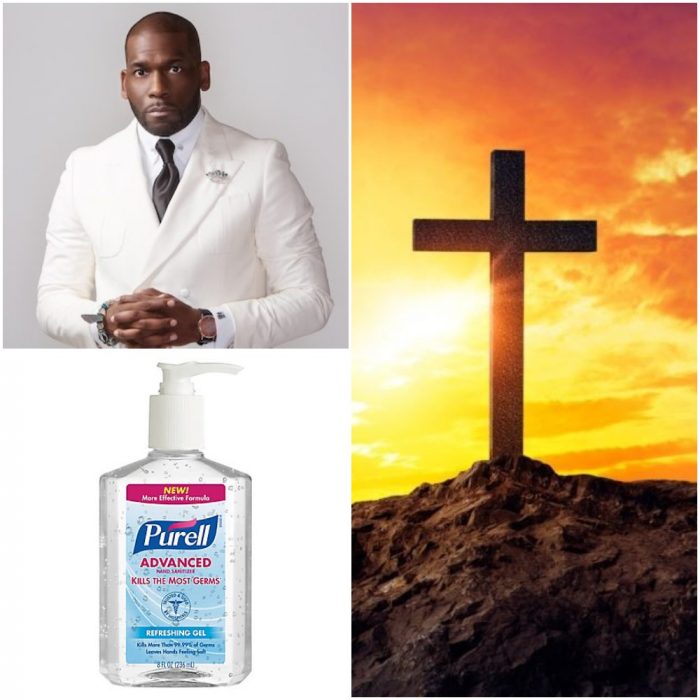 Hello World,
I was already a bit of a germaphobe anyway, but I felt kind of bad about the fact that I generally don't like to touch people's hands unless I know them like that. But now, I don't care if we're in church, I'm waving "Hey" from a safe distance and blowing air-kisses. And on top of that, I'm putting on hand sanitizer like it's lotion.  Finally, if you look like you may be sick with anything, I'm giving you the screw face and heading in the opposite direction. Don't judge me unless you're Jesus. This  coronavirus is something serious – so serious that President Trump jammed up already heavy traffic on a Friday afternoon no less here in the A to meet with Centers of Disease Control (CDC) officials to discuss the outbreak.
And likewise, churches, one of the many places where large numbers of people gather on a regular basis, are responding as they should. According to The Christian Post, local pastor Jamal Bryant of New Birth Missionary Baptist Church recently met with his church about how they are responding to the issue.
"You'll notice that we have, proactively here at your church, as of Sunday we now have at every exit, every entrance, we now have hand sanitizing stations because we want to be mindful and we want to be proactive," he said.

The megachurch pastor also urged his church to start checking more frequently on their older adult family members since they are among the most vulnerable to the coronavirus.

"This is where we have to start functioning and operating as family," he told his church.

Read more HERE. 
Catholic churches in Atlanta are changing the way they conduct communion. According to CBS46, this statement below came from the Archdiocese of Atlanta.
Dear Friends in Christ,

Given the ongoing concern over COVID-19, also known as the Coronavirus, we have decided to suspend distribution of the Precious Blood for the time being. We feel we would eventually have to take this action and hope that taking it early will allay any fears people have now and demonstrate our concern for the health and safety of our congregations.

Individual pastors can decide whether or not to suspend the exchange of peace. Many pastors have already taken these precautions to prevent the spread of flu in their communities.

Read more HERE.
And finally if you want to just stay home and not even go to church, that's an option for some churches…Pastor Andy Stanley, who leads North Point Community Church, Buckhead Church, Browns Bridge Church, Gwinnett Church, Woodstock City Church, and Decatur City Church, disseminated a letter titled "Permission to stay home!" to his members, according to WSB-TV.
"If you've been exposed to a person with the coronavirus or the flu or have recently traveled to a CDC Level 2 or 3 country (China, Iran, Italy, South Korea, Hong Kong, or Japan), please take a couple of Sundays off. If you or your family members are experiencing or have recently experienced symptoms associated with the flu or the common cold (fever, persistent cough, headache, chills, or unexplained rash), we ask that you take a couple of Sundays off as well," Stanley said in his email.

Read more HERE.
And on the other hand, some religious leaders have taken a bizarre approach to the coronavirus issue…Reportedly, former televangelist Jim Bakker is selling a fake coronavirus cure…SMHH (Shake My Holy Head)….From The Huffington Post, check out this headline — "New York AG Warns Televangelist Jim Bakker To Stop Selling Fake Coronavirus Cure." An article excerpt is below.
The New York attorney general's office has ordered disgraced televangelist Jim Bakker to stop misleading consumers about a fake cure for coronavirus.

Lisa Landau, chief of the AG's Health Care Bureau, sent a cease and desist letter to Bakker on Thursday threatening legal action if he fails to stop touting his "Silver Solution" as an effective treatment for the deadly virus. Landau wrote that she was "extremely concerned" about his latest promotion because there is no specific medicine to prevent or treat the novel coronavirus.

"Any representation on the Jim Bakker Show that its Silver Solution products are effective at combatting and/or treating the 2019 novel coronavirus violates New York law," the letter warned.

Read more HERE.
Click HERE for the latest from the CDC about coronavirus here in the United States.
How do you feel about these churches' responses to coronavirus? (I'm not even getting into what Jim Bakker is doing…Wow…)  How are you changing your behavior? (This is some Walking Dead stuff, right?)
Any thoughts?
Comments
comments