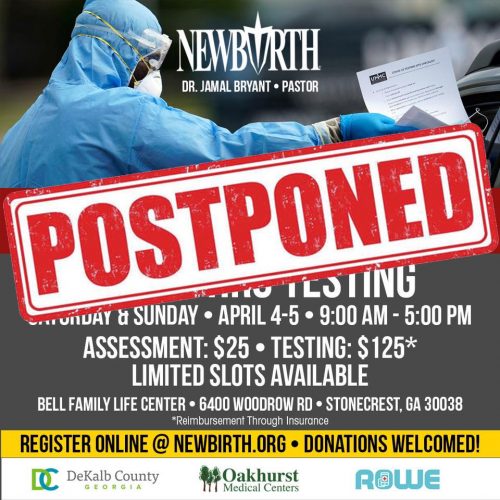 Hello World,
In this Coronavirus Crisis, we are learning to be flexible, if anything, particularly when it comes to previously scheduled events. According to the AJC, "the Stonecrest megachurch said New Birth Missionary Baptist Church and Texas-based RoweDocs  planned to provide drive-thru coronavirus testing for 1,000 people this weekend on the church's Stonecrest campus. The testing was planned to be split evenly over Saturday and Sunday and those tested should know the results in about 24 hours."
Additionally, according to the AJC, "established in 2014, RoweDocs is African-American owned telemedicine company. Bryant  said there are so many people of color  living on the margins without adequate access to health services or little or no health issues, that this was the right thing to do."
However, if you live in Georgia, you know that Gov. Brian Kemp recently issued an executive order for the state to shelter in place and so Pastor Jamal Bryant and New Birth Missionary Baptist Church have had a change of plans, according to its Facebook page. See the announcement below.
I applaud the church's effort though. Y'all, we gotta keep praying that this Coronavirus Crisis will come to an end and soon…Have mercy on us Lord…
Any thought?
Comments
comments