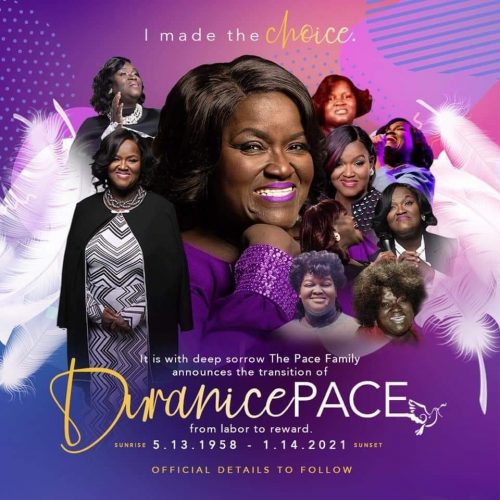 Hello World,
The voices of the Anointed Pace Sisters are known throughout the country if not the world, but unfortunately for us one of those voices will be singing with God's heavenly choir. As the group is based in Atlanta, local news station 11Alive featured memories of Duranice Pace. See below…
Legendary Atlanta gospel singing sensation and evangelist

Duranice Pace has passed away

at the age of 62 years old. Over the years, 11Alive has followed Pace's journey as her powerful gift of singing touched lives all over the world. She was a proud member of the legendary gospel group 'The Anointed Pace Sisters,' alongside her siblings.

11Alive spoke with one of her sisters and her son to capture how they would like her to be remembered.

"Whether you knew my mom 30 years or 30 minutes, you know you felt the love of God through her," her son, Demarcus Love, said.

Love said he's thankful for the time he had with his mother.

"The love Mom gave, she gave to everyone," he said. "Love is and will forever be her legacy."

From the viral moments that gave people hope, to the big stage that energized her spirit, Pace transformed many lives.

"Your gift will make room for you," Love said. "And will bring you before great men and that's exactly what my mom's gift did."

View this post on Instagram

Read the rest of the article HERE.
I went to high school with the youngest Pace sisters Latrice and Lydia so this gospel group has always had a special pace in my heart. My sincere condolences to the friends, family members and loved ones of Duranice Pace. May God comfort them in their grief.
Any thoughts?
Comments
comments