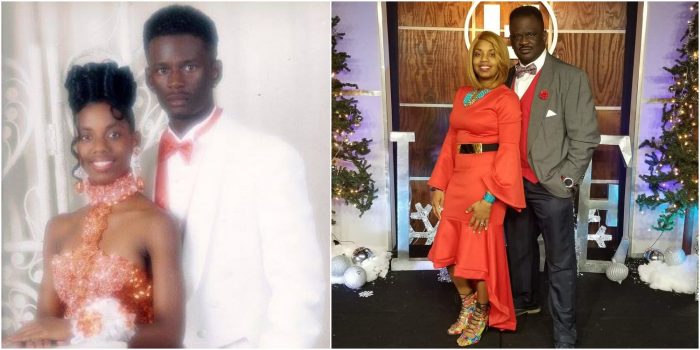 Hello World,
I probably spend way too much time on Facebook, but one of my favorite places on Facebook is The Marriage Club, a group that has amassed 951.7k members! In this group, people post positive, uplifting and heartfelt messages in addition to pictures, videos, etc. about marriage. The Marriage Club was founded by Pastors Mauricio and Kris Sonny, who also founded The Life House Church in Stone Mountain, Georgia. See their biographies below:
Pastor Mauricio Sonny moved to Georgia at the age of 11. He is a product of the Atlanta Public School System, graduating from Crim High School in 1994. He earned a masters of business administration degree in organizational psychology and development in 2008. He has been married 20-plus years to his high school sweetheart and First Lady, Kris Sonny. Although they have three biological children, they also have many spiritual sons and daughters. 
Affectionately know as Lady Kris, a native of California, she moved to Atlanta the same year as Pastor Sonny and even attended the same high school. Pastor Kris Sonny is a woman who loves GOD dearly. She does an amazing job co-pastoring The Life House. Pastor Kris and Pastor Sonny have been together for over 20 years. As high school sweethearts, their relationship has played a major role in where they are today in ministry. Pastor Sonny often attributes who he is  to the support and shared guidance Pastor Kris has given. 
Additionally, the couple are founding members of the groundbreaking Freedom Georgia Initiative in which 19 black families raised $1.7 million to buy 96.71 acres in Wilkinson County, Georgia. Read all about this initiative HERE. 
1.How did the two of you meet?
Pastor Mauricio: We met actually in high school. It was in our 11th grade and 12th grade year. We were both in the band. We just knew each other in passing in the band before then. But in my 12th grade year, her 11th grade year, I made drum major, and she was the majorette captain. This was 1993-1994. I graduated in 1994. I said, 'Hey shawty, what's your name (singing like the rapper T-Pain)?' Actually, we didn't like each other. She had someone else in mind who she wanted to be drum major. And the way the band was positioned at the time, there was the drum major and then there was the majorette captain so she literally stood right behind me. And the majorettes were always giving me trouble so I would make them do run-ups and different exercises like that. But they didn't care because they were in such good shape.

Everybody saw our tension and our problems, and one day, my band director came to me and said, 'I heard that you and my majorette captain are having some problems. I was like, 'Yeah, she never does anything I ask. And they be actin' funny and all kinds of stuff. Yada, yada, yada.' He said, 'That's not good leadership for my two leaders to be fighting all of the time. I heard you blow at her on your way to your house, and you know she stays down the street from you.' I was like, 'Yeah.' He was pretty upset and told me that was unacceptable. So he forced me to start giving her a ride home because she was catching the bus and he didn't think that was safe. He was trying to make us kiss and make up. The first few weeks were pretty rough. And I didn't say anything to her. I would speed all the way to her house, slam my brakes and put her out at the door.
What's your side of the story?
Pastor Kris: So let's back up. Even before he tried out for drum major, he played the saxophone in the band. And one day, I got on the bus. We're talking about a bus with instruments and people. I knocked over his instrument, he said, and he gave me a few choice words! Therefore, he was not my favorite. And I did not like him because of that. So after that, when he became drum major, it was a no for me. (Laughter)
So what happened after that?
Pastor Mauricio: Like I said, the first few weeks, we never spoke a mumbling word to each other. And then one day, we opened up the line of communication, and we started joking and laughing.  And a few weeks in, because this is summer band camp, we started to enjoy each other's company but no one wanted to admit it. So one day, I just broke the ice and said, 'You know what you would probably make a good summer time girlfriend.' She said, 'Oh, I'm just good enough for the summer?' And that's when I knew she wanted me. 27 summers later, she is still kicking it with the same guy!
2. Being a boyfriend and girlfriend is a long way from being a husband and wife, how did you decide that you wanted to get married?
Pastor Mauricio: That's a good question. She was my rock. I could tell her anything. And we were inseparable. We would do crazy stuff, break up and get right back together. High school stuff. But we knew it was love. We got married when we were 18 and 19 years old. I popped the question at Red Lobster.

Pastor Kriss: We thought we were doing something at Red Lobster! I said, 'Yes' and we got married on Valentine's Day 1996. We eloped. We got married at the Ringgold Wedding Chapel in Ringgold, Georgia. My baby planned everything. I think Dolly Parton got married in that little chapel too.
3. You got married at teenagers. Was that difficult?
Pastor Kris: The enemy was against us. On our way home from the chapel, it started snowing and before we could make it back to Atlanta, we got into a car accident. Our car broke down in the middle of 85. It was an attack.

Pastor Mauricio: In the beginning, we spent a lot of time trying to figure out how to be married. And we failed a lot. In the first few years, we had a lot of trials and sometimes we were ready to give up. But God gave us the grace to keep going.  And we had two sons that we had in high school. Our youngest, our daughter, came later in life.

Pastor Kris: I had our daughter when I was 22 years old. Our children were a good anchor for us. We were always determined to be good parents. I really enjoyed raising our kids. I remember being pregnant with my first son, and I knew that I would be a teenage mom. I was crying and I said,' How in the world are we going to take care of this child and our children?' But God made a way. We were never on welfare. There's nothing wrong with that, but we were blessed to be able to take care of our kids. I think our mindset was to stay together and raise our family.

But there was a point where we almost divorced.

Pastor Mauricio: She wanted to leave me.

Pastor Kris: Yeah, I did.

Pastor Mauricio: There was a season that we functioned almost like roommates.

Pastor Kris: But we had a lot of people in our corner. Pastors in our corner. Pastors David & Bonnie Johnson. And they became our mentors. They were at Atlanta Metro then and they came and took us to church. And also Dennis Pete at Young Life who would pick us up for church. And they had a major impact on our marriage.

Pastor Mauricio: They showed us how to have heated fellowship. And we kind of modeled our relationship in their shadow.

Pastor Kris: And maybe I will put this in a book some day, but I always talk about my Christmas miracle. A lot of people either receive this Christmas miracle or they do not. I remember thinking to myself, 'After Christmas, I'm going to make sure that my children have a good Christmas, and after Christmas, I'm leaving, and I'm getting a divorce.' In between that time, we had something that we call an encounter, a retreat held by our church. It was a time when you have a meeting with Jesus up on a hillside or something. The ladies went separately from the guys and there were spiritual counselors there. My husband went first, and he came back all in love and ready to forgive. And I was like, 'Whatever. But after Christmas, I'm outta here.' He didn't know that, but that's what I had in my mind. A few weeks later, I went to this same kind of encounter or retreat. And in that moment, I forgave not only him but my father, my grandfather. It was a whole lot of restoration that took place, and I really believe it was a Christmas miracle that saved our marriage. I think this all took place between October and Christmas.
How were you able to navigate marriage after that?
Pastor Kris: By the time we were in our 30s, we had matured. We were doing a lot of ministry. My husband volunteered with a group called Young Life for 10 years and was able to mentor a lot of kids. We spent a lot of our anniversaries and summers at camps with kids. But the good thing about these camps is that they were super dope. They were like retreats. We had our own chalets. At one point, we moved away to Memphis to do ministry and mentor kids and that brought us even closer because we didn't know anyone else. So that was our 30s.
4. How did the two of you decide to start your own church?
Pastor Mauricio: We were sitting in a church, and we were asking God about what was next for us. And there was an altar call. And the pastor said, 'You've got to stop wasting God's time. He's called you to something and it's time to do it. I started crying. I was like, 'Lord Jesus. No. No.' So I went back to my seat. And my wife was like, 'Are you okay?' I'm like, 'Yeah. God told me it's time to start a ministry. He said start it on 10/10/10.' And I told my wife, 'But if that's not on a Sunday, then it's not God.'  Sure enough, she went to her calendar and started flipping real slow. And it was on a Sunday. So I obeyed the call, but it wasn't easy.
5. How did you start The Marriage Club on Facebook and why?
Pastor Kris: Well, The Marriage Club honestly started as a group of friends who held each other accountable. And before it became The Marriage Club, we would do date nights together. When we had marital issues, we would come to each other and people started coming to Sonny and I. It's something that evolved. I think because we had gone through so much, we had experienced so much, I think by the time I was 25, I could have written the book and sold a t-shirt. We were able to help other people like we had been helped early in our marriage. And that's how it started. Then one day, I had this epiphany about opening it up to more than just us. That was about six years ago.

One thing that I like about the group is that it's interracial. Black couples. White couples. Hispanic couples. Interracial, etc. How did you attract a multicultural following?

Pastor Mauricio: I think our diversity comes from the fact that we don't shun people from other groups of folk. One of my friends is Indian, and he's in the group with us. He posts pictures of his family and encouraging words. And the core of the group is marriage. We don't allow debates. Religious debates. We are God-fearing people. We believe God is our rock, but we're not going to shun a person who is Islamic and they're putting up pictures of them and their wife. Or Hindu or anything like that. We're going to let celebrate their marriage because that's what the group is about.
Have y'all been surprised by the growth of the group. It's up to almost a million members, right?
Pastor Mauricio: Yes, we're very close. We're just humbled by the growth. It's nothing but God. There were other groups that started around the same time, and they have asked, 'What did y'all do different?' And we were like, 'Absolutely nothing.'
6. I've seen so many posts that inspired me, but what posts have inspired you?
Pastor Mauricio: I really like Darnell. He's a rapper from Chicago. He always posts cool raps for his wife. I really like the posts from Married For Real. They've got a dope marriage.

Pastor Kris: I get excited about the men in the group because we just don't have ladies participating. I love to see when the men can love on their wives and their children. And they post pictures. I love when we do challenges and the couples get excited. And some of the pictures are so amazing and the effort that they put into those pictures to show love and family. I absolutely love that!

Pastor Mauricio: It's been a been a place of peace online for me. There are so many sites that were blowing up, and they were so negative. It gives a people an outlet to be nothing but positive. Some people who were near suicide have found refuge in The Marriage Club.

Pastor Kris: We've seen marriages go from the brink of almost divorce to now they're happy and they're thriving. To know that you're a part of that impact is amazing. These people have sent us inbox messages. And we have spiritual guidance available to couples. And we're not just on Facebook. We have marriage retreats.
7. What is the key to stay married and be happily married for 25 years? 
Pastor Mauricio: We have just kept going.

Pastor Kris: And we have literally said, 'Divorce is not an option.' When you have that determination, it really doesn't matter what comes. And you have to think about what you said in the presence of God. Those vows. And I always say, 'Be friends.' How do you treat your friends? You treat your friends with the utmost respect. You don't get into a lot of arguments with your friends. You are just there for each other. We are friends. We laugh together. We date each other every Monday. We are intentional about our relationship – learning about our past, thinking about our future. Continuing to learn about each other because we are always evolving. So the things I wanted at 18 are different from what I want now.

Pastor Mauricio: And another thing that my girl always says so I'm stealing it from her, every marriage has a purpose. You have to figure out what the purpose of your marriage is. Because we have a purpose-drive marriage, it helps us to focus and stay on course. Our purpose is to help people develop people and get them in a closer relationship with Christ and help married folks stay married.

Pastor Kris: Our purpose is marriage.
Any thoughts?
If you would like more of this kind of content, please click on this link to subscribe to my blog 
!
Comments
comments