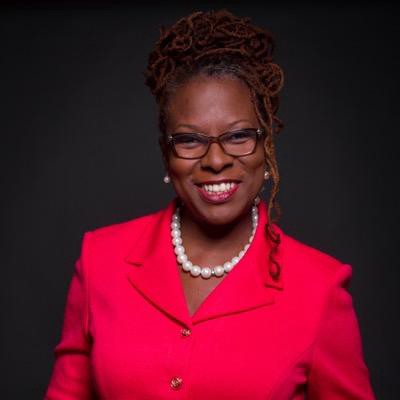 Hello World,
Happy Mothers Day to the all of the mothers out there! On this Mothers Day, I want to highlight Rev. Lisa D. Jenkins, who is the tenth pastor and first female to lead the nearly 95-year-old St. Matthew's Baptist Church located in Harlem, New York.  However, 24 years ago she was expelled from the church because she was pregnant and unwed. Please read her biography below followed by my interview of her.
Pastor of Harlem's St. Matthew's Baptist Church, Rev. Lisa D. Jenkins received her bachelor's degree in speech communications with an emphasis in journalism from Pace University and attained the degree of master of divinity from New York Theological Seminary.  She is currently a doctoral student at McCormick Theology Seminary as a Dr. Jeremiah A. Wright Scholar.

Additionally, Rev. Jenkins has taught New Testament Studies and Biblical Exegesis at New York Theological Seminary, and serves as an adjunct lecturer of Cultural Diversity in the History and Philosophy Department at York College/City University of New York.  In addition to her pastoral and academic work, Rev. Jenkins lectures and facilitates workshops and seminars on a variety of topics including, but not limited to, Balancing Family & Ministry, Single Parenting, Mental Health & the Black Church, Women in Ministry and more. Rev. Jenkins is a member of Delta Sigma Theta Sorority Incorporated, the NAACP and is an advocate of both adults & children with ADHD.

She is also the author of the recently released book The Other Side of Through: Messages of Hope, Empowerment, Justice and Faith, a compilation of powerful sermons preached by Rev. Lisa D. Jenkins. A combination of devotion and ethnography, the sermons delivered with Rev. Jenkins' unique style and humor capture the rich tradition of the African-American religious experience which comb the scriptures in search of the gospel that will break the yokes of oppression and injustice while offering hope and redemption.

As a pastor, she brings over 30 years of diverse experience gained in the corporate sector, academia and in faith-based settings.  Her experiences include modeling on the stage of the world famous Apollo Theatre, singing with the Grammy Award-winning Hezekiah Walker & The Love Fellowship Crusade Choir, working as on-air radio announcer, and serving on community boards, city task forces and various non-profit organizations.

Rev. Lisa D. Jenkins is the proud mother of Jordan Christopher Jenkins-Crandle.
1. How were you expelled from your church?
Yes, I was kicked out of the church. I was expelled from church. I did return eventually. I was pregnant, but I was 28 years old. I was old (laughter). I was a grown woman out of college. At that time, I was working for RJR Nabisco. It was a Fortune 100 company at that time. As a matter of fact, I had just handed in my resignation because I was traveling with Love Fellowship Crusade Choir. I was traveling with Hezekiah Walker. I remember we did the 'Live at Morehouse' album, and I was so sick and I was so tired. We did it in January. I had no idea I was pregnant and then I found out I was pregnant. I remember Bishop Walker. He wasn't a bishop at the time, but he was so kind to me. I was lying in bed one day. I was just lamenting my life.  I had done so much but here I was at this point and time pregnant.

I remember Bishop Walker calling me because he was starting his church, and he asked was I able to help out with something. I remember I was boohooing. I said, 'I can't. I'm pregnant. I can't do anything.' And I will never forget. He said, 'Lisa, don't worry about a thing. Children are never a mistake. God has got you. God is going to keep your child. Know that I'm here for you, Love Fellowship is here for you. Don't worry about a thing.' He was just so encouraging.

But at my church, it was different. I wasn't holding any leadership positions at my church Ebenezer Baptist Church in Flushing, Queens. I think I was singing in the choir but nothing else. My pastor said to me that I should stop coming for a while. This conversation was by phone. I don't remember how he found out. It was all a haze. I remember not understanding what he was saying because certainly I was not the first female to be pregnant and unwed at that church. I do remember he said, 'You're starting to show and you're not like the others.' I remember being speechless. He said, 'You're one of the leaders.' And I remember saying, 'I'm not in leadership. I'm not holding any offices.' He said, 'You're very visible.'

Later on though, he invited me back to the church a few weeks later after people had found out that he asked me to stop coming to the church. Because my son's father was the minister of music and was still playing the organ at the church. My son's father is a good person, but marriage was not an option or feasible. But my pastor never really apologized though. I did not go back right away, but I did go back. I was away from the church three or four months or so.

I eventually had my son in 1994 and my church was very welcoming. The next thing I knew the pastor that told me not to come to the church licensed me to preach the gospel three years later in 1997. He wound up saying that he did not know how to handle the situation because he thought there was a calling on my life. Again, he never apologized, but I took it for what it was: someone who grew up in a different era who although he wasn't against women in ministry, but we live in a very patriarchal society.
2. How did you receive your call to ministry?
A lot of people will tell me that they were called to ministry. I never tell anyone I was called to ministry. It was something that was validated by other people always. Other people in the church, mothers in the church. My previous pastor's wife. I was always asked to speak, preside at banquets. I was always asked to introduce people.

So there was a Youth Day coming up. It was 1995 or 1996 I think. And my pastor called me and said, 'I need for you to speak for Youth Day.' I said, 'Sure, not a problem.' I said, 'Is that going to be before the preacher or after the preacher?' He said, 'No, I need for you to speak.' I said, 'Well, who is going to be the preacher?' He said, 'There is no preacher. It's just going to be you.' I remember just standing there because I was on the phone. I wasn't comprehending because in my mind, you have to have a preacher.  I said, 'What is this? I thought you said it was Sunday morning. Is this an afternoon event? Is this a banquet?' He said, 'It's Sunday morning service and it's Youth Day. I need for you to be the main speaker. You're going to speak from the podium from the lectern on the side. But when it comes time for the Word, you're going to be it. ' And mind you, this is two years after I had my son. I said, 'Okay.'

I remember getting of the phone and I remember calling, we call her Ya-Ya. God rest her soul. Her actual name is Percynthia Brown. She was one of the mothers of the church and I called her because I was confused. I said, 'Ya-Ya, Pastor just called me and he wants me to speak. But he says there is not going to be a preacher.' She said, 'Baby, that's what I've been trying to tell you. God has a calling on your life.' So I spoke. It was a great service. The message was well-received. We had a wonderful time in the Lord.

And shortly after that, Pastor said, 'I want you to have your trial sermon. How do you feel about that?'  By that time, on my own,  I was already going to a Bible institute in the community. Also, there was another church that had a Baptist institute that I attended. This was not for preaching or professional ministry.  This was just to learn more about God on my own. I have always been a learner and a reader. I was reading the Bible at 2 a.m. in the morning on my own.

So I had a trial sermon on the last Sunday in October in 1997. It was a packed house. My sermon title was 'The Least Likely.' It was based on 1 Samuel where David was the least likely to be chosen to be the king of Israel. Out of all of Jesse's sons who were kingly, David was in the back with the sheep and the prophet said, 'Is there another? Don't you have another son?' He said, 'Yeah, I do but he's out in the back. But you don't want him. Look at my other sons.' Samuel said, 'No bring your son from the back.' So he was the least likely.

So from there, God just made a way. Whenever I went places, my son was with me. I had a collapsible bassinet in the trunk of my car.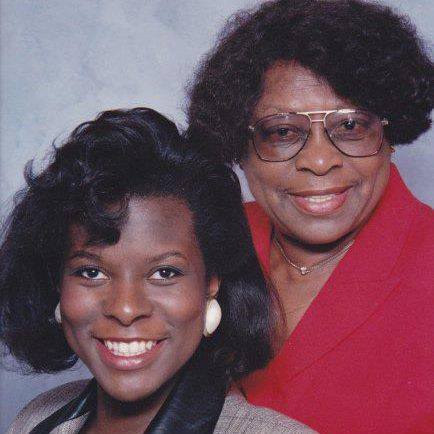 3. You also credit your church mother with helping you with your calling to ministry to ministry. Is there anyone else who helped you as well?
My actual mother Lucy Mae Jenkins. She had me at 49 years old. They told her I was a tumor. And they told her that she should not have me when they found out that I was not a tumor. They told her she needed to have a medical abortion because it's going to be dangerous for you. She said, 'No, that's not going to happen.' She lived long enough to see me pastor my first church Blessed Trinity Baptist Church in Harlem. She had my brother at the age of 17 but after that, she had no other children until she had me.
4. Now that you're a pastor of a church, if you had a woman to get pregnant in your congregation who was in leadership or just any woman, how would you deal with that?
How would I deal with that? I would be loving to her. I would do what Hezekiah Walker did and say, 'God loves you.' I would ask her what she needs. Is she okay? I don't know how to answer that because to me it's like breathing. Like when someone is going through something, you say, 'What can I do for you?' Is there anything that the church can do for you? Do you need support?' And she may be fine. She may be vice-president of a corporation with a family behind her or she could be a single mother on public assistance living in projects around the corner.

The Bible says that we are supposed to be kind to one another and that we aren't supposed to gossip. That there shouldn't be adultery. That we clothe and feed the hungry. The Bible tells us lots of things that we do not do. The church is full of people who treat each other in nasty ways but we're not talking about that. We're talking about someone who has gotten pregnant out of wedlock which needs to dealt with compassion. We need to make sure that the person's needs are taken care of and that they continue to be reconciled to Christ just like all of us when we wake up in the morning and we have things happen to us throughout the day that might go against the will of God. I'm one of those people who is beyond this nitpicking about which sin is worse.

I would never tell someone not to come to church. Are you kidding me?
5.What about if they were in leadership?
Depends upon what the ministry is. If they were a preacher or pastor, I would counsel them. I would hope they had enough humility to do what is necessary for their own sake, for their own spiritual well-being. If you are in a leadership position, I should not have to sit anyone down. I would leave that to God because God will deal with that. Because there are some times when we all need to take a retreat or a sabbatical whether you're pregnant or not.
6. What have been the blessings and challenges of being a single parent and minister?
Childcare and making sure that his needs were taken care of. But I did have a very supportive network. When I traveled  to preach or went some place to lead a study, they knew that I had my son with me. Sometimes, he would sit with the First Lady or if I had someone that came with me, my son would sit with that person. It was challenging but doable.
7. Any advice for single parents?
A lot of single parents are praying for a husband or wife to assist them, but my prayer is that God's will be done in your life and that you be strengthened and encouraged in your singleness and for whatever God has in store for you, knowing that God is able to do all things. I remember when my son was younger, I would pray for a partner, but I realized it was for the wrong reasons.  I would say, 'I wish I had someone to help me take this garbage out. I'm so tired.' 'I wish I had someone to help me rake these leaves.' 'Oh my goodness, it's snowing outside. I need someone to help me shovel this snow.' 'I need someone to help me get up in the middle of the night and change diapers.' But God is our help. And when I think back, those were really selfish reasons. The right reason is that God would send someone who is necessary so that His will would be accomplished in both of their lives.

Paul says that it's not sinful to be single. If you are single, then you can devote more of your time to the Lord. And if you're married, your time is devoted to your spouse.

I'm very comfortable in my singleness now, but if it's God will to be married one day, then absolutely. But I love walking into an empty house each day!
For more information about Rev. Lisa D. Jenkins, go to her website: lisadjenkins.org.
Happy Mothers Day to all the mothers out there 🙂
Any thoughts?
Comments
comments