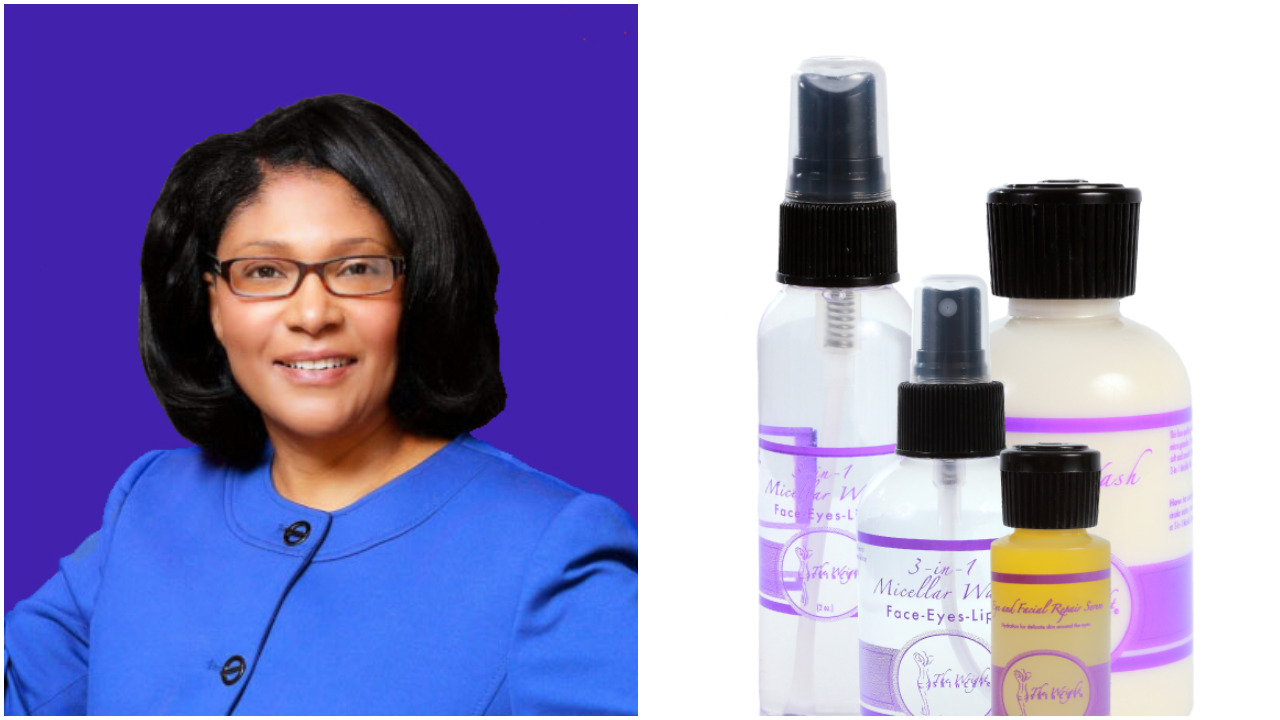 Hello World,
In Ecclesiastes 3, we learn there is a time for everything…And over time, we all age…I never thought about aging and what it does to the body until recently. I've had a few gray hairs since I was a teenager (my family grays early) but now, gray hairs are sprouting like they are trying to form a crowd on my crown :).
If you are concerned about aging and how to "preserve the sexy," Annette Wright, who developed The Wright Skincare, needs to be on your radar!
The line includes 3-in-1 Micellar Water, Facial Wash and Eye and Facial Repair Serum.
A no-rinse, soothing cleanser for face, eyes and lips, 3-in-1 Micellar Water gently cleanses, purifies and tones the skin, leaving it refreshed and nourished. Soap-free and sulfate-free, 3-in-1 Micellar Water is PEG free with neutral pH for skin to maintain its physiological balance.
A great companion to 3-in-1 Micellar Water, Facial Wash is a face-peeling gel that cleans and purifies skin with fine micro granules, helping to remove dead cells, leaving skin soft and smooth. Facial Wash is packed with alpha hydroxyl acids (fruit extracts) and hyaluronic acid that improves skin's texture and boosts hydration.
Eye and Facial Repair Serum reduces the appearance of dark circles and rosacea, through an advanced blend of age-fighting peptides, vitamins and other powerful ingredients. Skin is left hydrated as the serum — containing hyaluronic acid — brightens the eye area, tightens skin and restores skin's protective moisture barrier.
Pricing for The Wright Skincare line is $50 for 3-in-1 Micellar Water (4 oz.); $25 for Facial Wash (4 oz.) and $70 for Eye and Facial Repair Serum (2 oz.).
Check out my interview with Annette below. Read and share!
1.What inspired you to create The Wright Skincare?

When I turned the big 50, I noticed under my eyes that I began to see wrinkles. So I prayed and asked God what to do. The word of the Lord said two things. You can age gracefully by using natural fruit and you should not put anything on your face if you can't eat it. So I started using natural fruit that can improve the wrinkles and texture of the skin.

I searched the Internet and found out that European women were using a product that came from donkey milk to maintain the skin beautifully. So I went to Europe in 2013 to pursue the vision. There, I met with World Natural Care (WNC), a cosmetic manufacturer of natural skincare products for private label cosmetic companies. In 2014, WNC and The Wright Skincare (WSC) signed an agreement to manufacture a waterless skincare line for The Wright Skincare.

2.How long did it take to create The Wright Skincare and tell me about the process.

In 2014, WNC and The Wright Skincare entered into an agreement to manufacture a waterless skincare line for The Wright Skincare. The first shipment of product was made in 2015 and sold in the United States. The initial products included micellar water, facial wash and serum.

3.Tell me about the type of women who will most benefit from The Wright Skincare?

All ethnicities, all skin types, all ages

4.Your products don't contain harsh chemicals or animal-derived ingredients. Tell me about some of the ingredients in The Wright Skincare and why they are healthy for women to use in aging gracefully.

The micellar water is made from micelles that are naturally produced in the body to hydrate the skin naturally. The facial wash is made from milk, and the serum is made with natural fruit acids.

5. Have your products been endorsed by dermatologists? Please explain your answer.

WNC products are scientifically tested by dermatologists in Europe.

6.What kind of feedback have you received from women who have used The Wright Skincare?

Women who are using The Wright Skincare are excited that they don't have to use tap water to cleanse their skin. They see an enormous difference in the texture of the skin. Skin is smooth and hydrated.

7.You are a minister. How has your faith impacted your development of The Wright Skincare?

Aging is the natural process of life. The body is aging from the point of birth until death. No product can stop or provide anti-aging. My brand incorporates three simple principles: Aging gracefully, all ethnicities, all skin types. I am committed to provide women with natural skincare products to age gracefully — minus any harsh chemicals.
Is there anything else you would like to add?
The Wright Skincare invites you to join us for the official launch of our skincare line this spring. The launch event will take place Saturday, April 1 from 2 p.m. to 4 p.m. at The Ritz-Carlton, Atlanta at 181 Peachtree Street NE, Atlanta, GA 30303. We'll have product giveaways and industry professionals on hand.
Also, please take a look at us at  thewrightskincare.com and on social media at:
Twitter: @awrightwsc
Facebook: facebook.com/thewrightskincare/
Instagram: awthewrightskincare
Any thoughts?