Hello World,
Last Wednesday, I encouraged you to see "Joyful Noise!" Well, today, I'm encouraging you to see "Red Tails," the new George Lucas film that he reportedly primarily financed by his lonesome(Over $90 million!!!)…It debuts this Friday!!! If for some strange reason, you don't know what this film is about, check out this description from Yahoo! Movies…
1944. As the war in Europe continues to take its toll on Allied forces, the Pentagon brass has no recourse but to consider unorthodox options — including the untried and untested African-American pilots of the experimental Tuskegee training program. Just as the young Tuskegee men are on the brink of being shut down and shipped back home, they are given the ultimate chance to show their courage. Against all the odds, with something to prove and everything to lose, these intrepid young airmen take to the skies to fight for their country — and the fate of the free world.
I was actually able to interview retired Lt. Col. Charles W. Dryden, a Tuskegee Airman, when he released "A-Train: Memoirs of a Tuskegee Airman" when I worked for a local newspaper years ago…Check out the images below if you are interested in reading my interview…(Click on the images to enlarge them.)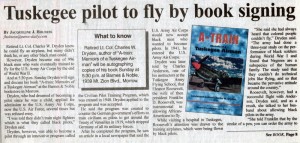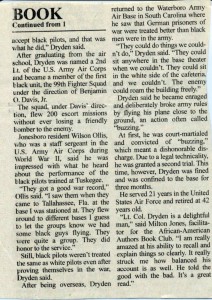 Please support this film!!! See you at the movies!!!
Any thoughts?
Comments
comments