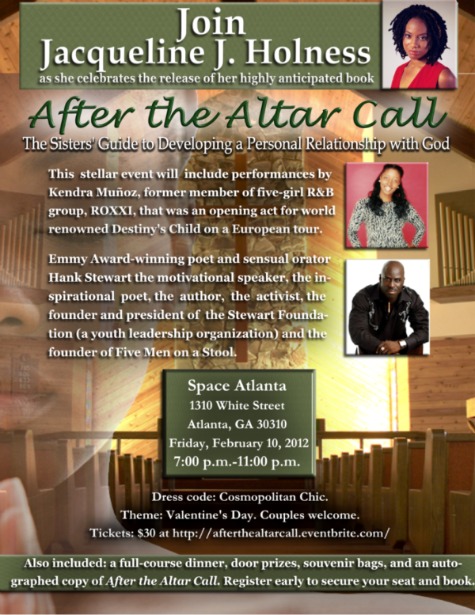 Hello World,
You know what. I kinda fell off….What do I mean? This post should have been written in December as it is about my marketing and promotion activities for December, but y'all…I've been sooo immersed in doing it all that it was difficult to write it down….Forgive me? At any rate, I want to invite y'all to my BOOK RELEASE PARTY!!! I had originally planned it to coincide with the release of my book on February 14, but it will now be on Feb. 10!!! If you can make it, please come out…see all of the details above…
Also, if you're a book lover as I am, you also don't want to miss best-selling authors Victoria Christopher Murray and ReShonda Tate Billingsley as they will be in the A this week to promote their latest release "Sinners & Saints." They will be signing their book at the Clark Atlanta University Bookstore, 223 James P. Brawley Drive SW, tomorrow at noon and at the Hammonds House Museum on Tuesday at 6:30 p.m. Below are more details about their discussion &  signing at the Hammonds House Museum….
Best-selling and award-winning novelists Victoria Christopher Murray and ReShonda Tate Billingsley bring their favorite heroines together in a novel that will delight their legions of fans. Jasmine Larson Bush and Rachel Jackson Adams are not your typical first ladies. But they've overcome their scandalous and drama-filled pasts to stand firmly by their husbands' sides. When a coveted position opens up–president of the American Baptist Coalition– both women think their husbands are perfect for the job. And winning the position may require both women to get down and dirty and revert to their old tricks.

Just when Jasmine and Rachel think they're going to have to fight to the finish, the current first lady of the coalition steps in . . . a woman bigger, badder, and more devious than either of them. Double the fun with a message of faith. "Sinners & Saints" will delight readers with two of their favorite characters from two of their favorite authors.

Your R.S.V.P is requested  – Admission Choices

$15 – Admission FREE with Pre-purchase of book ($15 savings).
$10 – Admission RSVP / general.
$5   – Admission RSVP / members of Delta Sigma Theta, Alpha Kappa Alpha and
Hammonds House Museum.
FREE Admission for Persons Who Join or Renew a Membership to HHM

For more information, please go the Hammonds House Museum website.
 
Also, check out a video about their book…
This is all so exciting…
Any thoughts?
Comments
comments