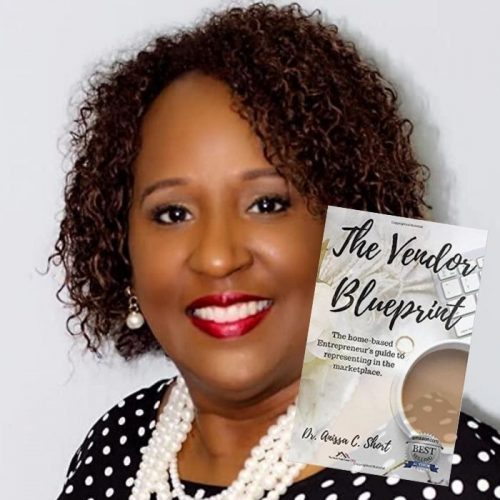 Hello World,
Last Friday, I introduced you to a fiction book, and I hoped you enjoyed that post.  Today, I wanted to share a nonfiction book with you that I hope you enjoy as well —  The Vendor Blueprint: The Home-Based Entrepreneur's Guide to Representing in the Marketplace by Dr. Anissa Short. As the coronavirus crisis continues, many people are working from home now more than ever. The Vendor Blueprint is a guide designed to help home-based workers and companies. Below is a summary of Dr. Short's book followed by a few tips from Dr. Short.
Now that you've made the decision to begin your home-based business or made plans to take your business to another level, it's time to share yourself with the world. Are you ready? Are you fully prepared to move ahead? Could you use a little reassurance that what you've been doing is productive, or maybe a little direction on how to improve upon things?The content in this book provides a step-by-step guide on best practices for representing in the marketplace.
Tips for Thriving in a Home-Based Business
Protect Your Space — As much as within your power, eliminate all negativity. Turn off the television, limit interaction on social media, and distance yourself from drama. Nothing good can be birthed within an atmosphere filled with negative vibes.
Read, Learn, Grow – Use this time to learn a new skill. Read books that feed your mind. Take a few refresher courses. If an activity serves to foster your growth spiritually, mentally, socially or emotionally, go for it.
Support Others – The law of reciprocity is always at work; therefore, be intentional in your support of others. What you make happen for someone else, God will make happen for you.
Get Your Systems in Place – What have you been putting off? Now is the time to get it together whether it is the hall closet, your inventory, your prospect list, or your office. Get it done.
Dr. Anissa Short, #TheWorkFromHomeCEO, is an advocate for the home-based entrepreneur as a business owner, workshop presenter, a podcaster, contributing writer, and best selling author.
As a leader in a top direct sales company, Dr. Short has been extremely involved in the E3 process of – encouraging, educating, and empowering. Her passion is to assist female entrepreneurs, and she has done so diligently for over a decade. Additionally, she has built an organization with coast-to-coast clientele and features other female entrepreneurs in multiple states. As an independent contractor, she has partnered with several entities. They include, but are not limited to the following: community colleges, publishing companies, and marketing corporations. She has also spearheaded trainings and think tanks to organize, facilitate, and awaken the aspiring entrepreneur. Her events are geared towards success and nothing less! Dr. Shorts hosts a weekly podcast, #TheWorkFromHomeCEO.
Prior to dedicating her life's work to entrepreneurship, she was employed for 20 years in varied business-related industries, including employment with the federal government. In 1998, Dr. Short married her biggest supporter, Alphonso Short. They reside in North Carolina.
Any thoughts?