Hello World,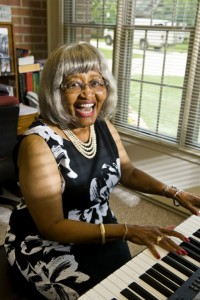 Back in June, I attended the 98th Hampton University Ministers' Conference in Hampton, Virginia. Actually I wrote a post about it "Check out my pics from the 98th Hampton University Ministers' Conference!"  While there, I heard the best gospel music I have ever heard in my life as the conference was held in conjunction with the 78th Annual Choir Directors' & Organists' Guild Workshop. During one night of the conference and workshop, Mrs. Anna Gee Blackwell, a pianist and piano teacher, was given the "Living Legend Award" for for 70 years of dedicated service to the church, to children, and to all mankind. When I heard her biography, I knew I had to feature her on my blog! Her life story is so remarkable, I cannot share all of the details, but below are a few of the accomplishments she has achieved in 83 years of living followed by my interview with her! And although, many people her age are likely slowing down, Mrs. Blackwell is not. In fact, she recently released her second CD "He's All I Need." Read and be blessed!
Since age 12, Mrs. Blackwell has spent her life serving in the St. John Missionary Baptist Church and Mt. Zion Baptist Church in Springfield, Ohio and the Central Chapel AME Church in Yellow Springs, Ohio, as a pianist, organist, and minister of music, youth orchestra conductor, and choir director.
For 48 years, she has taught piano to thousands of children from low-income households and in many instances has given lessons regardless of the parent's inability to pay. For over 40 years she has awarded two $500.00 annual Anna Gee Blackwell Music Scholarships to two deserving students.
In 1989, at age 60, Mrs. Blackwell earned a nursing degree and was selected LPN of the Year for the State of Ohio. She earned this degree to help care for her ailing husband Mr. Harold B. Blackwell, Sr. who passed away in 2008.
In an effort to further perfect and increase her knowledge of music, she earned a master of music degree in piano performance from Wright State University, Dayton,Ohio, at age 76, in 2005.
In 2011, she received a master's degree in special education at age 82 from Grand Canyon University.
 Mrs. Blackwell is a living example of faith in God, hope, courage and perseverance. Four months into her marriage to Mr. Blackwell, at age 20, (October 1949), she was diagnosed with breast cancer and underwent a mastectomy. Her doctor informed her that without the surgery she would not live six months, but obviously she is still here today!
1. Your second gospel CD is "He's All I Need." Tell me what what inspired you to create this CD and how you went about selecting the music for the CD.
The inspiration for my second CD, "He's All I Need," came from knowing in my heart that despite the many trials and tribulations during my life, God was in control. Our Lord and Savior Jesus Christ brought me through devastating illnesses and sorrow at the loss of my parents, sister and brother, my youngest son, and my husband of 59 years. God guided me in facing the joys and sorrows of motherhood. He allows me to give my life, love, and talent in service to the Church and in teaching thousands of children. The culmination of all of these life events inspired me to celebrate 83 years of a beautiful life by making and dedicating this CD to God.
2. What are your favorite songs on the CD?
My favorite song is "He's All I Need." God placed this song in my heart in early 2003, as I was completing physical, occupational and speech therapy from my last stroke. For months I prayed that God would give strength to my left arm and hand so that I could once again play the piano because each time I lifted my left hand to the piano keys, it fell back down. But one day in February, I lifted my left hand to the piano keys and it stayed! What a joyous day that was! Praise God for His many blessings. Yes, "He's All I Need!"
3. I really love your CD jacket which includes a picture of you at six years old, a picture of your mother when she was 41 years old, a photo of you and your late husband Harold B. Blackwell Sr. on your wedding day on June 19, 1949 and your wedding anniversary in 1999, a photo of you as a child performer with your father's group "The Tap Dancin' Gees (you and your siblings ) and your own family (which included five children) in 1962. Why did you decide to include those photographs? What do you want to convey to your listeners with these photographs?
These particular pictures were included because they represent different stages in my life. Through these pictures I hoped to convey the fact that we do not reach our goals all by ourselves. We stand on the shoulders of many family members and teachers who loved, supported, sacrificed and taught us by example to make our lives better.
4. Tell me how you became interested in music as a child. Also, did you ever pursue a career as a performer or did you focus on your piano teaching from the beginning?
Although my parents introduced me to different musical genres, I never pursued a career as a performer. I knew that if I did, I would be required to leave my family perhaps for days or weeks at a time to travel all over the country. In spite of many offers, I could not leave my family. Thus in 1965, I began teaching young students how to play the piano. Now, 48 years later, I can say that, praise God, I have been able to give my talent in music to thousands of young boys and girls. Many of them have gone into teaching, performing in churches, and other venues.
5. You have overcome many obstacles in your life that may have stopped others in their tracks from being diagnosed with breast cancer at age 20 to losing your husband to undergoing four major liver surgeries and three strokes from 1995 to 2000. What keeps you going forward?
My doctor reported my cancer case since it was rare. He stated that it was included in several medical journals. He told me that if I lived for five years, I would be considered cured. Now, 63 years later I have been cancer free! Again, Praise God! I remember after surgery I was feeling a little sorry for myself. My husband told me, "I love you and I married you, not your right breast!" I was all right after that. God gave Harold and me 59 years of married life full of love, happiness, and joy in each other and in rearing our six children. Our youngest son, Michael, died at childbirth. What keeps me going is the knowledge that our Lord has His arms wrapped all around me, and regardless of my illnesses, losses, or other life events, He is in charge. I believe that Jesus uses me as a witness to His tender mercy, His power, and His healing touch.
6. Your love of education is astounding! What has driven you to continue to acquire degrees?
Education has given me an opportunity to fulfill a dream of being a good teacher of children, whether in music or education. It enables me to better my circumstances, and finally, to give my life of service to people young and old. Education helps me recognize and accept other people's point of view, adapt to change, forge new friendships and relations, and find new meaning to life.
7. What words of advice do you have for the younger generation?
Focus on getting a good education. This will help you get a good job and be independent. Do not let anyone deprive you of your hopes and dreams. Find ways to be of service. Remember that Jesus came not to be served, but to be a servant. Always remember to pray, having faith and trust that God will answer prayer. "He Knows Best!"
Mrs. Blackwell's CD can be purchased by sending a check or money order to Blackwell Music Studio, P.O. Box 245, Springfield, Ohio 45501. The CD cost is $15.00 plus $2.00 for shipping and handling.
Any thoughts?
Comments
comments