Hello World,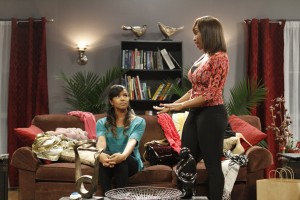 Now that I am engaged, all things wedding and marriage have captured my attention! That's why GMC TV's new series "For Richer or Poorer" has me intrigued…Below is a description of the show…
Based on original screenplays written by Cas Sigers Beedles ("A Cross to Bear" and "If You Really Love Me") and directed by Roger Melvin ("The Love You Save" and "If You Really Love Me"), "For Richer or Poorer" follows couple Aubrey and Kya Wilson who are on an upswing after suffering a major financial blow when Aubrey loses his six-figure job.  Back on track and living a more modest lifestyle, the couple find themselves facing new challenges when they take a trip down memory lane with mementos given to each by ex's, Kya's new business takes off, home ownership on the horizon and dreams of expanding their family come in to play. As they explore issues such as honesty, trust, financial role reversal, and parenting, they find a new and deeper respect for their lifetime partner and build for a better future.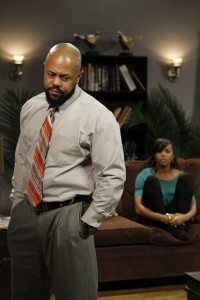 And the show includes an all-star cast! Aubrey is portrayed by Rockmond Dunbar, who has starred in several popular television shows including "Girlfriends"  and "Soul Food." He was also awesome as Sanaa Lathan's long-suffering husband in Tyler Perry's "The Family That Preys!" Kya is portrayed by LeToya Luckett, a two-time Grammy Award-winner and a founding member of the R&B group "Destiny's Child." The show will also feature two actors from some of my favorite sitcoms from the '80s and '90s! Jackée Harry a.k.a. Sandra from "227" and Lisa from "Sister Sister" is also a part of the cast. Carl Payne a.k.a. Cockroach from "The Cosby Show" and Cole from "Martin" is on the show as well! Also on the cast are: Angell Conwell ("Baby Boy" and "The Young and the Restless"), Anthony Evans ("The Voice"), Comedian Buddy Lewis and DeEtta West ("A Cross To Bear" and "Meet The Browns").
Take a look at the trailer and let me know what you think:
"For Richer or Poorer" will be televised as follows.  All times are EST.
Saturday, January 26
Episode 101 – "The Ex Files" (9 and 11 p.m.)
Episode 102 – "The Switch" (10 p.m. and 12 a.m.)
Saturday, February 2
Episode 103 – "She Trusts Me, She Trusts Me Not" (9 and 11 p.m.)
Episode 104 – "Me & Mrs. Jonesy" (10 p.m. and 12 a.m.)
Saturday, February 9
Episode 105 – "You're Perfect, Now Change" (9 and 11 p.m.)
Episode 106 – "Ain't Nothing Like the Real Thing, Baby" (10 p.m. and 12 a.m.)
Will you be watching? Any thoughts?
Comments
comments