Hello World,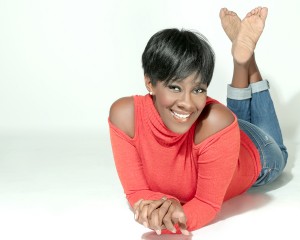 A few weeks ago, I was one of 30 bloggers given the opportunity to take part of a blogger conference with Le'Andria Johnson, season three winner of BET's "Sunday Best!" Below is a brief biography, if you have not heard of the rising gospel singer…She has an inspiring testimony that I'm sure will minister to some…
Her debut CD, "The Awakening of Le'Andria Johnson," entered at #1 on multiple music charts.  She received her first GRAMMY nomination for Best Gospel/Contemporary Christian music performance for her debut single "Jesus." Le'Andria Johnson became the first "Sunday Best" winner to go on to win a GRAMMY.

Le'Andria Johnson's journey to the spotlight in the gospel music industry has not been one without controversy and backlash.  The 30-year-old, twice divorced, mother of four has dealt with ridicule, judgment and her own personal struggles.  In 2012, an unwed Johnson announced that she was pregnant with her fourth child which was not received well within the gospel industry or church community.  Johnson continued to minister where she was invited but dealing with the closed doors that were once open was a test.

It was suggested by some for her to have an abortion.  Her manager at Music World Gospel told her it was career suicide to carry the baby.  Johnson was fully persuaded that she would not abort her baby but allow God to use the very thing that man tried to kill her with as a testimony.  "I did not kill to be killed" became one of Johnson's slogans during that time.  Johnson continued to stand in spite of.  "He was my strength.  He said I'll never leave you nor forsake you.  God I know that you forgave me and if you forgave me, you're telling me to move on.  But I knew there were millions of Le'Andria's in the world."

While expecting, Johnson went on to record her third album under The Music World Gospel label, "Le'Andria Johnson, The Experience," a live recording.  It was during Johnson's pregnancy that God began dealing with her and pushing her to minister beyond the music.  Imperfect People Changing Ministries would be birthed during that time.  God was birthing something in and through Johnson in the natural and spiritual.
Below are few questions and answers that I believe will really help people who are going through similar struggles…
How have you overcome the stigma in the church of being a two-time divorcee?  Well, that's life. Being a two-time divorcee is life. I'm not the only two-time divorced woman in the world or man. There are men that have been divorced twice…I was never bound by the stigma in the church. People knew that I was divorced twice because I decided to tell it, not because somebody read up on it…
What was the toughest part to deal with when the public criticized you for having a child out of wedlock while continuing to minister?  …The tough part was trying to show these women that this mistake or whatever you want to call it. This turnaound. This detour has been made. It's a part of our life now, but we've got to keep moving forward. Ain't no way that we should abort or kill or give away, put away or whatever you want to do. That was the tough part of trying to tell these women, 'listen, live and not die' so that was the toughest…
As a pastor's daughter, did you ever resent the requirements of ministry on you parents? Heck yeah! Yes, I did, because I was taught God, God, God, God, Jesus, Jesus, Jesus, Jesus. There ain't anything wrong with that but I never understood life because we were always in some Bible meeting. We were always in some revival. We were always in some shut in…Being in church all of my life crippled me. That's how the whole issue with men that I was dealing with came to be…I couldn't wait to put on a pair of booty shorts. I couldn't wait to put on a pair of hoop earrings, red lipstick, eyelashes…I couldn't wait to get tattoos… I couldn't wait to smoke, couldn't wait to drink, couldn't wait to have sex…But by me doing those things, I had to go through my own personal issues and in that I found God to be who they didn't teach me He was. I was taught that God is a 'reprimander' and that He was jealous. I was taught that God was going to punish you for this. It was negative…But I found out He was the sweetest. He is the sweetest man I've ever known…I had to find all of that stuff out after I did the sin…
Wow, she really said a lot…(On a side note: I'm probably the only pastor's daughter that can't carry a tune in a bucket…oh well…)
Below is a video of Le'Andria on "Sunday Best."
You can connect with Le'Andria Johnson by following her on Twitter and Facebook! The blogger conference was hosted by Rhachelle Nicol', founder of Mother 2 Mother, freelance writer and owner of RN Brand & Design.
Any thoughts?
Comments
comments