Hello World,
As a pastor's daughter who was in church every Sunday and every Wednesday and who couldn't go to parties until I was in college, I looked forward to the day I could break out! I wanted to do whateva I wanted to do with anyone I wanted to do it with…Dating a "bad boy" was at the top of my list! Now that I'm 40 and married and a devoted Christian woman on my own terms, I've outgrown my need to be a wild child, but every once in a while, I'm reminded of just how I felt back then…
That's why when I heard about about this new movie "I'm In Love With a Church Girl" at Blogalicious earlier this month, I was intrigued….Below is a synopsis of the movie from imbd.com.
Miles Montego (Ja Rule) has it all – cars, boats, good looks, mansion, money, women, but more importantly, he has a past. Miles is a retired high level drug trafficker who is now completely legitimate. Even though Miles has turned over a new leaf, the DEA can't seem to let him out of their sights. Miles' only downfall is that he is extremely loyal to his circle of friends and former colleagues who are not retired from the lucrative business.

Struggling to keep on the right side of the law, Miles meets the one girl of his dreams but she's not the usual type of girl that he's used to dating. Vanessa (Adrienne Bailon) is a church girl in every sense of the word. They are tested to their last ounce of faith and strength in God and each other. God continues to chip away at Miles through struggles from his past, having to live up to his reputation, feelings of unworthiness, the death of his mother, federal charges, his friends being indicted, the strain on his relationship with Vanessa, almost losing her in a near fatal car accident, and finally the spiritual breakdown and one on one with God that brings Miles to his knees.
Sounds intriguing, right? Well, Adrienne Bailon, who stars as Vanessa stopped by Blogalicious to promote the movie and tell all of the bloggers about herself. As someone who has interviewed hundreds of people at this point in my journalism career and has not been impressed with some Hollywood types, I was really impressed with her fun and unaffected personality…
Here are a few quotes from her interview with Stacey Ferguson, Blogalicious co-founder –
On being confused with being one of the Kardashians – "I'm not a Kardashian. I'm from New York. My mom works at Cornell Medical. My mom is from Puerto Rico, and my dad is from Ecuador."
On being a 'church girl' – "I grew up in church singing. I was saved, sanctified and filled with the Holy Ghost… My father was the worship leader."
On being discovered – "I thought I wanted to be an obstetrician so I had an internship at Beth Israel. This guy came up to me one day and said, 'Yo ma, you sing?' I sang 'His Eye is on the Sparrow.' He told me about an audition for a girl group.  That was in April, and by August, I had a record deal with Tommy Mottola for 3LW. After that was the Cheetah Girls. It was very random."
On being a star – "When you come from not having much, I feel so grateful. I'm not special, but I've been given special opportunities."
On being grounded – "I have an incredible family. I don't have a mom that is my manager. She works in the pharmacy department at Cornell, and she still says sometimes, 'You know we have great [medical] packages!"
On being a Sunday School graduate – "I learned in Sunday School that I can do all things through Christ who strengthens me. [Romans 8:28]"
On her 'Church Girl' co-star rapper Ja Rule who plays Miles – "I known Ja for years. 3LW was the opening act for Ja Rule. People don't know that Ja Rule has been married for 12 years, and he has three children. He is married to his high school sweetheart!"
On her role as Vanessa in 'Church Girl' – "Vanessa goes against stereotypes of being a Christian. I wore my own clothes. Jesus didn't say we couldn't be fly! I love that she was sassy, she was witty, she was fun. She is Christlike. She is non-judgmental, and she shows unconditional love. It's a great love story…It is a movie with a message of hope and faith. It shows that your past does not determine your future."
On sending Hollywood a message – "As a consumer, you dictate what is in the box office. We can send a message to Hollywood that we want more faith-based movies. And this movie can compete with mainstream movies. Your cousins Chachi and Hosea didn't come with their camcorder to film this movie."  LOL!!! Love it!
The movie (which also stars T-Bone, Stephen Baldwin, Toby Mac, Michael Madsen, Vincent Pastore and Martin Kove) comes out THIS FRIDAY, Oct. 18!  Below is a trailer from the movie….
Also, I received a 'Church Girl' t-shirt and a copy of the novel "I'm in Love With a Church Girl" by Ryan Phillips with Galley Molina, writer and executive producer of the film. Actually, the film is based on the life of Galley Molina…If you would like to receive the t-shirt and the novel, name three famous church girls, whether fictional or real, who have fallen in love with bad boys! If you are first to tell me in the comments, I will mail the items to you! You're welcome!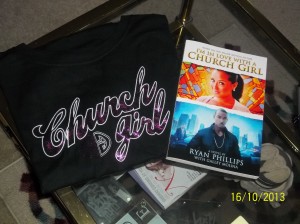 Any thoughts?
Comments
comments