Hello World,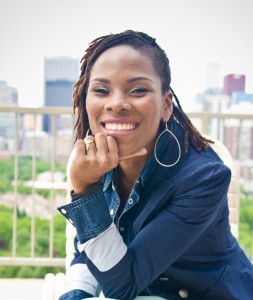 Since I started blogging in 2008, I've become somewhat of a techie as I've tried to learn new tech tools to make this blog the best it can be! If you're a blogger like me or are just interested in learning more about technology, tonight's episode of "exhale" is for you!
Tonight's episode, which airs at 9 p.m. EST on ASPiRE, features conversations with Luvvie Ajayi, social media guru, and the voice behind the entertainment and humor blog, Awesomely Luvvie (@Luvvie); Dr. Randal Pinkett, author, speaker, founder and CEO of BCT Partners and former winner of The Apprentice (@randalpinkett); Kimberly Bryant, engineer and founder of Black Girls Code (@6Gems); and Andre Meadows (AKA "Black Nerd"), actor, comedian, writer and creator of the You Tube Channel Black Nerd Comedy (@BlackNerd)!
I was able to see an advance screening of the show, and I learned some new information that I was not aware of before. During the interview with Luvvie, she reveals that her real name is not Luvvie! It is a Yoruba name, but you have to watch the episode to find out what it is plus I can't spell it 🙂 Here a few more tidbits from her interview. There are approximately 173 million blogs out there! Yikes! Blogs get the highest traffic on Mondays. According to Nielsen, African American women are the most active group on Twitter. Also, 74 percent of consumers rely on social media to influence their purchasing decisions. Very powerful information!
During Dr. Randal Pinkett's interview, he shared that he got into technology when his parents bought him a computer instead of games as a child and challenged him to come up with his own games on the computer. He learned how to write code as a child and create computer games because of that challenge! Obviously, that is a gift from God because I would have just picked up Monopoly or Uno and called it a day…He also shared that he started his first company while he was in college. He is the author of "Black Faces in White Places: 10 Game-Changing Strategies to Achieve Success and Find Greatness."
According to Kimberly Bryant, less than one percent of tech startups are founded by African Americans.  Also, three percent of the computing workforce are black women. Obviously, Black Girls Code, which is geared toward teaching technology skills to black girls from 7-17,  is needed! Since she started the organization in 2011, seven chapters have been created in the United States and one has been created in Johannesburg, South Africa!
Okay, so you have to watch the entire episode to learn about everything else that was shared!
Follow exhale's hosts at: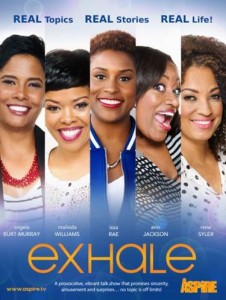 ·Angela Burt-Murray on Twitter @AngelaCocoaFab, and on her websites cocoafab.com and cocoafab-tv.
·Erin Jackson on Twitter @EJthecomic, and on her website erinjackson.net.
·Issa Rae on Twitter @IssaRae, and on her website awkwardblackgirl.com.
·Rene Syler on Twitter @goodenufmother, and on her website goodenoughmother.com.
· Malinda Williams on Twitter @MalinsWorld, and on her website malindawilliams.com.
Any thoughts?
Comments
comments