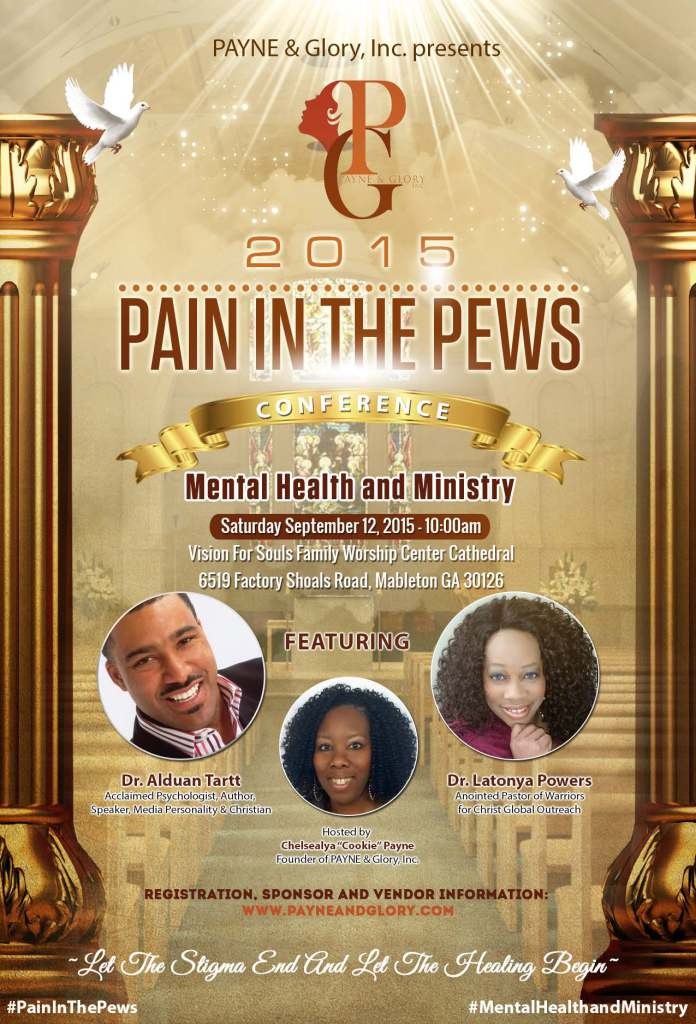 Hello World,
I hope you had a wonderful Labor Day holiday weekend with your family and friends. I also celebrated my birthday yesterday, September 7, so this weekend was particularly fun! But now it's time to get back to work and more serious topics. One serious topic that I want to address today on this blog is the intersection of mental health and ministry. If you are interested in these topics and live in the metro Atlanta area, "Pain in the Pews," a conference dedicated to these topics, is a must-do event, and it is free! The conference will be held at Vision For Souls Family Worship Center Cathedral, 6519 Factory Shoals Road, Mableton, GA 30126 THIS Saturday, Sept. 12 from 10 a.m. to 12:30 p.m.
Please see my interview with Chelsealya Payne, who is the founder of PAYNE & Glory Inc., the organization that is hosting the conference.
1. What is the "Pain in the Pews" Conference about, and why did you decide to host it?
Simply, it is about topics that we want to discuss in our local churches, but often don't get the opportunity to do so. It's about opening up the dialogue that fuses together our faith in God and putting that faith in action to pursue help in a particular area. This is our 3rd PITP Conference. It is in no way "church bashing," but rather showing how we can use our faith to overcome the "pain in the pews."
2. Dr. Alduan Tartt, a noted psychologist, and Dr. LaTonya Powers, a noted pastor, are the featured speakers. What will each of them speak about during the conference?
Dr. Tartt will speak about "Letting Go of Relationship Pain." Very important – so many people suffer from emotional and mental challenges that stem from their inability to know how to fully let go. Dr. Tartt is EXCELLENT in this area, and will give the participants a lot of "aha" moments. Pastor Powers will speak about "Pain in the Pews." We often carry the same issue back home with us that we carried to church – the same mental challenges, the same emotional weight, the same guilt, shame and feeling of being stigmatized if I talk about "this." Pastor Powers provides a down-to-earth spiritual wisdom that is sure to uplift us all. So, the two speakers together will do a dynamic job of showing how the spiritual and professional side are needed for complete healing – mind and spirit.
3. What do you hope people will receive from the conference?
One word – "Hope." A small word with a powerful impact. I want people to walk away with a sense of hope that they can overcome and be healed from their issues. To have a understanding that hope is still there, waiting and available for them, and that someone really does care about them and what they are going through. Hope.
4. What is your own background in mental health and ministry, and how did you get involved in these two areas?
I have been wanting to host this for quite some time now. I've been in the church my entire life and have worked in some capacity or another most of my life. Over the years, I have come across many people that love the Lord, work in ministry but suffer from depression, anxiety, emotional distress, eating disorders, etc. Many of these people were people that were close to me, some were people that I admired in ministry, while others I heard or read about (after something tragic had happened as a result of their mental/emotional anguish). I wanted to create a platform where this topic is not stigmatized. Mental illness is just as important and should be addressed as fervently as any physical illness.

Yes, I actually do have my own personal testimony regarding mental health…but I won't be sharing that until the conference. 🙂
5. Do you feel like the church, specifically the Black Church, has appropriately addressed mental health and ministry? Please explain your answer.
No, I don't think so. I think that historically, we have been taught just to "pray about it" – which, I agree wholeheartedly that we should pray about everything. However, it cannot stop there. If Sister Mary comes and says that she is suffering from depression and having suicidal thoughts, prayer along with ensuring that Sister Mary gets professional help is what is going to help to heal her. If someone says I have a tightness in my chest and my left arm is going numb, we are certainly going to pray, but someone is going to/should say "you need to go see a doctor." The same advice given to someone with a physical ailment should be given when someone has a mental or emotional issue. That is not always the case in the Black Church.
6. Tell me more about your non-profit organization PAYNE & Glory and its mission.
Our organization is designed to empower the total woman – mind, body and spirit. We host live and virtual events on topics from domestic violence awareness and prevention to health and wellness. Twice a year, we offer events that specific to teen young ladies. Our mission is to empower you to impact your future.
7. I read in your bio on your website that you are legally blind. How have you used your disability to inspire your ministry?
When people meet me, until I tell them, no one knows that I have a disability. I use it mainly to let people know that they do not have to allow their circumstances dictate who they are. I do a lot of what I do, like drive, because growing up, my parents didn't put limitations or labels on me – so I adapted my life what I was taught (in a productive way) – instead of adjusted my life to fit my challenges.
Is there anything else you would like to add?
We want people to come to this conference and receive every ounce of healing, strength, empowerment, inspiration and hope that they can carry with them!
Although the conference is free, advance registration is recommended as refreshments for attendees will be provided. Please register by clicking this link: eventbrite.com.
Any thoughts?
Comments
comments