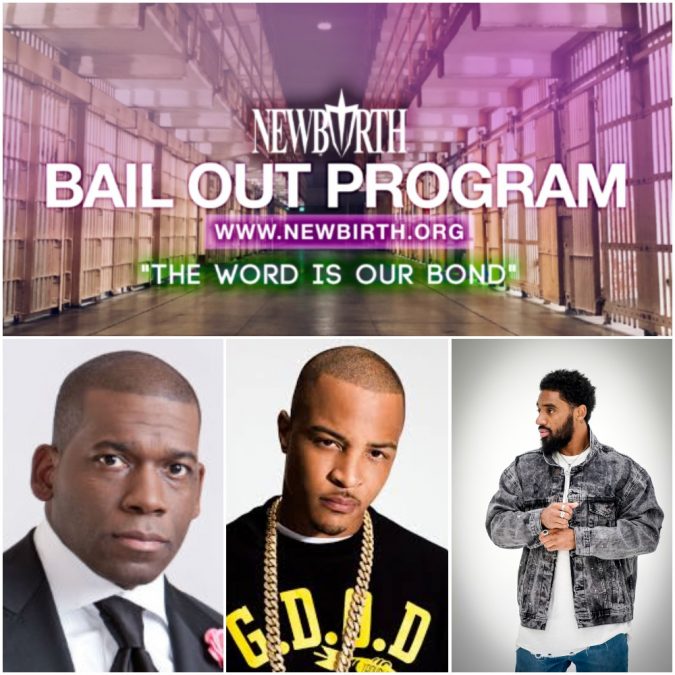 Hello World,
How was your Easter Sunday?! Mine was lovely. After a wonderful Easter service at my church, my husband and I were blessed to spend time with family and friends. Since my parents live pretty close to my in-laws, it was easy to see a good number of people that I don't get to see every day in one day. In addition to having a soul-saving relationship with God through the sacrifice of His Son Jesus, I'm so thankful that God has blessed me to have a close-knit family and great friends.
Apparently, I was not the only one who was able to reunite with family and friends on Easter Sunday. Through New Birth Missionary Baptist Church's Bail Out Program, $120,000 was raised with the help of rapper T.I. and VH1's "Love and Hip Hop" personality Scrapp Deleon to bail out 23 non-violent offenders from metro Atlanta jails (DeKalb, Fulton, Gwinnett and Rockdale County Jails) on Saturday, April 20 in time to celebrate Easter Sunday with family and friends, according to Fox 5.
On the bus ride home from jail, one man said, "I aine never had nobody help me or do nothin' for me. I've been on my own since I was 13. Everything I've done, I've done by myself so for y'all people to just come out and bless me like this. I really feel, like, very grateful, very thankful for everything. I'm trying to be, whatever y'all need me to do, whatever y'all need me to help with, I'm there. Just say the word. I'm just very blessed. I'm very thankful."
Also, church volunteers greeted the men and women with a Welcome Home Party. Barbers, beauticians and celebrity makeup artists  in addition to clothing were on site to get the men and women looking right before they were reunited with their families and loved ones. One man at the party said 30 minutes after he prayed about getting out of jail, he was told about the Bail Out Program at midnight! "12 o'clock at night, the guard knocked on my door and handed me the Bail Out Program. Like it was just crazy." How many of y'all know that when no one else is up at the midnight hour, you can call up Jesus who hears and answers prayers! That reminds me of what happened with Paul and Silas when they were jail. They were freed at midnight as well!
At the party, Pastor Bryant announced that ALL of the children of the men and women who were released from jail will have college fund accounts at Citizens Trust Bank courtesy of the church. "We want to make sure that we disrupt a culture of recidivism so they do not go back into the system as in previous generations." Additionally, mentors will work with the men and women.
See for yourselves what happened in the video below:
That is what the resurrection of Jesus Christ is all about – resurrecting new lives.
Any thoughts?
Comments
comments