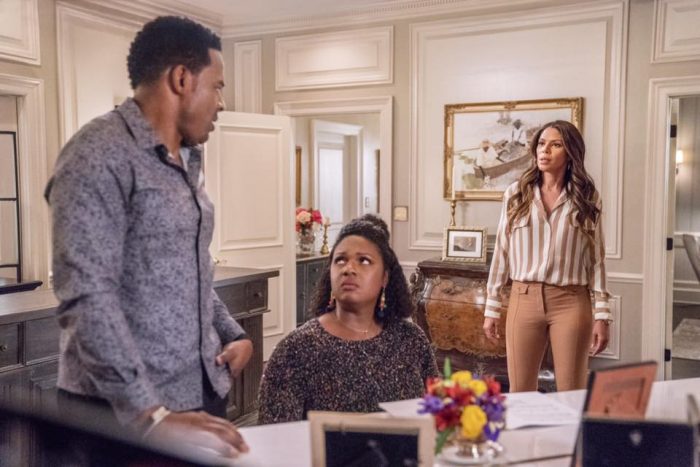 Hello World,
Y'all already know that Bishop and Lady Mae officially reunited in tonight's episode just by the title, but trust me, there is a LOT you don't know so keep reading this "Greenleaf Recap Season 4 Episode 7: Reunited."
We Belong Together…
Although a family belongs together, A.J. aine trying to reunite with his mother again. In a panic, she calls her other child, Sofia. "I haven't heard from A.J.," Sofia says from her Hampton University dorm room. But when she gets off of the phone with Grace, we see A.J. lounging in her room. "Just go home," she says to him. "You're innocent." "I can't," her brother says to her.
At the Greenleaf estate, Charity belongs somewhere else…I'm thinking it's a sanitarium of some sort because this chick is straight preaching to herself in the mirror and she appears to believe what she is preaching. "satan got you good," she says to her image. Then she admonishes her son Nathan to not be like his Aunt Gigi. "See that's that pride." She is truly jealous of her sister and I don't entirely get why. Grace's life is far from perfect either, especially now.
Anywho, Charity has to stop preaching to herself in the mirror because Bishop calls a secret meeting of his children. "I think you like secret meetings," Jacob says to Charity in an accusatory tone. Speaking of Phil DeMars, Grace arrives to the meeting a little late because Phil held her up. Apparently, he wants to build extra sparking spaces on Calvary's property because of Calvary's increased attendance. And although Calvary has experienced growth, he doesn't acknowledge Grace's preaching as a reason why the growth occurred, Grace tells her family. Charity attempts to stick up for her secret boo. "Are you talking Phil DeMars' side in this?" Bishop asks Charity, looking at her like the traitor that he doesn't even realize she is…
👀 #Greenleaf pic.twitter.com/aucyEP3xtv

— Greenleaf OWN (@GreenleafOWN) October 16, 2019
Charity tries to explain Phil is simply her "brother in Christ." So that makes Jacob mad. "He got me fired," Jacob says. I mean her actual brother is also her brother in Christ, but I guess that's beside the point as she cannot suck face her with her actual brother. Charity tells him that the 10 stitches and a trip to the emergency room that someone received courtesy of him in the Memphis Red Devils' fight is what got him fired. Grace says Jacob was attempting to be peace maker before the fight got out of hand.
But before their bickering gets out of hand, Bishop tells his children why he wants to meet with them. "I want you to work up a song to put her in the marrying mood." Yes, Bishop and Lady Mae belong together and it's finally time that the two get back together officially. He's going to propose to Lady Mae, and seeing her children serenade her should convince her to say, "Yes." But what's funny about this secret meeting is that it's not a secret. Lady Mae happened to overhear Bishop's plan but she doesn't tell anyone that she knows what will happen in the near future.
Speaking of Lady Mae, she aine playin' with Kerissa. While Kerissa is relaxing in her suite, Marisol shows up with a camera to take pictures of the surroundings purportedly for insurance purposes, Marisol tells Kerissa. But y'all already know that she is documenting anything in case Kerissa tries to "hold something" on the way out, and Kerissa knows that too. She wonders what would happen if something happened to Lady Mae…Where would her furniture and more go then?…
But Lady Mae has more real rather than hypothetical matters to attend to at the moment. Karine calls Lady Mae to tell her that Misty has put a critical item on the agenda for the Deacons Board meeting. She wants Lady Mae's name removed from the scholarship fund that she created! I think Lady Mae's name belongs with the scholarship fund that she created.
And you know who doesn't belong together? Phil DeMars and Charity, according to Jacob. He tells his baby sister that he saw her with Phil at Calvary late one night. "I saw you with your tongue down his throat." He gives her four scenarios about why they are seeing each other – 1) He's using you. 2) You're in love with him. 3) He's forced himself on you. Or  4) You're spying on him for the family. Charity originally claims 4, but then she admits to 2. Of course, Jacob argues with her about her questionable choice in men, but Charity has made up her mind about Phil. "He's straight," she screams at Jacob. But was so was Jabari and that didn't stop him from playing Jacob's sister…
"What's going on here?" Grace asks about the ruckus between her younger siblings. "We were arguing about what song we're going to sing," he says choosing for the moment to keep Charity's confidence. He tells her that Charity wants to sing "Reunited."(Gotta love that classic by Peaches & Herb! It's probably the best break-up-and-get-back-together song ever!) "What's wrong with that?" says Grace.
Ex-Factor…
The x factor that can spoil the plan of Charity and Phil is that now Jacob knows there is some sort of unholy alliance at work. He may not be a woman with an intuition but he knows his sister. When it comes to men, her decisions just don't make sense. Charity rushes to Phil's office after her discussion with her brother. "Have you sent the file?" she asks him. Remember that Charity recorded Grace saying her answer to the police about her whereabouts as it pertains to A.J.'s alibi was less than truthful. She tells Phil that he cannot anonymously send the file (presumably to the police) because Jacob would figure out that Charity was the snitch behind it all. "Jacob saw us kissing the other night."
So I can't figure this next move out. Phil agrees to hold off on sending the file for at least 24 hours to give Charity some time to decide what she wants to do. "I know I can't force this on you. Your trust and love are my priority," he says. "Are you for real?" Charity responds. "For better or worse" is Phil's answer…So what was that wedding wording reference about? Is this some sort of Jedi mind trick that Phil is pulling to pull the wool over Charity's eyes. Or does he actually care for her? I think he cares for her, but that doesn't mean that he doesn't care about his cause and or himself more…
The x-factor in A.J.'s life is his little sister. He tells her she is the only one in their family who actually treated him like he is family. Sofia pleads with A.J. again to just go home. "You're innocent." "It doesn't matter if I'm innocent or guilty. I'm a black man." (Man…I hate that so many black men have to contend with this issue in 2019.) A.J. then explains that Sofia has had it pretty easy as a pretty, light-skinned young woman. He then stomps out as he's on the hunt for cigarettes before he officially tells his little sister good-bye.
Also filed under heartfelt discussions, Nicki , the girlfriend of Memphis Red Devils' b-ball star Dante Saunders, comes over to Zora's spot to confide in her about Dante. Apparently Dante refused to give some speech which would pave the way for him to return to the team, Nicki tells Zora. As Nicki vents, Zora is looking through her Bible. Wow. I cannot believe it. While Zora will probably never be as squeaky clean Christian as Sofia was, her faith in God is starting to grow. But Nicki is insulted. "If you talk to Jesus, you better hope He pays you better attention than you just paid me."
Zora's favorite Auntie Gigi (I'm guessing so…) tries to figure out the x-factor in a discussion with a gentleman whose nearby land was bought by City on a Hill. "That sounds like Christians to me," she says to the man.  The man agrees but other than that, Gigi is clueless about the connection of City on a Hill and Calvary. She is following Phil's lead in trying to secure more land for parking spaces, but she is hitting some roadblocks as she finding out the land surrounding Calvary is not available for sale.
As of this moment in the episode, Jacob doesn't know about City on a Hill and Calvary, but he does know about Charity and Phil. Since he has already confronted Charity, it's time to get at Phil. "You know about my relationship with Charity, and you're trying to get your job back," Phil says. Nope, that would not be correct. Jacob, unlike his sister, is not willing to use his family relationships to gain a position, at least not in an underhanded way. He explains that Charity hasn't had much luck in the man department. "Kevin, Jabari, the list goes on." Phil assures Jacob that he's got the best of intentions. "I told you I won't hurt her," he says. "That's all I wanted to hear," Jacob says although it's clear that he is still jonesing to whoop Phil.
While Jacob is worrying about Charity, he needs to be watching his wife. This woman has a discussion with the City on a Hill executive. Jokingly, she discusses what what would happen to the Greenleaf estate if Lady Mae and or Bishop went on to glory. The buyer encourages her to find out the answer to her question. He is such bad news. Then he tells her that he has reserved a room for the two of them at a hotel. But Kerissa tells him that she wants him right now in the office. "Let me let my assistant go," he quickly says in response.
Right Back Where We Started From…
Sofia looks through A.J.'s backpack and finds medicine bottles. She confronts her brother when he returns to her dorm room. "Why'd you go looking in there?" he says. She tells him that she was going to try to sneak some cash into his backpack since she wasn't sure that he would take it directly from her. Now, it seems the two are strangers like when they first met. "My mother lied for you," she tells A.J. "I don't owe you any explanations," he says. She pleads with him to turn himself in. "Go ahead and call the cops. I don't care. See you next lifetime." He leaves her dorm room and maybe her life for good. I'm convinced he's sick. What does he mean by "next lifetime?" What y'all think?
Their grandmother Lady Mae finds Misty and confronts her about wanting to have her name removed from the scholarship. (What older grown black woman is named 'Misty?') Misty tells Lady Mae that it was Connie's idea after the Calvary member's daughter was raped by Lady Mae's brother Mac.
Thinking about Mac, I have to think about Grace and what brought her back to Memphis. She is always searching out the truth (although she did ignore her truth for years). She goes to City on a Hill to see if she can learn something about the company. To her surprise, she sees her sister-in-law there. And she has a discussion with Fernando, Kerissa's new lover. He says, "I'm deeply concerned about the future of Calvary and as soon as I'm authorized to share my plans with you, I will do so." As soon as she leaves, Fernando calls Bob Whitmore.
Grace is not the only one seeking answers. Zora goes to her grandfather for wisdom on how to be friends with people i.e. Nicki who don't have the same Christian beliefs as she now does. "All you can do is love, listen and wait. There is so much power in waiting," Bishop says. Amen, but waiting is so incredibly hard…
In the next scene, Grace gets Aaron to find out the identity of the owner of City on a Hill. She is flabbergasted to discover that Harmony & Hope is the owner of the company.
And in probably the best scene of the episode, Lady Mae speaks with Vida the daughter about why she started the scholarship and why she hopes to keep her name associated with it. She explains that she wants the women who receive the scholarship to gain skills that would boost their self esteem. She too suffered from low self esteem she revealed. In tears, she explains that she didn't know that her brother was using the scholarship to victimize young women and that he also victimized her daughter Faith. But she apologizes for his actions nevertheless. She also reveals that Mac likely learned his behavior from their father who did the same to her. "I didn't know," she says as she continues to weep. It's clear that her conscious mind wouldn't let her know even if somewhere in her subconscious mind, she did.
And that's the truth. #Greenleaf pic.twitter.com/hxvN75Q11Z

— Greenleaf OWN (@GreenleafOWN) October 16, 2019
Vida recognizes that Lady Mae is a fellow survivor and asks her to come to a Sisters of Tamar meeting held at Calvary. "You should come," she says. "They don't want to see me in there." "It's not about what they want. It's about what you need to say." They cry as they hold one another. Ladies and gentlemen, we've seen a breakthrough at long last!!!
Back at the Greenleaf estate, the Greenleaf adult children should be practicing their song but they argue. Grace confronts Jacob about selling his land to Harmony & Hope and asks why Kerissa was at the City on a Hill office earlier! "Every piece of land that borders our church is owned by Harmony & Hope." Of course, he didn't that H&H was behind the sale, and he doesn't know why his wife is still conversing with the buyer of their property. Jacob reveals that Charity is seeing Phil! Bishop interrupts them and reminds them they should be practicing.
But in the midst of all, Lady Mae shows up, looking shell-shocked. After a brief word with her family, she retreats to her closet where she sits on the ground, still in a daze. Bishop joins her on the ground of the closet. She says, "I know you had plans for tonight and you were going to ask me something." "Which one of these untrustworthy scoundrels told you?" Bishop replies. Lady Mae says the evening may be no longer appropriate for the question, but she does have an answer for Bishop. Of course, Bishop wants to know the answer. "I would trade a million years at the feet of God's heavenly choir." "Yes," she says simply. Awwwwwwwwwwwww 🙂 Reunited and it feels so good….
She said YES! 👰🏾 #Greenleaf pic.twitter.com/gfsNOcPc2G

— Greenleaf OWN (@GreenleafOWN) October 16, 2019
Speaking of not reuniting, Jacob goes to his bedroom where he sees Winkie in the bed with Kerissa. She tells Jacob that he had another bad dream and that's why he's there. Jacob volunteers to sleep elsewhere since Winkie will be tossing and turning. But I think it's actually because he realizes that Kerissa is doing something shady after what Grace told him.
Charity also believes that Phil is up to something shady. "Why didn't you tell me that Harmony & Hope is buying up land all around the church?" she asks Phil later. She overheard Grace and Jacob discussing that earlier. "Are you Bob's right hand or not?" Phil says he didn't know that information either. Hmmm….not sure if I believe him but whatever…
Another revelation takes place in another part of Calvary. Sophia returns to Calvary and shows up in her mother's office which used to be Bishop's office. She reveals that A.J. was with her although he's gone now. She tells her mother why she came in person to tell her. "I wanted to be here for you when you hear what I have to say. I found a bunch of prescription drugs in his backpack, Mom. He's guilty."
#Greenleaf pic.twitter.com/Y9owlzE8PQ

— Greenleaf OWN (@GreenleafOWN) October 16, 2019
(And where is Noah? He must be walking to Memphis…) See I told y'all that y'all don't know everythang….
Thank you sooo much for reading my Greenleaf Recap Season 4 Episode 7: Reunited… and my other recaps so far. If you would like to keep up with OWN's "Greenleaf," and my recaps, please click on this link to subscribe to my blog 
!
Any thoughts?
Comments
comments