Hello World,
As I lost two of my sorority sisters to breast cancer, I'm passionate about breast cancer awareness, prevention and fighting to discover a cure…
That's why I support BET Networks in continuing its annual tradition of "going pink" in recognition of National Breast Cancer Awareness month. TONIGHT, Oct 20, BET Her will premiere an original limited series, "The Waiting Room" at 8 p.m. This fictional anthology series will include four 10-minute short films, that follow five women who all connect in a doctor's waiting room as they await to hear if they have breast cancer. Each short film will follow their journey after receiving the life changing diagnosis. All stories were written and directed by Black women, including Micah Ariel Watson, Shateka Johnson, Nicole Taylor-Roberts, and Cas Sigers-Beedles.
Ep #1 – The Story of Nadia​
An OB/GYN finds herself as the patient. Due to the necessary treatment to survive, she faces the harsh reality of not being able to personally have the "gift" that she delivers to women each day. Dr. Bennett (Keshia Knight-Pulliam), Nadia (Meta Golding), Travis (Christopher Alan Martin), Writer/Director (Micah Ariel Watson)​
Ep #2 – Bonded: The Story of Kendall​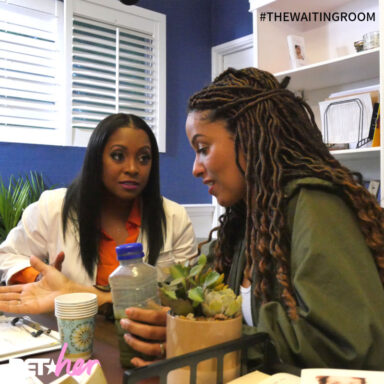 Estranged mother and daughter come together after the daughter is diagnosed with Stage 3 cancer. Dr. Bennett (Keshia Knight-Pulliam), Kendall (La'Myia Good), Zola (Angie Stone), Shannon (Kim Davis), Writer/Director (Shateka Johnson)​
Ep #3 – The Ballad of Lexi Smith​
A comedienne deals with her cancer battle by incorporating her story into her stage routine. Despite being alternately funny and uncomfortable for the audience, she survives by sharing her truth. Dr. Bennett (Keshia Knight-Pulliam), Lexi (Michelle Threatt), Sammi (Tequilla Whitfield), Wes (Jean Elie), Writer/Director (Nicole Taylor-Roberts)​
Ep #4 – The Story of Trinity​
A woman learns that her cancer is no longer in remission and sets out to live her remaining days, creating memories with her loved ones. Dr. Bennett (Keshia Knight-Pulliam), Trinity (Rashan Ali), Devon (Ernestine Johnson), Rory (Alexander Benton), Steven(Karon Joseph Riley), Shelby (Lyric Chance Thomas) Writer/Director (Cas Sigers-Beedles)​'
The month of special programming furthers the BET Her brand mission of entertaining, encouraging and educating its audience with positive messages on coping with the effects of breast cancer, celebrating individuals and organizations in the fight against breast cancer, and raising the level of awareness to prevent this disease's impact on the community in the future.
Audiences can join the conversation on social media by logging on to our social media platforms:
On Twitter by using the hashtag: #BETherFights; follow us @BET and @BETHerTV;
On Facebook by liking the fan pages at facebook.com/BET and facebook.com/BETHerTV;
On Instagram @BET and @BETHerTV
Any thoughts?
Comments
comments