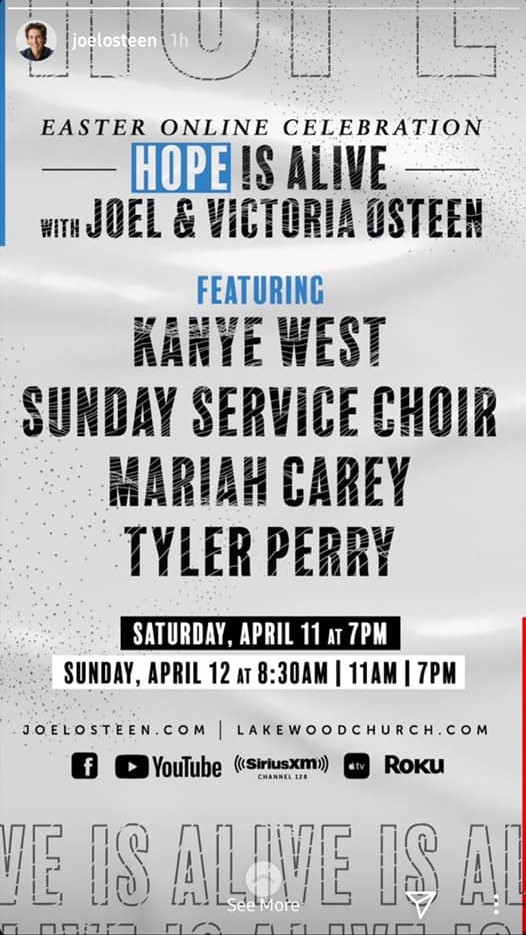 Hello World,
By now, you may have have heard that Pastor Joel Osteeen, leader of one of the largest megachurches in the country Lakewood Church, has a lineup on Easter that is sure to bring the masses. Stars such as Kanye West and his Sunday Service Choir (how they gon social distance?), the Mariah Carey and hometown hero and media mogul Tyler Perry (Y'all heard how he blessed senior citizens with free groceries here in the A & Nola, right?) will be in the house for the online service! While I love all three of these celebrities (well, at this point, my opinion of Kanye is fluid…), I wonder if the celebrity approach is the move on THIS Easter…
I don't know about you, but this will be the first time that I know about that I haven't darkened the threshold of a church building on Easter Sunday. Although this will be the fourth Sunday I think I haven't been in church since the COVID-19 pandemic forced us to quarantine at home, I'm still struggling with it. And this Easter Sunday, I don't just want to do Bedside Baptist as what is becoming normal. I need a way to celebrate the resurrection of my Lord and Savior that feels befitting of the occasion. I need a WORD from some pastors who know the Lord in special way that can give me some divine strength to continue walking by faith during this strange season. God bless celebrities, but their star power isn't the power that I need…But at the same time, I recognize that stars may be seeking strength as well and whatever shine they may get from this appearance may be secondary to their need of the Son to shine…
One of my Facebook friends pointed out that the names of the stars are larger than than the word Easter and that Jesus is not mentioned at all on the flyer. She is calling the service "Eastertainment."
What say you? Will you be tuning on Sunday? How you will celebrate Easter at home?
Any thoughts?
Comments
comments