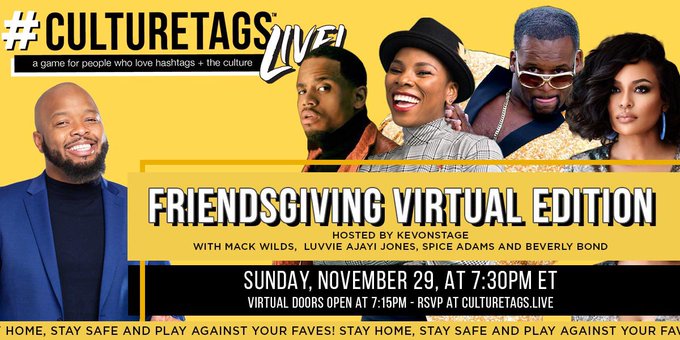 Hello World,
If you enjoy social media like I do, you've probably seen Christian Comedian KevOnStage's HIGHlarious videos! If not, plz Google them. You will be crying!!! Anywho, KevOnStage, Mack Wilds, Luvvie Ajayi Jones, Spice Adams, and Beverly Bond will be taking part in CultureTags Live! A virtual game show experience that gathers people from all walks of life to compete in a head to head battle of #CultureTags. The game that tests how well you know culture! It all goes down for FREE on Sunday, Nov. 29 at 7:30 p.m. EST. See the details below:
HOW TO PLAY

If you're here, you'll have an opportunity to play against our Friendsgiving Team — Team MLSB: Mack Wilds, Luvvie Ajayi Jones, Spice Adams, and Beverly Bond!

From the creator of Because of Them, We Can, #CultureTags™ is a spirited game that will test just how well you know the culture. The game is simple. There's an acronym (#culturetag) that stands for a known phrase in the culture. The goal is to use the hints to figure out what it is before time runs out.

Categories include: Black Twitter, Church, Daily Sayings, Family and Friends, Film and TV, Songs and Lyrics, and Words to Live By.

THE PRIZE

The dignity in knowing you know the culture + signature #CultureTags trophy.

THE GAME

The game will be available in Target Stores nationwide on November 29.

LEGAL

As a condition of your attendance at "CultureTags Live!," you hereby grant Culture Brands, LLC, its subsidiaries, licensees, successors, and assigns the right, but not the obligation, to film and photograph you and use your likeness and voice in the production, exhibition, distribution, promotion, publicity and advertising of this event in any and all media throughout the world in perpetuity.
To register for CultureTags Live!, click HERE!
Any thoughts?
Comments
comments