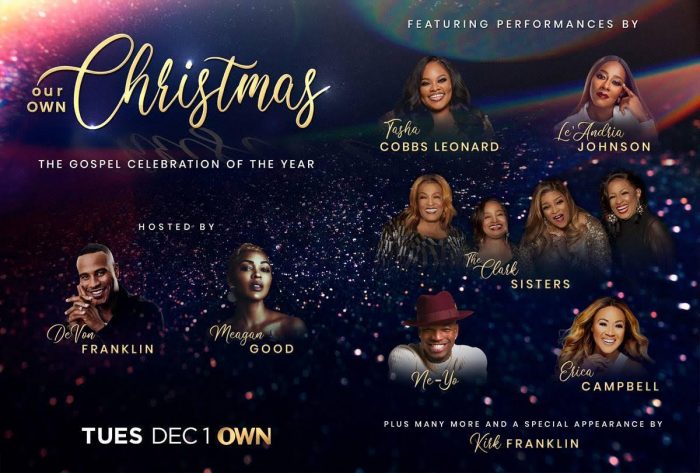 Hello World,
I hope you had a wonderful Thanksgiving with your family and friends even if it was a socially distanced one. That's what we did. Hubby and I stopped by my parents and in-laws for a few minutes each while wearing our masks. Long enough to pick up plates of food from each household which we are still eating on as of today! Question: How long do you make Thanksgiving leftovers last? I think today will  be the last day for me. Or maybe tomorrow. What say you?
Anywho, now that we have taken some time to thank God for the many blessings He has bestowed upon us (with His presence being the most important  blessing of all), it's time to celebrate the birth of His son, our savior Jesus Christ! This year OWN is kicking off the holidays early with the premiere of its first ever gospel music special Tuesday, December 1 called "Our OWN Christmas" which is hosted by DeVon Franklin and Meagan Good.
Below is the official description:
The one-hour long special, which starts at 9 p.m., will feature festive collaborations, uplifting holiday moments, surprise acts of giving, and a whole lot of inspiration to help spread the holiday cheer this season. Viewers will enjoy magical performances of Christmas classics ranging from "Oh Holy Night" to "Have Yourself a Merry Little Christmas" to get them in the holiday spirit right at home from music's most celebrated artists including legendary award-winning gospel group The Clark Sisters, Grammy-Award winners and iconic gospel singers Kierra Sheard, Erica Campbell, Tasha Cobbs Leonard, Lalah Hathaway and Le'Andria Johnson and singer-songwriter Ne-Yo, BJ The Chicago Kid, singer and record producer PJ Morton, a capella groups Shelby 5 and The Walls Group. With a must-see collaboration between Boyz II Men and Brian McKnight.
I was blessed to be able to watch an advance screening "Our OWN Christmas" so let me give you my top reasons to watch the show.
1. Hosts Devon Frankin & Meagan Good  — So this year's quarantine has led to some, shall we say, "different" hairstyle choices. For a long time, many of us halted our hairdresser appointments so that we would lessen our chances of being exposed to COVID-19. I don't know when this was filmed, but I wonder if that is why Meagan choose to wear a brown turban/head wrap during the broadcast. At one point, when my grays were getting impossible to camouflage, I wore a head wrap for an interview I conducted via Zoom. Hair conundrums were definitely happening this year!
Also, DeVon may be a bit more high maintenance than his beloved because while Megan rocked one outfit the whole time, DeVon rocked two looks. My favorite was a black Gucci scarf with red and green highlights that was paired with a snug green turtleneck.  Also, I enjoyed their trading of corny jokes such as DeVon referring to his wife as, "Meagan Good or Ms. Franklin if you're nasty." Also, I learned that one of DeVon's Christmas traditions is a lip sync contest complete with costumes. Meagan talked about being a part of the show for the first time I imagine around the time they were getting to know each other or in the earliest days of their marriage. Anywho, I love cute couples and they are among the cutest black couples in Hollywood. If you want to know more about them, you should definitely watch "Our OWN Christmas."
2. Boyz to Men & Bryan McKnight  — Boyz to Men & Bryan McKnight can sing anything I imagine, but I loved their rendition of "Let it Snow." So how about I was today year's old when I realized that Bryan McKnight was on the original version of this song when it debuted in 1993. I Googled it as I was writing this and discovered the original version. Here is the original video:
So what has changed since the original video? How about Wanyá Morris, Shawn Stockman and Nathan Morris all have a bit of gray in their beards now! LOL. But I can't talk. My family grays early so I've been hiding my grays for years now. Know what else? Michael McCary and his beautiful bass voice! I wish the group would figure out a way to reconcile. If Will Smith and the original Aunt Viv can reconcile so can they…
As an aside, did you know that Wanyá's children, four of which are named Wanya (yeah, that's EXTRA), have a group entitled WanMor? They can saaang too! Check them out HERE!
3. Socially Distanced Filming  — Number 50-11 on the list of Quarantine Quandaries is likely how to film while socially distanced. I think OWN has figured it out! I believe that Erica Campbell may have been singing "Joy to the World" with The Clark Sisters from her back yard. Although she was surrounded by Christmas trees while she was standing on a stage surrounded by poinsettias, I could see palm trees in the distance while The Clark Sisters were in another location altogether. Also, she wore some kind of reddish,sequined head garb that wasn't the best choice by wardrobe. Additionally, we got to see a portion of the kitchen of DeVon & Meagan. Finally, there were struggle Christmas trees behind Shelby 5 and The Walls Group in their respective homes. LOL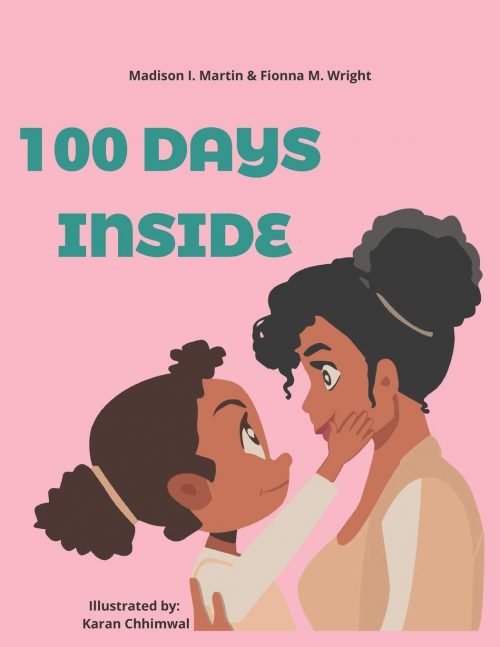 4. Michelle Williams — Although she didn't perform, she was included in the show. On behalf of AT&T's Dream in Black and Shea Moisture, she awarded $10,000 to mother and daughter authors Fionna Wright and Madison Martin who wrote the book "100 Days Inside," a children's book about being quarantined this year. Also, and this is most exciting of all, Michelle is going to help rerelease the book by recording an audio version to include her voice as well as the voices of the original authors. How exciting is that?
I could say more, but I don't want to reveal too much! But here is the trailer:
Will you be watching "Our OWN Christmas" Tuesday, Dec. 1 at 9 pm?!!!
"Our OWN Christmas" is in partnership with Relevé Entertainment, which was founded by multi-faceted producer Holly Carter. The company consistently delivers high-quality, "break-through" family and faith-based programming that engages national audiences. Most recently, Carter created and executive produced "The Clark Sisters: First Ladies of Gospel," the highest-rated original TV movie of 2020. In addition, the OWN network has ordered two new unscripted series to development, "Back to the Altar" about divorced couples working to mend their broken relationships, and "Love & Faith" following the women behind some of the faith community's best-known pastors.
Any thoughts?
Comments
comments