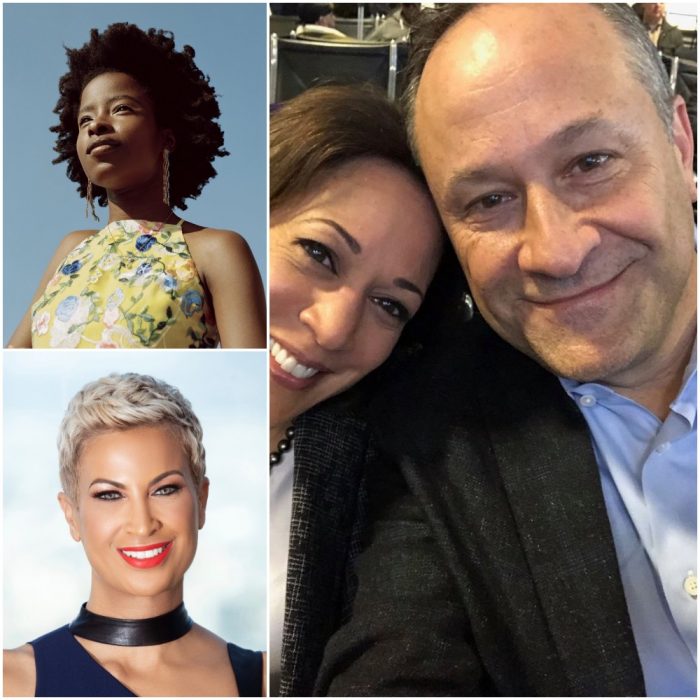 Hello World,
I'm back with my monthly roundup of blog posts and or magazine articles for black Christian women in Black History Month no less! Below is my Top 10 monthly roundup of blog posts and or magazine/newspaper articles for black Christian women for January, but you don't have be a black Christian woman to to check them out. As usual, let me know if you like my list! Enjoy and share!
1. "Kamala Harris' Husband Doug Emhoff puts her Career First as Second Gentleman, Breaking Gender Stereotypes" by Jessica Guynn & Charisse Jones
Excerpt: Emhoff and Harris met on a blind date in 2013 after being set up by a friend and married the following year. Harris became "Momala" to his two adult children, Cole and Ella from his first marriage. So what will the country's first-ever second gentleman focus on during his time in Washington? "Everyone's got an opinion on this, which is nice to hear," Emhoff said during a September fundraiser. "Which means people are actually excited about the prospect of someone like me in this role – and I get that." See more at: usatoday.com.
2. "Amanda Gorman Will be the First Poet to Ever Perform During a Super Bowl" by Salvador Hernandez
Excerpt: Amanda Gorman, the young poet who grabbed the national spotlight at President Joe Biden's inauguration with her inspirational and powerful reading, will recite more of her work at Super Bowl LV.According to an NFL list of past performances during Super Bowl half-time and pre-game shows, she will be the first poet ever to perform at the event, which is one of the most watched broadcasts in television. See more at: buzzfeednews.com.
3. "Inaugural Poet Amanda Gorman Signs With IMG Models" by Chris Gardner
Excerpt: The 22-year-old Los Angeles native, who recited her original work "The Hill We Climb" on Jan. 20 and instantly became the breakout star of the inauguration ceremony as the world looked on, now has a team of reps that includes Writers House, WME and the law firm Gang, Tyre, Ramer, Brown and Passman. As Gorman's partner in the fashion and beauty industries, IMG Models will focus on building her profile through brand endorsements and editorial opportunities. See more at: hollywoodreporter.com.
4. "New CEO on Return of Ebony, JET: 'I Want my People Back'" by DeMicia Inman
Excerpt: "This is personal for me," said Michele Ghee who has been hired to relaunch a new era for the Black legacy magazines. Former NBA player and entrepreneur Ulysses "Junior" Bridgeman purchased Ebony and Jet magazine last month and is ready to bring the publications into a new era. Now, Michele Ghee has been tapped as CEO to work with the Bridgeman family and in a new interview, she detailed her desire to get to work. See more at news.yahoo.com.
5. "Walgreens Taps Starbucks Operating Chief Roz Brewer as its Next CEO" by Amelia Lucas, Melissa Repko, Marc Gilbert & Christina Cheddar Berk
Excerpt: Starbucks Chief Operating Officer Rosalind Brewer will replace Stefano Pessina as CEO of Walgreens Boots Alliance, the drugstore chain confirmed in a statement Tuesday evening. Starbucks had announced Brewer's departure earlier in the day, saying she is leaving at the end of February for a CEO position at an undisclosed publicly traded company. As CEO of Walgreens, Brewer will be the only Black woman leading a Fortune 500 company. See more at: cnbc.com.
6. "Biden Moving Forward With Placing Harriet Tubman on the $20 Bill" by Shannon Pettypiece
Excerpt: President Joe Biden will move forward with a plan announced five years ago and stalled by the Trump administration to place abolitionist Harriet Tubman on the $20 bill. "The Treasury Department is taking steps to resume efforts to put Harriet Tubman on the front of the new $20 notes," said White House press secretary Jen Psaki. She said it is important that the country's money "reflect the history and diversity of our country, and Harriet Tubman's image gracing the new $20 note would certainly reflect that." See more at: nbcnews.com.
7. "Celebrate MLK Day by Honoring the Women who Worked Alongside Dr. King" by Victoria Uwumarogie
Excerpt: Dorothy Cotton: A leader of the Southern Christian Leadership Conference, Dorothy Cotton got her start in activism after joining a church in Virginia and working alongside Wyatt T. Walker, who was then the regional head of the NAACP and would go on to be the chief of staff for Dr. King. Cotton rose to prominence after training young people to picket for the civil rights movement. After Dr. King spoke at her church and met Cotton, he encouraged her to move to Atlanta to help form the SCLC. Her biggest contribution would be the Citizen Education Program, where she help thousands of Black men and women learn the requirements for voter registration, and help them get over efforts to suppress the Black vote. This was possible by teaching reading and writing to help people pass literacy tests. A collaborator of Dr. King's, she was with him in Norway when he was awarded the Nobel Peace Prize in 1964. See more at madamenoire.com
8. "Woman Celebrates 105 Years of Life, Reflects on Marching with MLK" by Ashley Gooden
Excerpt: "Well I wanted to be right. Just right, like Martin Luther King was. Yeah, he was a real Christian man," she says. Being right has gotten her this far. "We just couldn't let 105 years go by and not do anything. Really it just turned out to be way more than we'd ever expected," says Robin Dial, Strait's granddaughter. She loves having visitors, but also loves having her independence. Her secret to 105: serving God and serving others. "Today it's paying off. People is so nice to me. I don't mean just this day, everyday. They good to me," she says with a smile. See more at: wpde.com.
9. "Janice Johnston Becomes the First Black Woman Executive Producer for ABC's '20/20′" by Shanique Yates
Excerpt: ABC's "20/20" just named Janice Johnston as its newest executive producer making her the first Black woman to hold the title, reports The Root. No stranger to the network, Johnston got her start as a network associate, producing segments for "World News Now" and "World News Tonight with Peter Jennings." She also served as supervising producer of "Good Morning America" for a decade. See more at: afrotech.com.
10. "Taiwo Agbona, the 23-year-old Medical Laboratory Scientist Ruling in Nigeria" by Theodora Aidoo
Excerpt: Agbona was born in the royal family, headed by her father, Oba J.B Agbona, Orimoro 11th, the late king of Aaye. She is the first daughter of the king. The death of her father has had a lasting mark on the fate of the young princess, who probably never imagined she'll ever be a ruler. "The chiefs consulted the oracle and told me that I was the chosen one and that I was worthy to be enthroned", she told BBC. The 23-year-old student said she requested the chiefs to give her three weeks to decide to be the regent.She said for as long as she sits on the throne, she is forbidden to get pregnant or marry. However, she enjoys ruling her people. See more at: face2faceafrica.com.
If you know of any black Christian women bloggers and or writers, please e-mail me at jacqueline@afterthealtarcall.com as I'm always interested in expanding my community of black Christian women blog, magazines and websites. As I noted before, while this is a roundup of interesting blog posts and or magazine and newspaper articles for black Christian women, you don't have to be one to appreciate these pieces  
.
Any thoughts?
Comments
comments