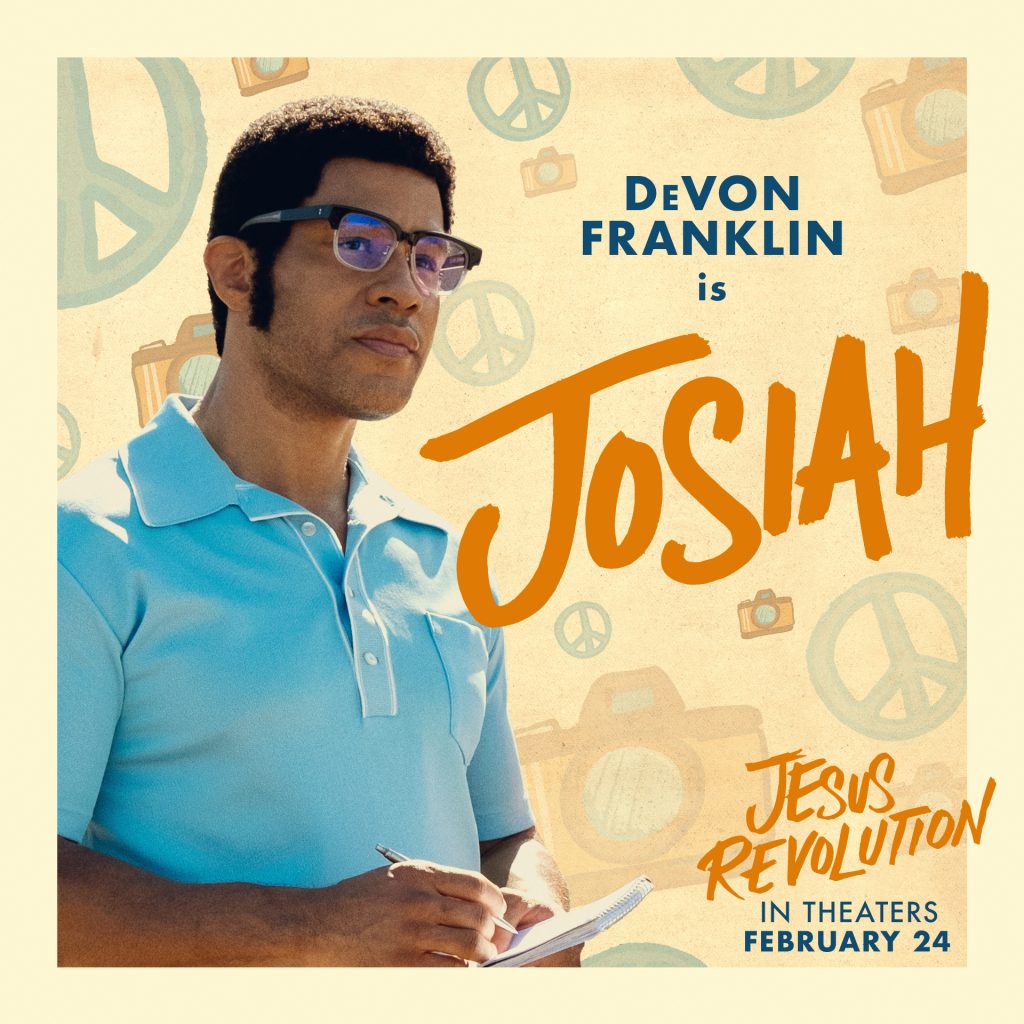 Hello World,
For the first time ever, producer, author and preacher DeVon Franklin is in front of the camera instead of behind it as he stars as Josiah in JESUS REVOLUTION. Josiah is a reporter with TIME Magazine. He's been sent to report on The Jesus Movement that's sweeping across the nation. JESUS REVOLUTION is a historical telling, bringing to life The Jesus Movement that swept the country in the late 60's and early 70s. In the 1970s, young Greg Laurie (Joel Courtney) is searching for all the right things in all the wrong places: until he meets Lonnie Frisbee (Jonathan Roumie), a charismatic hippie-street-preacher. Together with Pastor Chuck Smith (Kelsey Grammer), they open the doors of Smith's languishing church to an unexpected revival of radical and newfound love, leading to what TIME Magazine dubbed a JESUS REVOLUTION.
Below is a DeVon talking about his role as Josiah:
That fro is wild, right?
DeVon is preaching today and discussing the film at Good Hope Missionary Baptist Church in Houston, Texas!
And below is the official trailer for the movie:
Directed by Jon Erwin and Brent McCorkle, JESUS REVOLUTION is produced by Kevin Downes, Jon and Andrew Erwin, along with Josh Walsh and Daryl Lefeve. Additionally, JESUS REVOLUTION was written by Jon Erwin and Jon Gunn. The tagline is: When you open your heart, there's room for everyone. Below is a pic from the Los Angeles Premiere.
For a special national preview showing on Feb 22, thousands of people across America can experience this profound true story of revival on the same day, at the same time by requesting FREE TICKETS while supplies last at JesusRevolution.Movie. However, the general release day is Feb. 24. Also, the film will only be in theaters in February so see it ASAP!
Any thoughts?
Comments
comments