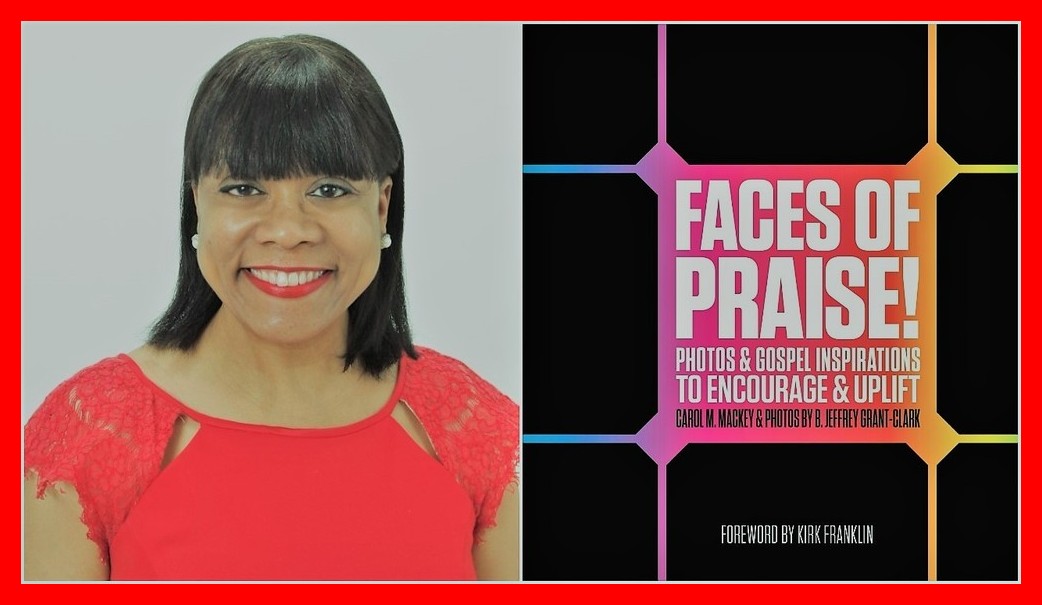 Hello World,
Everyone loves a great comeback story! Well, I've got one for you on this Sunday morning, the day of all days to celebrate comebacks!  My sorority sister Carol M. Mackey, who once helped launch the careers of many African American authors as the editor-in-chief of the largest African American book club, Black Expressions Book Club, in the nation, faced a setback when she lost her job and went through a divorce a few years ago. But since then, she has reclaimed her career as an author and is applying the lessons God taught her through her divorce and emotional upheaval. Carol's latest book, "Faces of Praise!: Photos and Gospel Inspirations to Encourage and Uplift?" which will debut this Tuesday, Oct. 17, is a testimony to that!
This full-color photo gift book that turns chart-topping contemporary gospel music into Bible-based devotions is a three-way blessing for readers: a perfect companion to favorite gospel recordings, an encouraging devotional and a unique photo collection.
FACES OF PRAISE! turns your favorite contemporary gospel songs into Bible-based devotions.
Here are never-before-seen full-color images of 60 top contemporary gospel singers, taken on stage as they led worship concerts. The photos capture the artists as they praise, revealing their passion for God, and inspiring in you the hope, joy, and endurance expressed in their music.
FACES OF PRAISE! pairs the most popular, uplifting songs of these gospel greats with scripture, inspirational text, and prayers.
So get your praise on because this book is a three-way blessing-it's a perfect companion to your favorite gospel recordings, an encouraging daily devotional, and a unique photo collection. Artists included:
Yolanda Adams
Shari Addison
Crystal Aikin
Rance Allen
Vanessa Bell Armstrong
Amber Bullock
Kim Burrell
Jonathan Butler
Myron Butler
Shirley Caesar
Byron Cage
Erica Campbell
Kurt Carr
Jacky Clark-Chisholm
Dorinda Clark-Cole
Tasha Cobbs
Joann Rosario Condrey
Y'Anna Crawley
Andraé Crouch
Kirk Franklin
Travis Greene
Deitrick Haddon
J. J. Hairston
Fred Hammond
Tramaine Hawkins
Israel Houghton
Keith "Wonderboy" Johnson
Le'Andria Johnson
Canton Jones
John P. Kee
Deon Kipping
Mary Mary
Donnie McClurkin
William McDowell
VaShawn Mitchell
J. Moss
William Murphy
Jason Nelson
Charisse Nelson-McIntosh
Smokie Norful
Kelly Price
Hart Ramsey
Marvin Sapp
Karen Clark Sheard
Kierra Sheard
Richard Smallwood
Micah Stampley
Kathy Taylor
Tonéx
Tye Tribbett
Trin-i-tee 5:7
Uncle Reece
Hezekiah Walker
The Walls Group
Melvin Williams
Michelle Williams
BeBe Winans
CeCe Winans
Marvin Winans
Vickie Winans
Check out my interview with Carol about "Faces of Praise!: Photos and Gospel Inspirations to Encourage and Uplift" below!
1. Your first book "Sistergirl Devotions: Keeping Jesus in the Mix on the Job" included devotional readings focusing on women and the workplace. What inspired you to write "Faces of Praise!: Photos and Gospel Inspirations to Encourage and Uplift?" How did this project come to be?
I met the book's photographer, Jeff Grant, at a mutual friend's wedding back in 2012. Our friend knew Jeff wanted to publish a book and I was the editor-in-chief of Black Expressions Book Club at the time. Jeff and I became fast friends and one day over lunch he showed me his photographs on his phone. They were awesome photos of not only gospel artists, but regular church folk in various forms of worship. The first words out of my mouth were, "These are the faces of praise!" I knew he and I would someday do a book together and got the idea to merge my writing talent with his beautiful photographs. But I was in the middle of a bad divorce and knew that wasn't the time. Too much emotional upheaval. Then one day in April of 2016 I got a call from my friend Adrienne Ingrum asking if I was working on anything new (she knew I'd written "Sistergirl Devotions.") She was the editorial director over at Faith Words and was looking for new projects. I told her about my idea of merging Jeff's photos of gospel artists with my my devotionals based on the artists' songs. She loved it. And "Faces of Praise" was born!
2. In addition to photographs of gospel greats, the book also contains devotionals that express the message of the artists' songs. Tell me about the creative process in writing these devotionals.
Many of the gospel artists I knew and loved their songs. However, some of them I wasn't familiar with so I relied on Jeff to give me their most popular songs so I pulled them up on YouTube and gave them a listen. Inspiration came from unexpected places—the Holy Spirit does this often with my writing. I think 'we' are going in one direction and He totally flips the script on me and leads me a whole other way. He did that with a few of the songs. I'd write a complete devotion and He led me to scrap it and write something else. God knows what people need better than I do. I was obedient because I know He led me a certain way for a reason. The Father always knows best!
3. What are your favorite photographs and accompanying devotionals and why?
I don't really have a favorite but some of the devotionals, though hard to write, were powerful paired with Jeff's images of the artists. A few of the spreads I love are Kirk Franklin's "I Smile," Andrae Crouch's "Through It All," and Dorinda Clark-Cole's "I'm Still Here." The images and the message evoke a feeling. I pray they will bless whoever reads them.
4. Did you get to meet any of the artists in the book, and what was that like? And will the artists featured in the book help to promote it as well? What are the plans for promotion? A book tour?
Unfortunately I haven't met any of the gospel artists in the book but I'm sure I will at some point. Many of them have already done promo videos on Facebook—Kirk Franklin, Richard Smallwood, Hart Ramsey and a few others. They're Jeff's personal friends and are happy to help us out. We'll be doing signings together and apart in the coming months. No formal tour is planned though.
5. Most authors probably don't have the opportunity to work with a photographer. How did that element impact the creative process?
Honestly we worked independently of one another. Jeff supplied the artist list based on the photos he had taken over the years and suggestions for song titles. I wrote the devotions based on the songs, and Jeff worked with the publisher to choose the best photos for the book.
6. What do you hope readers will get from "Faces of Praise?" 
I hope and pray they will be encouraged during the hard times. The last several years of my life have been challenging—lots of loss and disappointment. I always tell people it was the worst time in my life but it was the best time in my life. I needed God more than ever and He showed me He was still with me despite the ground crumbling beneath me. I believe in order for wounds to heal, they have to be exposed. That's why the Bible says to "confess your sins. How can the Lord help you if you keep denying you have a problem? There was no shame in my game. I'm here to tell folks He will deliver you during your stormiest season. You get the lesson and the blessing and He gets the glory. It's a win-win.
7. Is there anything else you would like to add?
This book was very cathartic for me because I wanted to address real issues that Christians face—illness, divorce, job loss, tragedy and so much more. I mention many of my own failures and disappointments. God never promised us a life free of pain or heartache, but He did promise to never leave us or forsake us. That's the main takeaway—He's with you!

Check out the promo for "Faces of Praise!: Photos and Gospel Inspirations to Encourage and Uplift?" with Carol M. Mackey & Jeff Grant below! "Faces of Praise" is available where all books are sold!
To join the "Faces of Praise" Facebook group, click on THIS link!
Any thoughts?
Comments
comments