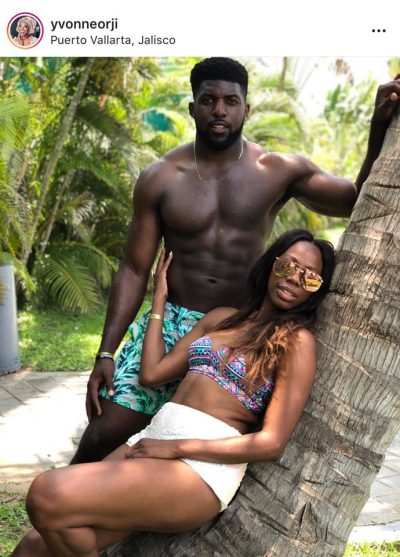 Hello World,
Insecure actress Yvonne Orji is not my friend in real life, but she is my friend in my head for many reasons. I interviewed the Christian actress for THE LOOKOUT in 2017, and I really admired her stance on virginity. This is what she told me:
"From the time I was 17 until now that I'm 33 going on 34, I've seen too much. I've seen the hand of God over the years in my life, and this one thing that he asks of me. I mean he asks many things of us. But this one thing [virginity] that is a roadblock for so many people, he's been so faithful to me in the darkest of my days, it's no biggie."
Although I am married now, I was single for several years before then and I know her struggle. Also, since Yvonne is a first generation American born of Nigerian parents, I identify with her on that topic as well. My parents are Jamaican, but I was born in America. She has even created a show based on her experience as a first generation American. Below is more about her show:
Aside from this series, Yvonne is also developing her own half-hour sitcom, FirstGen, which is executive produced by media mogul Oprah Winfrey and actor David Oyelowo. Semibiographical, the show features a Nigerian girl who drops out of medical school for a stand-up comedy career and the shenanigans that ensue after her strict African mother discovers her plans. "This is my vision so it's a very family-friendly show."
If you would like to read the entire story, go to lookoutmag.com.
So in July 2018 when I learned that Yvonne had a new boyfriend after openly expressing her desire to meet her mate, I was hoping he was the one and wrote a happy blog post about it – Christian Actress Yvonne Orji Shares Prayer She Used to Attract Her New Boyfriend Emmanuel Acho! Emmanuel seemed like he could be the one she was waiting for…I mean his name means Messiah first of all and he is a Christian! And then they had the Nigerian connection. His father is from Nigeria. Also, although he works as an ESPN analyst, he has an artistic side as he can sing and play the piano! And on top of all of that, both are committed to charitable causes. Yvonne worked in Liberia with Population Services International, and Emmanuel worked in Nigeria with Living Hope Christian Ministries! And to put it all together in a pretty package, as a former Philadelphia Eagles' linebacker, her man was all swole and stuff! When Yvonne announced their relationship on Instagram, she even said, "Jesus out here answering prayers on a Sunday." He did seem like the answer to prayer…
But Yvonne Orji recently told her friend and author Luvvie Ajayi, who also has Nigerian heritage, on their Jesus and Jollof podcast that Emmanuel is no longer her man. Yvonne and Emmanuel have broken up. This is what she said about it, according to madamenoire.com:
"I just have to say, the reason I am so good and so happy is because I know how God works," she said. "I have seen God's MO so many times, that like in the way that you can be like, 'Aw man, I thought this was it! I thought this was the one!' God be like, 'Oh that's what you thought? I got the goods for you.' It happened in my career when someone offered me a show and I was like, 'This is it!' and then the show went to nowhere. I got borderline depressed. Cut to Insecure. Cut to my life has changed."
I believe Yvonne is right. Emmanuel may have been the prototype, but the finished product is on the way…and soon too…I've seen God do this many times in many areas of my life as well…But as it relates to romantic relationships…I remember in November 2009. I was despondent after yet another relationship blew up in my face…I had suffered through many breakups before but this one really took me out. This particular boyfriend/manfriend (I mean he was in his 30s at the time…) was one who I had dated before. When we first dated, he told me that he did not want to have a relationship. I wasn't happy with his stance, but I respected his honesty. We remained friends for years. And then he changed his mind. My feelings hadn't changed and I was available. It was so on until it wasn't…It seemed cosmically cruel for life to play out that way…
But February 2010, the week of Valentine's Day, I went out on a first date with the man who would become my husband…It was literally months after the breakup…Nothing but God…And if He did it for me, He can do it for you…
So Yvonne you better be happy because I am claiming on your behalf that the one worth waiting for is on the way!
Any thoughts?
Comments
comments