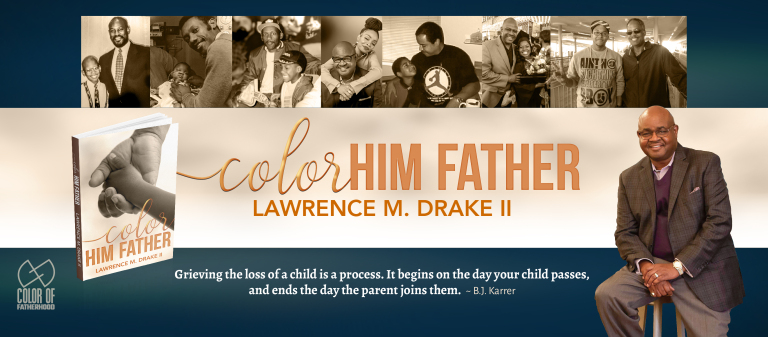 Hello World,
As today is Fathers Day, I want to introduce a new book Color Him Father that was released to honor fatherhood. I'm reasonably sure that becoming a father is to a child is one of the proudest moments of a man's life. But what happens when a father loses that child? You don't hear about the latter scenario because in a perfect world, a child is a father's legacy, living long after that father has gone on to be with the Lord. But since we live in a fallen world, sometimes a father will not only welcome his child into this world but he will also usher that child back to the Lord. Businessman Dr. Lawrence M. Drake II experienced that when his 41-year-old daughter Kia Nichol Drake passed away in 2017. She suffered from sarcoidosis and stomach cancer.
Although she only passed away two years ago next month, he was able to capture his feelings about his daughter's life and her untimely death. In his poignant story, he admits that initially when he discovered that his then wife was pregnant, he was ambivalent. They were married college students and their budget did not include a line item for the birth of a child. In fact, he could not take home his baby daughter initially because although he had three jobs, he didn't have health insurance. But once she was born, he delighted in his daughter, and he became a parent of a son about two years later around the time he graduated from college.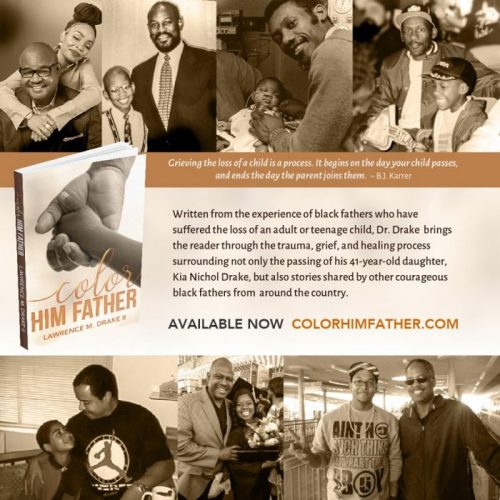 He writes about attempting to balance his ambition to excel in his career and family life, recalling that by the time his daughter graduated from high school, the family had moved 10 to 12 times!  He reveals how she began asserting her independence when she quit her high school's basketball team after she scored the winning shot at a critical game. She told him she didn't want the "pressure" of a being a star athlete. And although she was expected to major in business at Florida A&M University, she elected to major in psychology in part so she wouldn't have to travel as much as her father traveled in his business career. She aspired to help battered women and other women in horrific situations as she experienced an abusive relationship in college. And in 1997, she graduated from college with a degree in psychology.
He reveals his admiration for his daughter when although she was diagnosed with stage 4 sarcoidosis in 2006, she "fought through her fears" to give birth to a son two years later at 32 years old. As I read his story, it gave me insight into how my father may feel or think about me. Although my father is a retired pastor, outside of the pulpit, he is a quiet man and while we have had many, many, many discussions over the years, I've never thought to ask him how he views my life and the decisions I've made. But from reading Dr. Drake's story about this daughter, although we may not realize it, our fathers are thinking about us more than we know…
And if you would like to know more about Dr. Drake's account of his daughter's life,  you will have buy his book and read it for yourself…
But Dr. Drake's story about his daughter Kia is not the only story that is shared in this important book. Below is the official description of Color Him Father:
It's a brotherhood no man wants to join – the group of men who share the pain of losing a child. Whether that child is an infant, teenager, young or full grown adult, grieving the loss of a child is a heartache that can break the strongest of men.

Now, seven men who hold membership in that fraternity of fatherhood have come together to share the sorrow of their suffering. In their own unique voices, these men tackle perspectives of being a Black father that are rarely discussed.

In Color Him Father, you will step inside these very personal and intense stories of love and loss, tragedies and triumphs….But these stories will take you beyond the pain as they share their deep commitment to fatherhood.

Whether you're a man traveling a similar path, supporting someone who has made that journey, or just want to gain insight, these touching testimonies will enlighten and educate people from all walks of life.

Released by Brown Girls Books, Color Him Father will encourage all fathers to renew their promises to their children, while motivating young Black men to become even more committed to the brotherhood of fatherhood.
Below is a trailer for Color Him Father:
Dr. Lawrence M. Drake II is an accomplished businessman, author, scholar, and emerging thought leader on the complexities of Black fatherhood in America.  For over forty years, he's held a variety of senior-level positions at global companies, including Coca Cola, Executive Leadership Council, PepsiCo, Cablevision Systems Corp., and Kraft Inc. As the President and CEO of LEAD, a 21st century learning advocacy organization, he skillfully oversees initiatives that prepare the current and future generations of leaders for success in their academic and professional endeavors.
Based in Atlanta, Georgia, he is a life member of Alpha Phi Alpha, Fraternity, Inc., and actively serves on the boards, or is a member of notable organizations such as the American Psychological Association, Association of Black Psychologists, and Judson University. His personal interests include creating new memories with his wife, his five children, and seven grandchildren.
Below are the tour dates for the book, and for more information, go to: coloroffatherhood.com.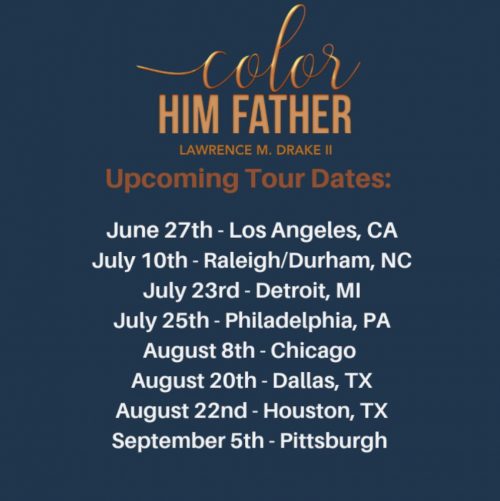 Any thoughts?