Hello World,
I'm a reluctant "The Real Housewives of Atlanta" fan…By that, I mean I sometimes criticize myself for being among the legions of viewers in Atlanta and beyond that tune in each week to be a voyeur in the not-so-real world of Atlantan housewives…first off…some of them aren't even wives…and secondly…some of the hullabaloo that the "housewives" cause from week to week are not truly representative of Atlanta…at least the Atlanta that I grew up in and live in today…But the show is so thoroughly entertaining that 8 p.m. every Sunday night I tune in to see the housewives' high jinks and laugh while my husband comes into our bedroom periodically to scold me for watching…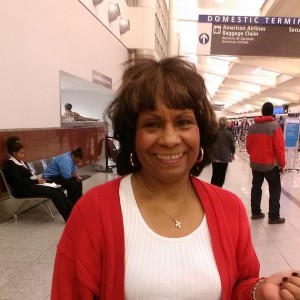 However, this season has unearthed a storyline that seems to be real and maybe even valuable….Mama Joyce (Joyce Jones), the 64-year-old mother of Kandi Burruss, former Xscape songstress and current song-writing millionaire (among her many profitable business pursuits), CANNOT STAND Kandi's fiance' Todd Tucker, a production manager, and has demonstrated so – from starting a fight with Kandi's friend and assistant Carmon Cambrice after accusing her of messing around with Todd and hanging around Kandi only to get her scraps – weave and otherwise to getting up in Todd's face and telling him she's watching him when Kandi leaves the room in another episode…it all makes for hilarious television, but beyond all of that, I think it demonstrates why many rich and not-so-rich single women sometimes find themselves with no man to marry…the expectations of their families and friends….
Mama Joyce's main complaint about Todd is that he is not financially at the same level as Kandi and is therefore, potentially, an "opportunist." I interviewed Mama Joyce on Friday and we discussed why she is wary of Todd and his relationship with her daughter, how she intends to address the situation going forward and dispel any misconceptions that fans may have after watching all of this play out in front of us…
On Why Mama Joyce Thinks She They Shouldn't Have Met and Dated in the First Place:
I don't know him. I just know he did work for Bravo. I don't believe in mixing work with pleasure. And had I been Phaedra, I would have never introduced Kandi to one of the guys that work there, especially if he's going to have to stop working. He could no longer work on the same show so he's not working with them.
On What Her Generation of Women Expect From A Man:
I just feel at a certain age, a man should be at a certain level in their career. What he was doing for himself and his career was fine for him, but at Kandi's status, I just feel like that was not for her…
On What Kandi Is Not Doing for Her:

A lot of people have it turned around. I'm not worried about Kandi's money. I mean when it comes to me. A lot of people are saying Kandi takes care of me.  I have always been able to take care of myself.
On What Was Misconstrued On The Show:
That part about my picture and all that, [Bravo] completely turned that around. I was not talking about my pictures. When you come from Kandi's garage, the first thing you can see is a wall of pictures. It's all pictures of Todd when he was a little boy. And when I walked in, I said, "Now, that's a shame." I call it the "wall of shame." I said, "Why in the world would you have his pictures up right there when you first walk in, when you should have [her granddaughter] Riley's pictures up from when she was a baby, all her school pictures and all that?" But see [Bravo] didn't show that! And I said it!

They wouldn't even show all these pictures of him when he was a little boy… I said the only picture you have of Riley and me is next the floorboard. It's a picture of me with Riley when she was a baby…I said, "Now what you think Riley thinks when comes in every day from school and the first thing she looks at is pictures of Todd when he was a baby?"
On If She Enjoys Being Featured on RHOA:
I did up until up until this year.
On Her Decision To No Longer Be a Part of Kandi's Relationship With Todd:
At this time, I have stepped back. I am no longer a part of the equation. I want Kandi to be happy because I love my daughter more than I love myself. I just want her to be happy. If he makes her happy, well then, that's all that matters. But the main thing I just want people to know, I'm not concerned about myself, I'm just concerned about her and my granddaughter. I don't want nobody to take advantage of her goodness. I don't want nobody just to be with her just because of what she has. I want somebody to be with her because she is a good person and that they come in as partners and can build together…
On If Kandi & Todd Do Marry:
If they invite me [to the wedding], I will be there.
Final Words:
I pray and hope that I am wrong. God knows that I hope I am so wrong about him. And I will be the first person in the world to apologize. I will apologize on TV, I will apologize on the media, I will apologize to the world. I am wrong about this man. I am sorry, and he has my humble apology because he is a good man. He is doing what he is supposed to do, and I will eat crow!
Mama Joyce, and I spoke for about 30 minutes, and I was able to get to know her a bit beyond what has been seen recently…I hope she does take a step back because I think that if Kandi is making a mistake, it's her mistake to make as an adult…And I told her so, and she agreed…
My question for you is: Do you think that if a woman has more money, degrees, influence, etc. than a man she shouldn't marry him?
Any thoughts?
P.S. Thank you to the Tara Thomas Agency for scheduling the interview…
Comments
comments