Hello World,
As you can see (if you've been to my blog before), I have moved into a new blog space!!! Check out the new After the Altar Call!!! Don't you love it? More information to come in a later post, but I'm honored today to share my interview with all around entertainer Tamela Mann!!!
Tonight at 9PM/ET, TV One, along with PBS, will jointly premiere the Black Music Month special The Gospel Tradition: In Performance at the White House. Showcasing an evening of celebration with President Barack Obama and First Lady Michelle Obama at the White House, the spectacular event honors gospel music and its profound influence on American music. The broadcast event also includes exclusive behind-the-scenes content including exclusive interviews with the artist and footage from the First Lady Michelle Obama-hosted "History of Gospel Music" workshop.

The evening features performances:
Aretha Franklin – I Love the Lord He Heard My Cry & Higher Ground
Bishop Rance Allen – I Stood On The Banks of Jordan
Pastor Shirley Caesar – Sweeping Through the City
Rhiannon Giddens – Up Above My Head
Darlene Love – People Get Ready
Lyle Lovett – I'm Gonna Wait
Tamela Mann – Take Me to the King
Michelle Williams – Say Yes
T Bone Burnett as Executive Music Director, Bill Maxwell as Music Director and Robin Roberts as program host.
Below is my interview with Tamela Mann –
1. What was it like to perform for President Obama and First Lady Michelle Obama?
It was such an honor to sing for them. But you know what, let me back up a little bit. I was really, when I got the call, when I was told I had the opportunity to sing there, I was like, 'WHAT?!' But I was quite loud! I was a lot louder than I am right now. I told David (her husband), but my eyes just really watered because I could not believe that this was happening. And my mom is deceased, and she used to always tell me that if I love the Lord with my whole heart, God would take me far. But I never dreamed or imagined something like this happening to me, me being there. I never even thought. That was not even in my plan, like one day singing for him or any president period. So when it happened, I was like, 'Oh My God!' Like I can't believe that this. I actually said it while I was singing. Oh God, Oh Lord, I couldn't believe that this was happening to me. Them standing or sitting right there in front of me. It was an amazing night! Everybody did a great job. And just to be a part of it. When I finished, of course, I'm a church girl so I just kept praising God while I was coming off of the stage because I was just thanking God for the opportunity to just do what I do and just show hopefully people the Christ that I live through me on that night. And that was wonderful for me.
2. Congratulations on being the first artist on the Billboard Gospel Radio charts to have three consecutive songs from one album to earn the No. 1 spot! Of those songs, "Take Me to the King," "I Can Only Imagine" and "This Place," which one is your favorite song and why?
My favorite out of all those three songs is "This Place." And the reason why I say "This Place" is because I couldn't even imagine being at this place. For all of these things to have happened the way that they have happened. You know you kind of plan stuff. And you say that this may happen like this, this may happen like that, but I didn't know any of that. And I'm just in amazement of God and the doors that He has opened so "This Place." So I'm talking right now, but my eyes are just watering up because I'm just so grateful because I feel like there are so many other people that are better than me. Not that I don't have great confidence in myself. But I don't feel like I'm the best. I feel like I do pretty good, but I'm just really honored for the opportunity to be able to stand before God's people, and I want to make Him proud bottom line. So "This Place" would be my song.
3. You've done theater, television, film and music. What is your favorite of what you have done and why? Is a book in the works?
Singing is my favorite. Singing is my passion. And acting is like icing on the cake. But singing would be my first love because that's the one thing that I feel like I do the best. It's like when people ask you what is your favorite meal to cook? I feel like meat loaf is my best meal. (Laughs), but singing is the best for me.

Me and David do have a marriage book in the works. But we've just got to sit down. I'm talking to myself right now, and get this done! It should have been out yesterday! Hopefully, next year. I'm going to put it in the air, next year. I'm going to say by the second quarter.
4. You work with your husband David in various ventures. Along with your husband, you are the co-star of the Bounce TV comedy, 'Mann & Wife,' and you have a family reality show on BET, 'It's A Mann's World. And the two of you have been married for 27 years. What is it like to spend so much time together?
It's the bomb! And I'm not kidding! He's my best friend, and you know you tell your best friend everything. And I like him. I'm not just in love with him. I like my husband. Like I was just sitting with him outside earlier because he was doing some stuff outside. And just doing stuff together. It's just simple. We're simple people. We're not really flashy. We have a few nice things, but it's not about the things. It's about our family, loving each other, loving the Lord. And by us pleasing the Lord, the Lord has given us the desires of our hearts. We always say we're taking the world over together. It's just about being together and doing it all together. It's just amazing that after 27 years, he still gives me goose bumps, and I still enjoy his company. And he still makes me cackle like a teenager, blush, all that! And we're just still enjoying each other. And we prayed for that, that the Lord would keep that in us and with us for each other until we die.

I'm going to say this, and I know I have to move on because David always says I should keep my answers short. But we were riding, and we were just saying that it is inevitable that one of us one day is going to have to, we may die or go. And I was sitting in the car and my eyes just, Jacqueline, they just filled up with water. And he was like, 'What?' And I was like, I say, 'It's true, but I just wouldn't want to live without you.' We both feel the same way. And I know that one day, it's gon happen, but our prayer is that we go together. I know that's hard because we have kids and grandkids, but it would be rough, Jacqueline. That would be a hard pill to swallow.
5. What is your secret for being married for 27 years?
That's not a secret. I'm in love. It's love. Love is not a secret. But that is what has kept our marriage together. We're in love, and we like each other and spending time together. Divorce is not an option. It's not even on the table. We're just in it to win it. That's what I encourage and try to pass on to other couples. That you stay in love and yes, there are going to be some times that are going to be rough. Marriage is just like your job. You have to work at it. It's not something that is just going to fall in your lap. You have to please each other. And we try to outdo each other doing for each other. And then nothing goes lacking because you're making sure that I get the things that I want and need and me vice versa doing the same for him.

 So what have you done recently to outdo David?

Well, for Father's Day, I went and got him this Egg (a grill). He's a griller. And he has this Egg, but he wanted the bigger one, but he was like it costs too much. For my birthday, they really went out, the family went out. I just wanted a birthday party, a pool party. And they really went out for me. The day before I was like, 'Wouldn't it be just cool for us to just watch movies outside?' So they went and got me this big screen and had it outside for my birthday. It was around the playoffs. So we watched the playoffs from the pool. And we had a whole bunch of people over there. And we had the game on and a lot of people were just watching it. So I used my birthday money to get him his gift. And he was like, 'That was too much!' And I was like, 'No, I used my money.' So I'm on the ups right now! (Laughter)
6. I've read that David revamped his diet since being diagnosed with Type 2 diabetes and that you've lost over 100 pounds? How long did it take to lose the weight, and how do you keep it off?
Over a year or so. And I've put some on because I've dealt with weight my whole life. To me, that's my thorn in my side. It's something that I have to constantly work on even right now getting back in the gym and eating right. I've been blessed because I haven't had any problems or been diagnosed with high blood pressure or diabetes. I'm just a thick girl. David has overcome his with working out and changing his diet. He has regulated his where he is no longer diabetic. He still has to watch and really pay attention to what he is eating and all that kind of stuff. So he is really mindful of what he does. We both kind of try to monitor each other so that is how we go about it.
7. I read that you and David come from humble beginnings and couldn't afford to have a wedding which one reason why the two of you had a wedding vow renewal ceremony in 2013. What is your favorite perk of being a celebrity and making more money?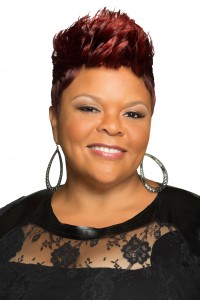 I don't know. You know, honestly, I don't look at myself as being a celeb. I tell people I'm a regular Joe. I know that sounds probably lame, but it's true. I just tell people that we're all stars in God's eyes. There may be a few more people that know me than know you, but there's no difference between me and you. I notice now that people give me stuff and when I didn't have anything people wasn't giving me nothing. (Laughing). People should be more giving. But I just try to give back and just be helpful to my family and others. I don't know Jacqueline. I don't have an answer for that. I never prayed to be rich. My prayer to God was to be well off so that when I helped somebody, I wouldn't have to worry about the money if I loaned it. I wouldn't have to worry about getting it back. That's my prayer.
Please be sure to watch The Gospel Tradition: In Performance at the White House at 9PM/ET Tonight on TV One!!!
Any thoughts?
Comments
comments