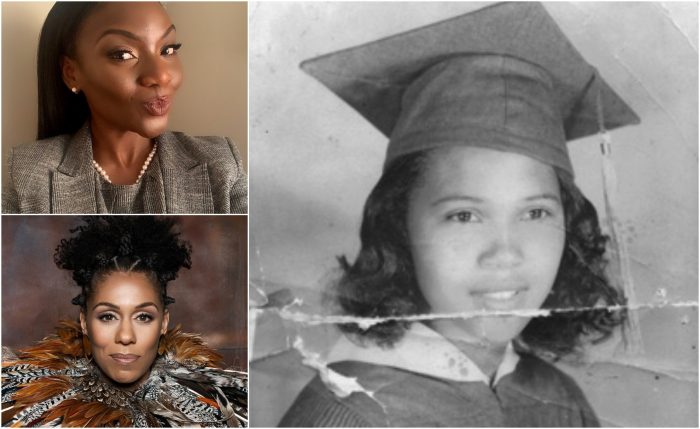 Hello World,
Well, if you're reading this, we've crossed over into 2021! Happy New Year! But indulge me just a little bit because  I'm back with my monthly roundup of blog posts and or magazine articles for black Christian women. Pandemic or no pandemic, black women still did the doggone thang! Below is my Top 10 monthly roundup of blog posts and or magazine/newspaper articles for black Christian women for December, but you don't have be a black Christian woman to to check them out. As usual, let me know if you like my list! Enjoy and share!
1. "Black Americans Donate a Higher Share of Their Wealth than Whites" by Michelle Singletary
Excerpt: So one day, I took a handful of the anti-inflammatory pills prescribed for my arthritis, stood at the sink in the bathroom and contemplated suicide. It was at this low point that I recalled Psalm 23, from one of the many sermons at the small church I attended with my grandmother in Baltimore: "For You are with me; Your rod and Your staff, they comfort me." I let the drugs drop down the drain. It was a moment that never repeated, because of the many ways the church sustained me. At church, I found a community of people who cared about me and checked up on me. At church, premarital counseling helped me work through trust issues that might otherwise have troubled my now-29-year marriage. At church, a women's group taught me how to forgive my parents. See more at: washingtonpost.com.
2. "Kizzmekia Corbett, an African American woman, is Praised as Key Scientist Behind COVID-19 Vaccine" by Laura Romero,Sony Salzman, and Kaitlyn Folmer
Excerpt: Even before Corbett took on one of the most challenging tasks of her professional career, she was a force to be reckoned with. As a student,she was selected to participate in Project SEED, a program for gifted minority students that allowed her to study chemistry in labs at the University of North Carolina at Chapel Hill and eventually landed a full ride to the University of Maryland Baltimore County, according to The Washington Post. Corbett spent her summers at laboratories and earned a summer internship at the NIH, the very place where she would be instrumental in developing a vaccine for the coronavirus. See more at: abcnews.go.com
3. "Clayton County School Names New School for Former First Lady Michelle Obama" by WSBTV.com News Staff
Excerpt: The school, formerly known as Eddie White Elementary School, has been renamed the Michelle Obama STEM Elementary Academy. The name-change process began in May when the county was in the process of building the new STEM school that be based on the Eddie White campus. "We are so excited that the former First lady accepted our request to have her name associated with our school," said Ms. Marcia Payton-Edwards. "We noted in our request that it was fitting that our school be represented by the name Michelle Obama due to the ancestral connection of her great, great, great grandmother, Melvinia Shields McGruder, who was enslaved on a family farm in the Clayton County community of Rex." See more at: wsbtv.com.
Excerpt: However, due to the rage over a young Black girl's insistence on rejecting substandard conditions, her safety was compromised. She was sent to live with family in Montgomery, Alabama, after members of the Ku Klux Klan burned a cross in her yard. After high school where she attended Spelman College and finished her education at  Drexel University in Philadelphia. Johns married Rev. William Powell, and raised five children while working as a librarian in the Philadelphia Public School system. She died in 1991. The removal of Lee's statue follows a string of actions directed toward Confederate imagery and symbols, signaling a time in America where separate was not equal, but the law. And the wages of activating against the status quo, could result in death. See more at: newsone.com.
5. "Bermuda Swears in Its First Female, Black Governor" by Associated Press
Excerpt: Rena Lalgie has been sworn in as Bermuda's governor, marking the first time that the British territory in the Atlantic has a Black woman as its leader. The event occurred on Monday, a day after Lalgie arrived in Bermuda, a wealthy financial haven and popular tourist destination. The appointment was announced in June by Queen Elizabeth II. Lalgie previously served as director of the United Kingdom's Office of Financial Sanction Implementation. See more at: usnews.com.
6. "Miami Herald Names Monica Richardson First Black Executive Editor in Paper's History" by David Smiley
Excerpt: Monica R. Richardson, currently the senior managing editor of the Atlanta Journal-Constitution, will join the Miami Herald Jan. 1 as its top editor, according to a McClatchy news release. "We are thrilled to welcome Monica to Miami," Kristin Roberts, McClatchy's senior vice president of news, said in a statement. "She has a strong record of leadership in local journalism at one of the great metro newsrooms in the country. Now, she brings her commitment to accountability journalism and a track record of successful digital innovation that serves local audiences."  In an interview, Richardson said she is excited to lead the Miami Herald. Richardson will be the first Black executive editor in the Herald's 117-year history. See more at: miamiherald.com.
7. "$500K Medical Missions Award Goes to OB-GYN Nun in Uganda" by Stefani McDade
Excerpt: Dr. Priscilla Busingye has a God-given passion to improve maternal health across Uganda, particularly in rural places where women often can't get specialized care and dignified treatment. For years, Busingye would wake up before 6 a.m. for morning devotions and mass before heading to work at the maternity ward. As a nun and a physician at a rural hospital, her work was both rewarding and rigorous. She would set alarms on her phone to remind herself to pray for strength and energy throughout the day. See more at: christianitytoday.com.
8. "In Quest to Find Birth Family, Woman Makes 'Life-Altering' Discovery: She's a Princess" by Char Adams
Excerpt: Culberson didn't know much of this history when she began searching for her biological family at 28 years old. She was raised in West Virginia after being adopted by a white family, and later learned that her biological mother died when she was 11 and her father lived in a village in Sierra Leone. Her search for her birth family culminated in a call from her uncle; he delivered the news that changed Culberson's life forever. See more at: nbcnews.com.
9. "Meet the Self-Published Author Who Negotiated a Deal With Netflix" by Lydia T. Blanco
Excerpt: In September, Booker was the only self-published author to strike and negotiate and deal with Netflix for their original series, Bookmarks: Celebrating Black Voices featuring Jill Scott, Common, and Tiffany Haddish. As a part of Netflix's collaboration with the Black Caucus American Library Association and the Association for Library Services to Children, the Hey Carter! Book Brown Boy Joy was selected by the organizations for being in alignment with the social justice framework used for the show Bookmarks: Celebrating Black Voices. "Netflix requested that my book Brown Boy Joy be in the project because it focuses on building self-identity for children 0-5. Without formal representation, I successfully negotiated my contract with Netflix. I didn't know I was the only self-published author on the show until after the show was released," said Booker. See more at: forbes.com.
10. "Red Sox Hiring Bianca Smith as First Black Female Pro Baseball Coach" by Justin Tasch
Excerpt: Bianca Smith is making baseball history. The Red Sox are hiring Smith as a minor league coach, according to the Boston Globe. MLB confirmed to the Globe that Smith will be the first black woman ever to coach baseball at the professional level. See more at: nypost.com.
If you know of any black Christian women bloggers and or writers, please e-mail me at jacqueline@afterthealtarcall.com as I'm always interested in expanding my community of black Christian women blog, magazines and websites. As I noted before, while this is a roundup of interesting blog posts and or magazine and newspaper articles for black Christian women, you don't have to be one to appreciate these pieces  
.
Any thoughts?