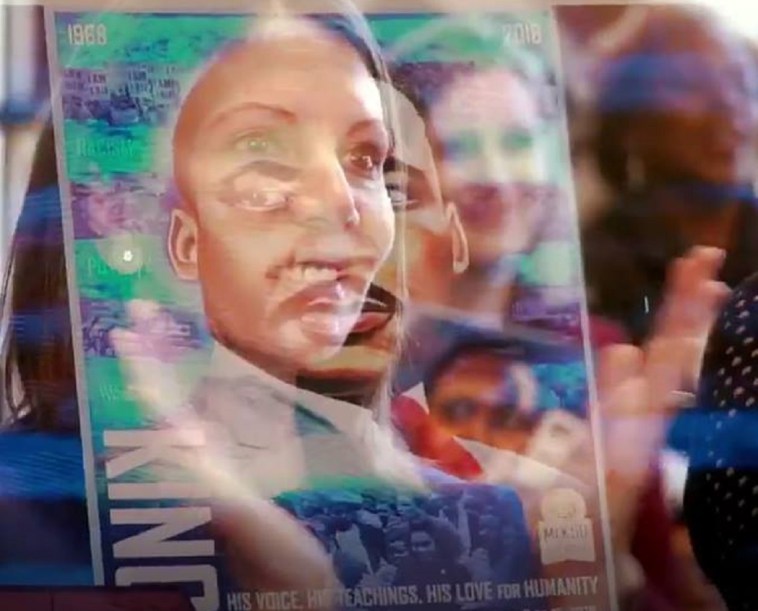 Hello World,
You can always tell when it's election season at my small church in southwest Atlanta…When random men or women start showing up and standing up boldly during the introduction of visitors portion of the service, you know that candidates are making their rounds throughout Atlanta's black churches, ground zero of where to garner the black vote. Because our church is small, we know who is visiting and or campaigning. But's that okay because the doors of the church are open to everybody and all political candidates are welcome from all parties as most churches, as 501(c)(3) organizations, will not back any particular candidate for any post.
But what has never happened and will likely never happen due to our size is a political candidate having himself or himself filmed while worshiping with us and using that footage for a political ad. Last week, The Atlanta Journal-Constitution reported that Democrat gubernatorial candidate Stacey Evans released a video on her Instagram account in which she was shown worshiping at Historic Ebenezer Baptist Church during the Annual Martin Luther King Jr. Ecumenical Service held on the national holiday. With a bluesy harmonica version of "Life Every Voice and Sing" the black American national anthem, as the soundtrack, Evans was shown walking in the sanctuary with the door being held for her, speaking with people in the pews, with her eyes closed and head bowed down in prayer, clapping, etc. Ebenezer's pastor Dr. Warnock was shown in the pulpit area, the "Songbird of the South" Dottie Peoples sang in a shot. And then the crescendo of the ad is when her visage fades as Dr. King's likeness comes into full focus…The words "Bringing Hope Back to Georgians" is the final message. Don't believe me? See the political ad for yourself below…
Even with permission, this ad would have not been the move…Oh, so you comparing yourself to Dr. Martin the Luther the King Jr. in Atlanta? Oh, so you orchestrated a civil rights movement that is responsible for many if not most of black America's civil rights? Oh, so you won a Nobel Peace Prize? Oh, so you are on a par with a martyr?
I mean that is the implication by the end of the ad even if that was not the intent. While we may have our first black princess across the pond in Meghan Markle  in a few months, as comedian Rickey Smiley recently said on The Wendy Williams Show, there are three families who have achieved royalty in the black American community – the Kings, the Jacksons and now the Obamas. You would do well to steer clear of any of them in black America if you're trying to get black votes…
But the clincher of this spectacle is that the Evans campaign did not get permission of Historic Ebenezer Baptist Church for filming this ad. Where dey do dat at? Don't believe me? See the official statement for yourself below….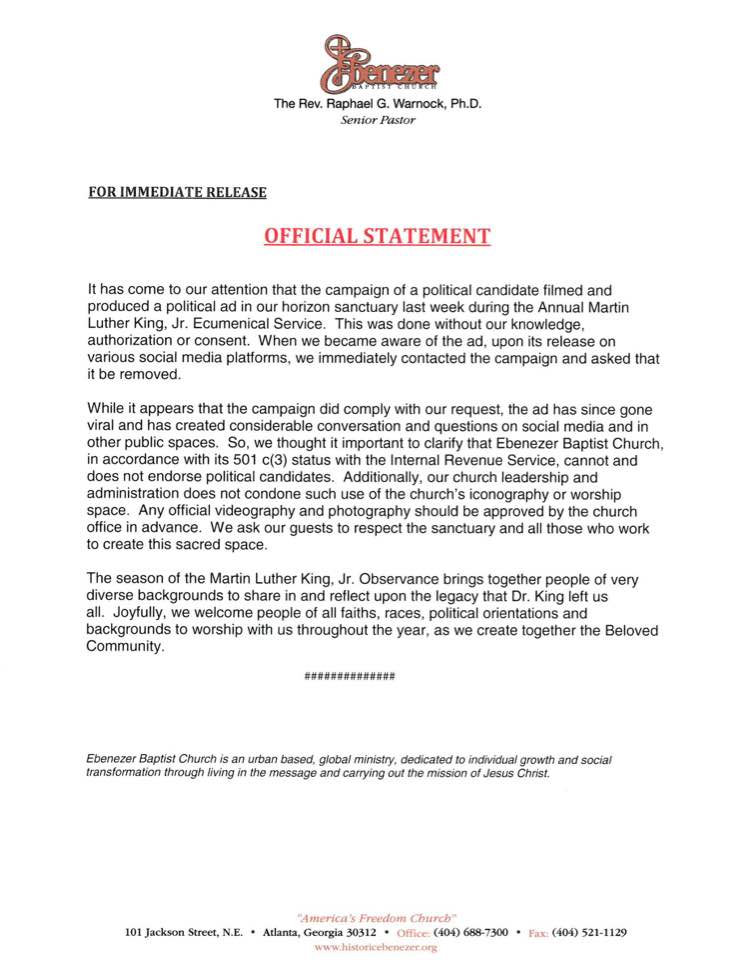 The black church is the ultimate in sacred spaces in the black community and to parlay that experience for political capital is already a tricky thing…When political candidates show up at my church, we already know that they are not necessarily there to worship and may not even believe what we believe and we not even see them again until the election season, but we welcome them anyway because we do want to get a sense of who may be running the community in which our church is located. But this ad has gone too far. Turn to your right and turn to your left and say, "Neighbor, don't use me in your political ad without permission." Smh…And Ms. Evans may be a great governor but if she keeps on like this, she likely won't get there…
Any thoughts?