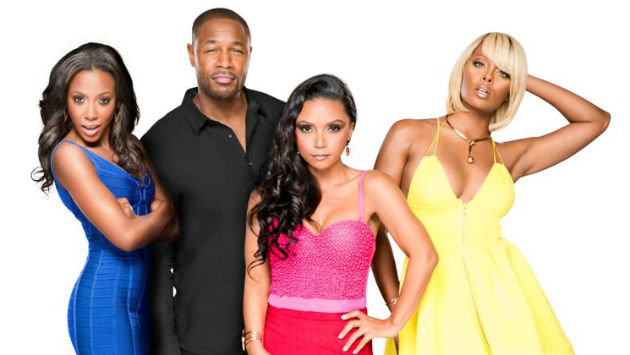 Hello World,
I'm back with your regular dose of a weekly "Born Again Virgin" recap. And this time I've got two since after Episode 8, the season finale of BAV was broadcast as well! But don't despair, "Born Again Virgin" AND my recaps will be back in December!
Episode 8: "Woman Crush Wednesday"
This episode was officially titled "Off to See the Wizard," but I think "Woman Crush Wednesday" was more apropos for this episode. And you will find out why shortly! This episode begins with Jenna, Kelly and Tara having a meal at a restaurant somewhere in Atlanta. (Sidebar: This restaurant looks familiar, but I couldn't quite place it. However, I did recognize another restaurant in this episode that I will reveal later.) Kelly is eating sweets like she wants to go into a diabetic coma presumably because she is going through a drought. However, Kelly, does stop eating sweets long enough to scold Jenna when her credit card is declined. "Maybe it's time for you to get a real job,"she says to Jenna who is trying to live off of her blog about being a born again virgin.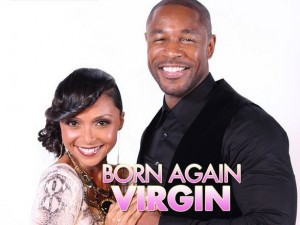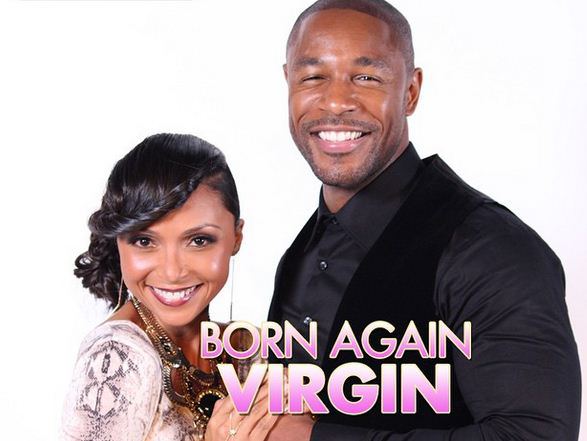 In the next scene, Jenna is making pancakes for Donovan as she apparently owes him dinner but cannot afford to take him out. At this point, her bank account must be pretty much empty if she can only afford a box of pancake mix. I say this because Jenna doesn't look like the type of girl who would make pancakes from scratch. Donovan, while appreciative of Jenna's gesture, is not too pleased that he will be forced to eat pancakes, potentially making his rock hard abs go soft. As the two are eating, Kelly, who is trying to make partner at her pr firm, interrupts their dinner to tell Jenna about a new opportunity at her pr firm. Apparently, Kelly's firm is handling an account for famous fashion designer Quinn Reed, who is portrayed by none other than  Tichina Arnold aka Pam from "Martin" aka Rochelle the mama on "Everybody Hates Chris!" Apparently, Quinn Reed is starting a fashion blog and is in need of a ghostwriter. Jenna, who is a big fan of Quinn's, is elated about the opportunity to work with the fashion designer and boost her bank account!
When she meets Quinn, the worldly fashion designer who comes off like a Svengali, Jenna is surprised that the fashion designer is just as enamored by her  as as she is enamored by Quinn – but for different reasons. Jenna comes over to her home where Quinn allows her try on one of her dresses, a cute little black dress. Not only does Jenna compliment Quinn for her clothes, she notes the designer's skin is flawless and asks her about her skin care regimen. Quinn reveals that is the "sweat from younger women" that keeps her pores tight. Wayment….But it is Women Crush Wednesday….
Tara, on the other hand, takes it upon herself to help Kelly, who is now eating cupcakes (albeit mini ones) for breakfast, with her dry spell. She sets her  up with a man from her "Never Did" file. Kelly agrees to let Tara fix her up as far as her looks are concerned AND with a man. With Tara and Donovan a few tables away to observe, Kelly, who is wearing a little black dress as well but with the sides cut out, platform heels and a black wig with blonde highlights, meets the man for dinner at Tom, Dick & Hank on Abernathy! (Yes, I recognize this restaurant!) This chocolate hunk, who looks like a mini cupcake himself in comparison to the chocolate cake of a man in the finale episode (yes, more on that later), assumes that Kelly wants to skip the appetizers and go straight to dessert. Kelly, who has proven to have a sweet tooth, is nevertheless offended and ends the date.
Jenna, who was not expecting Quinn to hit her on her, returns to Quinn's home after running scared not only to apologize but to make sure her money is still straight. Thankfully, Quinn still wants her to write for her blog and in general but she is willing to allow their relationship to be strictly business. Quinn tells Jenna that she read her blog and knows she has given up men. Jenna corrects her and says she has given up on sex not men to which Quinn responds, "I just want to let you know that you have options." Well, alrighty then….
Episode 9: Curses, Curses….
This episode was titled "TMF" which is an abbreviation for a the [expletive], but since this is a Christian blog, I'm not going there. This episode has the best beginning of all the episodes. Jenna is shown making out with a HOT, muscled, chocolate man in previous years and now he has shown up at her door step again. The born again virgin is forced to reconsider her celibate stance since the hot pilot has breezed into town. He is her kryptonite as she has never been able to resist him in the past, and you know what they say: the past is the best predictor of the present….Hmmm….
Kelly, who hasn't sworn off sex, is nevertheless swearing calling her boss "tmf" because he promoted a co-worker, who has only been at the pr firm for six months, over her. Also, not only is Bryan, the co-worker, not as qualified for the promotion as she is, he is also male chauvinist asking her to take notes at a firm meeting and saying she talks too much like other women.
Tara, who is forever on the prowl in more ways than one, has her eyes on a hot designer bag that is way out of her budget. This scene reminded me so much of the SATC episode in which Samanatha lusted after a Birkin bag (So that threw me off a little bit, and I didn't like it because it felt unoriginal.) But Tara's cash is not long like Samantha's cash was so she has to resort to other methods. So Tara ,who hasn't sworn sex either, decides to parlay a paramour for a purse…In other words, this man, a judge, loves to lavish gifts on Tara, particularly after sex. However, this time instead of offering to take her to the store to buy the purse and hand it over to her, he simply pulls out a wad of cash and puts in the night stand. Tara is insulted because cash on the nightstand is the universal sign for prostitution although parlaying a paramour for a purse is pretty much prostitution in my eyes…
Anyway, the three women meet in the kitchen to discuss temptation, "tmf" and Tara. Both Kelly and Tara tried to get advice from Jenna regarding their respective travails, but Jenna seemed to be "tied up" with Vince in her bedroom. Still, they were able to think through their problems by themselves. Kelly has decided to quit her job and start her own pr firm, swearing while she is telling the story. Her swearing means she has to contribute money to the girls' swearing jar where they are hopefully saving enough for a girlfriend getaway to Jamaica. Tara, who confronted the judge in his courtroom about leaving cash on the nightstand, ends up with a bag and a proposal. She proudly shows off her engagement ring which leads to Jenna stringing together a few swear words of her own. More money for swearing jar! Although she is happy for her friend, she is a bit discouraged that Tara's stance on sexuality has resulted in kissing singlehood good-bye while being a born again virgin has pretty much only led to her being broke. She is so broke that she has been stealing from the swear jar, and there is not enough money to go to Jamaica after all! And now it is time for Jenna to spill what happened with Vince. Is her born again virgin status still intact or did she succumb to temptation?!!! Jenna reveals that while they shared some hot and steamy kisses, she remains a born again virgin…More to be revealed in Season 2 of "Born Again Virgin!!!"
Did y'all like my recaps?
Any thoughts?
Comments
comments