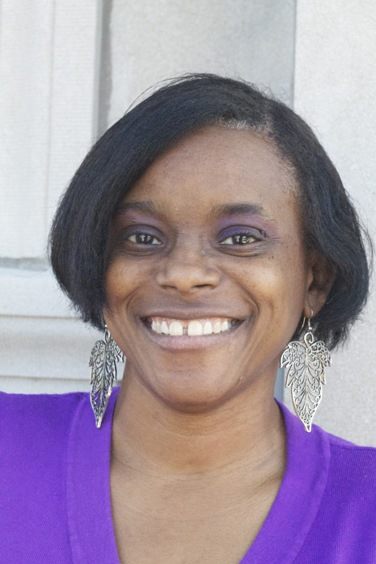 Hello World,
If you're an author, want to be an author or know someone who is an author or wants to be an author,  today's online book promotion post is for YOU! Today, I have the pleasure of spotlighting LaShaunda Hoffman, founder of the popular SORMAG (Shades of Romance magazine), an online literary magazine for multicultural readers and writers. LaShaunda, who has helped to launch and sustain the career of many authors, recently penned her FIRST BOOK – Building Online Relationships: One Reader At A Time! Below is a synopsis of "Building Online Relationships – One Reader At A Time" followed by my interview with her…
Readers buy from writers they know and trust. This means, dear author, you have to find ways for new readers to get to know you and to want to create a relationship with you.  Building Online Relationships – One Reader At A Time is your one-stop online promotion guide. Award-winning publisher of Shades of Romance Magazine, LaShaunda C. Hoffman, has consolidated over 14 years of expertise in online promotion into this how-to guide. By reading, and applying what you learn in this book, you will promote like a pro and build trust with your readers so they become loyal buyers. Every chapter includes an action plan you can implement immediately to learn:

What promotion is all about in this digital age.

A proven goal setting strategy for getting your book in the hands of the reader who is looking for it.

Step-by step actions you can take to get in front of new readers every day.

How you can begin creating relationships with new readers TODAY.
1. What inspired you to write your book "Building Online Relationships – One Reader At A Time?"
I was at a conference talking to Sylvia Hubbard, Pat Simmons and Renee Daniel Flager, and they told me I should write a book about online promotion. I let it simmer inside for a while, and then I realized I'd had part of my book when I did two online series, one on creating your web presence and creating your online promotion plan. I took that information and added more to it and finished the book.
2. What is the most common problem for writers who are promoting their books, and how can your book help?
The biggest problem for writers is knowing how to promote. Most don't have a clue about what to do or where to start. This book shares how to get started and what to do. It helps you create a plan so you not running around with your head cut off.
3. What is the most powerful chapter in the book and why?
For me, the most powerful chapter is the database/email list because if you are doing all this promotion and have no way to capture the readers you are meeting you working for nothing. Many writers start their mailing list after they have 3 or 4 books under the belt. I say start creating your mailing list as soon as the idea for the book comes to mind. You want readers to be interested in your upcoming book and when it releases you want readers to which you can promote. It's hard to sell books to people who don't have a clue who you are. When you have a mailing list, they know who you are, and they are waiting for your book to release so they can support you.
4. What has been the response to your book thus far?
The book has been well received. I received my first fan letter which blew me away. I've been asked to speak to a writers group, and I've met a few of the readers who purchased copies because I offer a 30-minute Virtual Tea session (personalized online training program for authors) if you purchase a copy. It has been amazing to see the book help writers with their promotion.
5. As a former member of the Navy and as someone who still works for the U.S. government, how did you learn about promotion?
I actually started learning about promotion when I created my online magazine – Shades Of Romance – SORMAG. I didn't have a clue and there weren't many books about online promotion back then because the Internet was so new. Everything I learned about promoting the magazine are the steps I share in the book. I had to get out there in front of readers daily.
6. You are probably best known for creating Shades of Romance Magazine, an online magazine promoting authors and books that attracted 18,000 visitors and was named in Writer's Digest's "101 Best Writing Sites" just after it launched in 2000. How did you come up with this name, and did you expect your magazine to generate as much buzz as it did and still does today? Do you anticipate writing a romance one day?
To be honest, I never dreamed I would still be publishing the magazine. It started as a hobby. I'm an avid reader, and I loved romance books. When they started publishing African-American romances, I was in heaven. I wanted to help readers find out about these amazing books and help the authors promote the books. The name came from me thinking romance comes in many shades. I wish I'd named it Shades Of Reading because over the years we've evolved and no longer just focus on romance books. I tried to change the name, but the readers weren't having it.
I think the reason it generated buzz was because we didn't have a magazine like this that catered to the multicultural community. We were looking for our books and couldn't find them. One of the reasons I continue to publish the magazine is because the need is still there.
When I started SORMAG I was an aspiring romance writer. I still write romance but with an inspirational slant to them. I'm currently working on a historical.
7. You have interviewed many, many authors over the years. What has been your favorite interview, and what is your dream interview that you have yet to do and why?
That's a hard question to answer. I enjoy all the interviews and don't have a favorite. If I had to choose it wouldn't be one, it would be the debut author interviews. I love introducing a new author to the community. I know how hard it is to get your book in front of readers, so I enjoy introducing new writers.
Right now my dream interview would be with Shonda Rhimes, only I would want it to be in person instead of an email interview. I want to sit at her feet and ask a million questions.
I've always loved the game "20 Questions" so below are LaShaunda's answers to 20 of my random questions in no particular order

.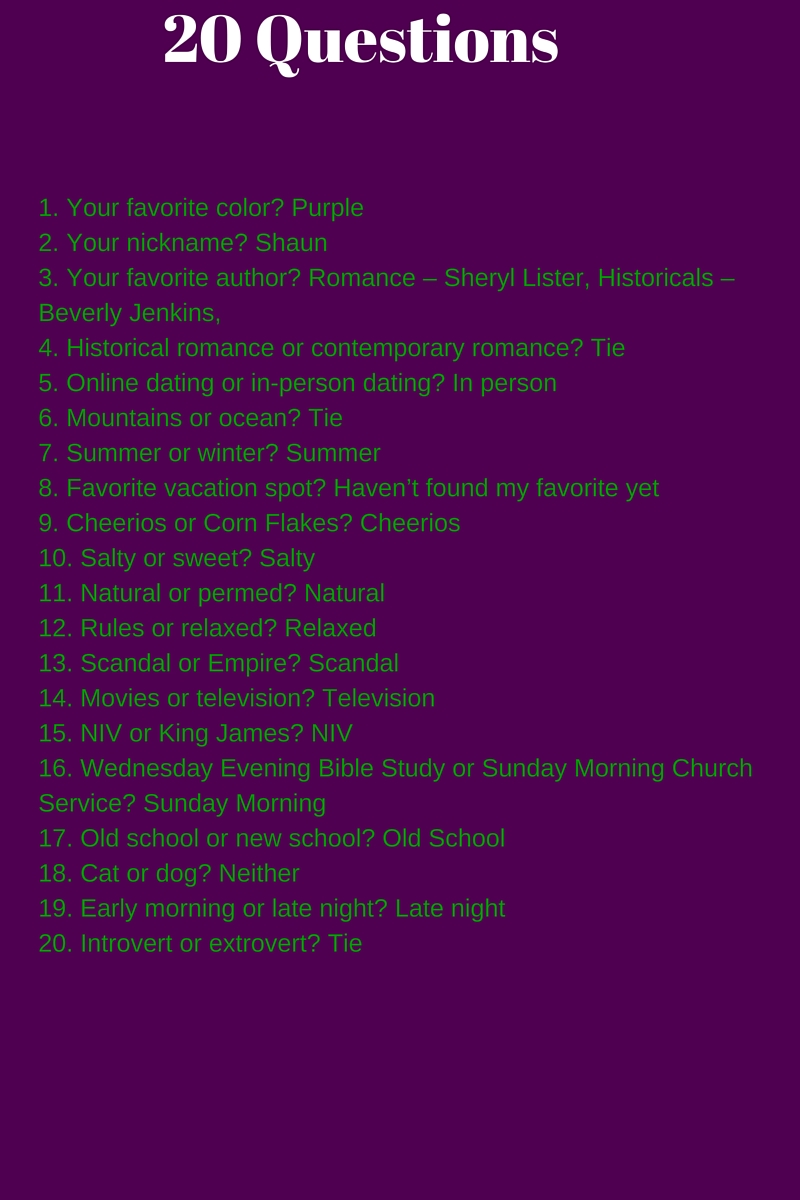 For reading today, LaShaunda is offering a freebie for writers – 31 Promotion Tips. You can receive a different tip for 31 days or download the ebook that features all 31 tips – lashaundahoffman.com/digital-goodies/   You're welcome 🙂
LaShaunda C. Hoffman took her love for books and turned it into an award-winning online magazine, Shades of Romance Magazine. Her mission in life is to introduce as many books as she can to readers. She's happily married mother of three who believes in dreams and working hard to achieve them. She started a coaching program – Virtual Tea With LaShaunda to train writers on promoting their books online. Contact her at lchwriter@gmail.com or check her out at sormag.blogspot.com, lashaundahoffman.com , Facebook or on Twitter @lashaundaH.
Any thoughts?
Comments
comments