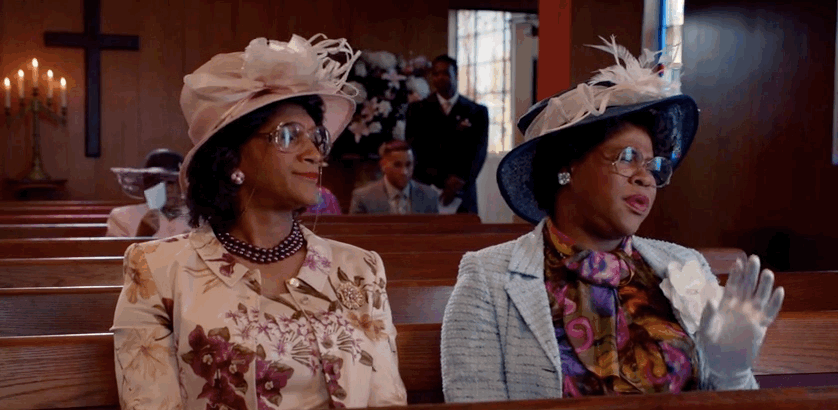 Hello World,
So last week I was reading one of my favorite blogs VSB (Very Smart Brothas) which is by no means a Christian blog or a religious blog or a spiritual blog so if you know me here, don't go over there expecting to be taken to church…It's not gonna happen, but these very smart brothas are always good for a chortle or three and a fresh if not irreverent, well-written perspective on pop culture…so I appreciate them…So imagine my chagrin when I did come across this religious blog post "Six Foolproof And Effective Things To Do To Bring Atheists Back To The Lord" by Natalie Degraffinried last week…Judging by the title alone you could probably think that this blog post would be weaponry we could add to our arsenal because all my Christian soldiers are forever trying to bring back atheists to the Lord (because we are on the battlefield for my Lord), but knowing the very smart brothas as I do, I knew the content that followed this title would be anything but foolproof and effective things you can do to bring atheists back to the Lord…It seems that Miss Degraffinried recently revealed to her black mama (by the way Miss Degraffinried is also black) that she is an unbeliever and her black mama has pretty much gone ballistic…Because we all know that most black mamas (unless you a millennial) are believers…Here is one tactic her black mama tried…
"…my mother watched more Christian programming than I had ever seen in the days to follow. And not just the Black pastors, either—she watched the little wrinkled old White men who emulated the Black preachers, too, spreading the word of the lord to little southern middle-aged White ladies. In fact, she would very deliberately change the channel to it when I would come into the room, glare at me, and then sit and watch."
Aside from what her black mama did, Miss Degraffinried goes on to illuminate the six MOST effective foolproof and effective things you can try to bring atheists back the Lord: Say "You'll Turn To God When You're Down On Your Luck," Ask "What Made You Stop Believing In God?", Ask Them A Bunch of Probing Questions, And Ignore Their Answers, Praise God…All the Time, Say the Same Things Over and Over and Over and Over and Over Again.
Actually, I like her list because it gives me some insight about what not to do obviously… and thankfully, as far as I know, I have never done these things…But don't get it twisted…I haven't tried any of these things not because I am enlightened…It's probably the opposite…When I am come across an atheist – well really, black atheists in this country, I'm pretty much dumbfounded…everybody knows that the Lord is how we got over so when I meet a black person who must know that AND has a black mama, I really don't say much of anything…In fact, I may just walk away mid-sentence and conclude he or she must be from the North because here in the South even the most backslidden believer  with Hennessy in one hand and weed between his fingers on the other will call on the Lord when necessary…which brings me to the point of today's blog post…I'm a much better writer than I'm a speaker so after thinking about Miss Degraffinried's blog post for a few days, I've come up "Seven Oh So Necessary Things You Must Be Prepared To Give Up if You Turn Away From the Lord" blog post because a looong comment on VSB just wouldn't do…So Miss Degraffinried, this blog post is dedicated to you and all my people who are thinking of becoming atheists…
If you are thinking of becoming an atheist, you must be prepared to give up:
1. Martin Luther THE Kang...Everybody knows that Dr. King, the father of the Civil Rights Movement, was down with G.O.D.(yeah, you know me…I know…I'm corny…Forgive me, I'm not a millennial) If you become an atheist, you relinquish your right to revere this man (as much as you can a man anyway without being sacrilegious…oh wait…never mind…) because he trusted in the Lord as his King and Jesus Christ was his Savior and both of them as well as the Holy Spirit guided him on how to get our civil rights…And you pretty much have to give up coming to the A too because we are all about the Kang in these parts…We are so Kang, we are building a monument to MLK on top of Stone Mountain (because he's been to the mountain top) to make up for the fact that Stonewall Jackson, Robert E. Lee, and Jefferson Davis are etched on the side of it…
2. Your affiliation with your HBCU…While we are on Black History, many HBCUs were founded by people who believed in the Lord…Bethune-Cookman University, Clark Atlanta University, Dillard University, Meharry Medical College, Paine College, Rust College, Morehouse College, Xavier University…I could keep going…If you've got a degree from any of these institutions, you better get on your knees and thank the Lord because He opened the doors for these schools to be founded…
3. Pastor Shirley Caesar, Yolanda Adams, Cece Winans…In other words, you must give up gospel music…That may not seem like a big deal now…but when you are going through, you will be forced to either Bow Down to Beyoncé, Roll With Rihanna or worse- Elevate With Enya…You know as well as I do when you are going through, none of these ladies can lift you up like the aforementioned gospel greats…Read my blog post "Breaking Down the Holy Spirit/Why Beyoncé Did Ledisi A Favor…" and you will see what I mean…
4. The word "blessing" or "bless" or "blessed" etc.…Blessing means "God's favor and protection." So no more hashtags #blessed…And if you like Big Sean's song "Blessed" and the remix, you've got to give up both of those songs too…I would guess that Big Sean aine in church ere Sunday but I would bet he believes in God and his black mama is working on getting him back to church ere Sunday…Kinda like when Marion Winans was rocking with Diddy back in the day…I'm sure the Winans were having prayer vigils trying to get him to leave the world alone and fully commit to Christ…And what are you gonna say when something good happens to you? Us believers say it was a blessing…Something about the double "s" makes you feel happy…What do unbelievers say? And you can't even curse someone out without them knowing it anymore…That is what "bless your heart" means by the way….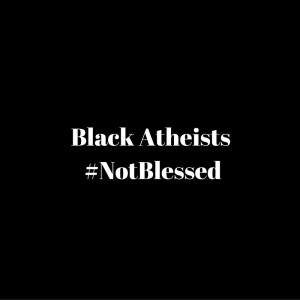 5. Grace…And while we're on the subject of blessing, you cannot bless or say grace over your food because you don't believe in that… Miss Degraffinried says she told her black mama that God doesn't fit in her life while they "waited at the window of an Arby's drive-thru" where she ordered "beef n cheddar sandwich, curly fries, and jamocha shake." I'm assuming she didn't pray over that because she's and atheist an all, but if it's anywhere you need to say grace, it's at a drive-thru…There and over your old auntie's potato salad that used be so good you wanted to do cartwheels after the first bite but now since she gotten old, she doesn't know how to season anymore but no one has the heart to tell her that she should probably stop cooking…
6. Getting married in a church…If you become an atheist, you have to give up getting married in a church…If you don't believe in the sanctity of the church building, why bother honoring the sanctity of marriage there?…of course, you can always get married on the beach, a backyard, etc…And I will concede that getting married in a church is not necessarily any more holy than getting married anywhere else since God is everywhere…(if you believe) But here is the flip side, not only should you not have your wedding there but you can't have your funeral there either…And nothing is more depressing than having a funeral at a community center or any other nondescript place that will host an atheist funeral…I know you're probably saying why I should care, I will be dead, but think about those that have to go to your funeral…Are you really going to subject your family and friends to sitting in uncomfortable folding chairs while ignoring the fact that they smell old gym shoes mixed with Pine-Sol. And on top of that, they are forced to listen to Enya because of course, you can't have hymns at your funeral…
7.Christmas cards…Atheists cannot send Christmas cards…"Christ" is smack dab in Christmas so why would you want to? So go ahead and start stockpiling your Merry X-mas cards which are pretty much stupid…What is X-mas? Everybody knows that X is supposed to be either a substitute for "Christ" or you just don't know to spell…You would do better to get some Santa Claus cards…But then again, if you believe in Santa Claus over Jesus then I really can't help you at that point…You are beyond saving…Just kidding…
So there you have it…before you black atheists turn your back on the Lord, you many want to reconsider…Christians of other races, please feel free to modify for your own culture….
Any thoughts?
Comments
comments