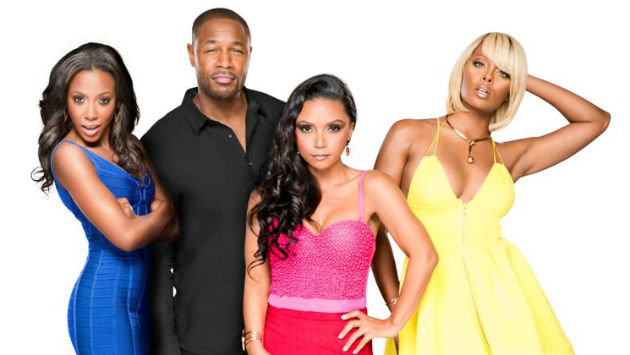 Hello World,
"Born Again Virgin" AND my recaps are back!!! (Both are reasons to celebrate in my opinion 🙂 ) This episode is called "Home Sweet Old Folks Home" as Jenna, Kelly and Tara visit a senior center to help Kelly's Aunt Maxine, who is turning 100, celebrate her milestone birthday. However, I also think this episode could be called "Future Shock" because the ladies meet women who could be older versions of themselves and it shocks them into taking action! The first shock of the visit happens when Kelly discovers that Rick's mother is working there. For those who may not know or remember, Rick is Kelly's secret sensation. She loves him but decides she has to break off their relationship because Rick lives with his mother and owes $200 to her. Yes, he's that dude: the boy who hasn't quite figured out how to become a man.
While Kelly sets up the party for her favorite aunt in a community room called the Boom Boom room (although Rick's mother says the room's name is a misnomer since the seniors prefer sneaking to a stairwell to have sex. Yes…apparently, sex still happens in senior centers!!!), Tara wanders off into another room where she sees Gigi Halston, an actress who lives at the senior center. Tara recognizes Ms. Gigi from a laxative commercial and is intrigued as the advanced age actress is entertaining some of the seniors with her singing.
Jenna encounters a woman named Eloise who is reading Zora Neale Huston's classic "Their Eyes Were Watching God." Eloise, who is inspired by Teacake and Janie's love, starts to tell her own love story to Jenna, who is wondering when her love will come along. (Earlier in the episode, she reveals she is looking for a man who has the character of President Obama, the humor of Kevin Hart and the soul of Bruno Mars!) Ms. Eloise, who looks to be a stately senior, surprises Jenna when she reveals that the love of her life was her lover on the side! Ms. Eloise was an adulteress who had an affair with a plumber named David. It was a winding story as David had a jail stint.
Meanwhile back at Aunt Maxine's party, Rick shows up to Kelly's surprise. He brings a cross heirloom piece to the birthday girl and charms all of her friends. In his conversation with the seniors, he reveals that he actually has a job as a manager at a sub shop AND he has a classic car, a Trans Am. One of the more spirited seniors says she got pregnant in a Trans Am back in the day. Kelly is starting to see that if her life continues as it has been, she may end up alone in a senior center herself. She also realizes that Rick is becoming more responsible even if for the time being, he still lives with his mother. "Baby steps," his mother says to her, to describe Rick's progress. She sneaks Rick into the stairwell for some senior center action and decides she will give him a second chance.
As Kelly and Rick get reacquainted, Ms. Gigi, who has unabashedly appeared in 78 Blaxploitation films, challenges Tara to take charge of her career and asks if she can sing and dance. After Tara tells Ms. Gigi that singing and dancing are not a part of her repertoire, Ms. Gigi challenges her to perform a monologue. Ms. Gigi performs "Desdamona" from "Othello" while Tara takes her on with "The Message" from Grandmaster Flash and the Furious Five! Hilarious! By the end of the impromptu senior center showcase, Tara realizes that she has a ways to go to be a true thespian like Ms. Gigi.

Jenna was about to hear the end of Ms. Eloise's story when the ladies have to be leave the senior center in a hurry after Rick gets into a fight while playing dice with one of the seniors. Apparently, one of the seniors presses the panic button and Rick's mother tells them they have to leave before they are reprimanded for Rick's shenanigans. So days later, Jenna returns to the senior center to visit Ms. Eloise and find out what happened to Ms. Eloise and David. However, she is shocked to discover that Ms. Eloise has since made her transition, but Rick's mother tells her that Ms. Eloise did leave something that may comfort Jenna as she grieves her loss. She brings out Ms. Eloise's son David Jr., who is the love child of Ms. Eloise and David Sr. and is at the senior center to get this mother's things. David Jr. offers to tell Jenna the end of the story over lunch…
It's true that wisdom is best acquired by age, and if you want to peak into the future, a senior center is a good place to start looking.
Any thoughts?
Comments
comments