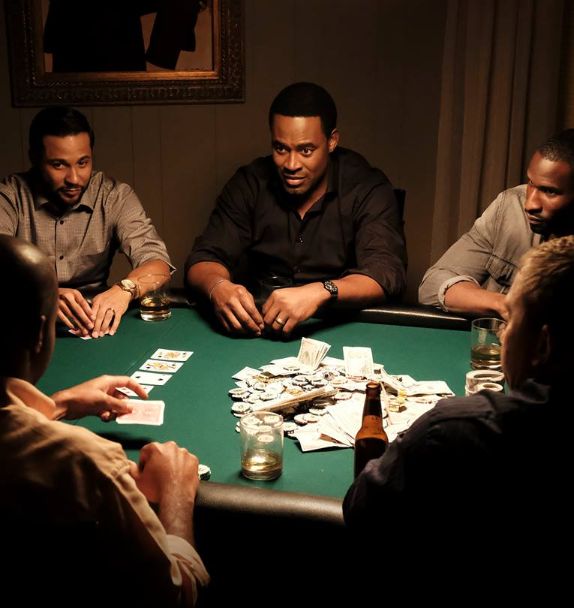 Hello World,
Only 2 more episodes of OWN's "Greenleaf" before it returns this summer, saints! And there is so much to share from this episode, I won't even try to come up with a catchy intro…
The Gambler…
This episode begins with Sophia asking her mother for money to apply to get into Rhodes College, a Christian college in the area where she is considering majoring in religious studies, but instead of encouraging her daughter to apply to get into the  school, Pastor Grace blows her daughter's inquiry off. Why would Grace have a problem with allowing her daughter to apply for entry into a Christian school? Unlike Sophia, another pastor's daughter, Zora, isn't asking for money to apply to a Christian college, she wants permission to bring her boyfriend Isaiah to her cousin Sophia's birthday party. Her mother Kerissa refers to the Triumph singer as a Christian thug in violation of her "no reprobate thug policy," but her daddy, Pastor Jacob, grants her request as long as they don't leave the property, which has been a problem for the young couple in the past.
Negotiations are also taking place at Calvary as Charity and Kevin along with their lawyers meet to begin the process of their divorce. The couple wants joint custody of their son Nathan, but Charity brings up the fact that she will be spending more time in Nashville than originally planned. Kevin shouts out, "Are you running off with Jabari?" To which Charity responds with, "What do you care?" Kevin flees from the meeting, prompting Aaron, Charity's attorney, to ask her if he knows all of the details he should know to properly represent her. "Is there something going on with Jabari that I should be aware of?"
And the most unholy negotiations of them all are taking place at a car dealership (I hate buying cars) where Grace is car shopping with her new boo Darius, the journalist. She is searching for a truck to present to Sophia for her birthday but doesn't like the sales shtick that you have to endure at a car dealership. Amen to that! She finds it so distasteful that she pretty much picks the first vehicle she looks at so that she won't have to endure all of the haggling.
When Lady Mae corners Charity about the divorce proceedings, Charity reveals that Kevin may try to go for sole custody. Her mother still can't understand why the two are divorcing anyway and tells her that although she is hiding something, "everything will come out sooner or later."
Jacob does some cornering of his own when he confronts Basie about a Bass Reeves who contributes large sums of money to Triumph's bottom line according to Triumph's books. He wonders about the identity of the mysterious donor as he is unable to locate a contact for this man, who may be able to contribute to legal fees to fight Calvary. Instead of answering Jacob outright, Basie asks his protégé to watch him play with a deck of cards. He explains how he learned how to play cards on Beale Street before he challenges Jacob to play with him. Basie wins the game with a "royal family." (I don't play card games except for Uno and Speed so let me know if this terminology is wrong.) Jacob correctly guesses that Pastor Basie is Bass Reeves. Apparently, Pastor Basie supports his church Triumph with his gambling earnings! I want to be shocked, but I would bet there are plenty of pastors, unfortunately, who support their churches with unscrupulous undertakings…
Grace Under Fire…
Although Grace is still officially a Calvary pastor, she seems perilously close to falling away from the faith yet again. Even her wardrobe suggests her indecision. She is wearing beige – neither black nor white –  for most of the episode. In fact, rather than encouraging her daughter to apply to the Christian college, she calls the admission office at her alma mater Northwestern where she graduated from in 1998. (This detail helps me to frame her age. I guess she's about 4o or 41.) Also, apparently, Bishop learned about the wedding that didn't happen in part due to Grace's "counseling." Grace doesn't deny that she seems to be losing her religion, and Bishop, ever the doting father when it comes to his Grace, tells her,"As long as you know there's a problem, there's hope." But just when she has gotten into his good graces again, Gigi asks her father if she can bring her boyfriend, the journalist who covered the Mac Greenleaf scandal, to the Greenleaf estate for her daughter's party. Bishop asks, "Darius Nash, the muckraker?"
Although cousins Zora and Sophia no longer live together, they do catch up at school. Despite their family ties, however, Zora seems to be developing on obsession with her boyfriend Isaiah, which makes her cousin feel uncomfortable. I'm sure some of that discomfort stems from the fact that Isaiah was originally Sophia's crush, but it also seems that Zora's displacement from Calvary and from the Greenleaf estate has encouraged her to take solace in her boyfriend. Every other word out of her mouth is "Isaiah" and she builds her schedule according to his pursuits. She dashes off from their conversation to attend his band practice.
Now that Basie's gambling is no longer a secret, he invites Jacob to partake in a game of poker that floats from location to location. Jacob one ups him and says not only will he come but they can play at the parsonage. Jacob tells Kerissa that he won't be able to attend Sophia's party with her at the Greenleaf estate because of an important meeting with one of Triumph's biggest donors. Kerissa isn't thrilled about having to venture back to the estate without her hubby but she says if this meeting will "get us out of this house. I'm all for it."
Meanwhile, back at Calvary, somehow Lady Mae got Charity to admit why she is divorcing Kevin. Lady Mae, without realizing that Bishop's assistant is under his desk trying to sort out Internet wires, blurts out "Kevin is gay" in Bishop's office. When the assistant comes up from the desk and looks at Lady Mae, Lady Mae says, "Loose lips sink ships." But you know the word is going to get out now…Once the assistant leaves his office, Lady Mae tells Bishop that Kevin has been attending Fortitude for Families (the gay conversion therapy program) and that she wants him out of the house and out of the church.
But while Lady Mae is focusing on their baby daughter, Bishop is concerned about his eldest daughter. When Grace asked him if she could bring Darius to the Greenleaf estate, Bishop said he would ask her mother, but he never did. He just decides that the journalist is not welcome and asks Grace, "Do you think that this man is part of God's plan for your life?" That is a fair question to ask considering what happens next. Grace calls Darius and tells him that Sophia's party won't be the occasion through which he meets her parents. Darius, being the level-headed journalist, suggests that the two just be friends. After all, "You're a pastor, and I'm never going back to church." I truly hope  Grace finds a way to cling to her faith and doesn't fall away for good. Whether or not that happens, since the church is an integral part of her family tree, it doesn't make sense for her to fall for a heathen…
Lady Mae is all about protecting her family although her methods to do are questionable…In the midst of pink and white flowers and decorations for Sophia's party later that evening, she tells Kevin that "self-interest inspires generosity." In other words, if Kevin wants to protect his standing, he better not take a stand against Charity in the divorce proceedings. When Kevin, Charity and the attorneys meet again, he agrees to terms so unfavorable to him that his attorney wants him to sign a malpractice waiver and Charity follows him out of the conference room to question him after the meeting concludes. He asks Charity if she told his mother about his sexuality. When she reluctantly tells him that she did, he hands her his wedding ring and says, "You win." So have y'all noticed that Charity no longer looks like the wifey as she did in the first season? In this second season, she is constantly flipping a brand new sleek bob and is either wearing some tight or short. In this scene, she is wearing a flouncy, flirty skirt.
Despite the fact that they are divorcing, Charity tries to stay in the good graces of Kevin to no avail. When she compliments him about his attire for Sophia's party, he says, "Don't act like everything is cool between us." He says that  now that Lady Mae knows about his sexuality, it is only a matter of time before everyone else at Calvary knows too. Basically.
Birds of a Feather…
It is finally time for Sophia's birthday party, and her new boyfriend shows up! I believe his name is Roberto. So it seems that Roberto, a nice, Christian, young man, is also considering attending Rhodes College. Obviously, that is one of the attractions for the Christian college.
When Lady Mae discovers that Jacob will not be coming to the party because he has to work, she plainly says Triumph's senior pastor is a fraud and that devil finds work for idle hands! I love Lady Mae 🙂
Grace asks Kevin and Aaron to wrap the bow around her daughter's new truck and drive it to the front of the Greenleaf home for her. While they are outside in the dark, tying the bow around the vehicle, Aaron says to Kevin, he can talk to him "once the smokes clears." What does he mean by that? Was Aaron hitting on Kevin on the sly? Now that would shake up some things, wouldn't it?
Across town, at the poker game unfolding at the parsonage, Pastor Basie tells Jacob that Bass Reeves is not just an alias, it is the name of a real person. He refers to him as the real django as he was the "one of the first black deputy U.S. marshals" according to my quick Wikipedia inquiry. When Jacob asks Basie how he reconciles gambling as a way to support his church ("What about the law or even God's law?") he tells him that he doesn't love money or depend on luck, which are prohibited according to the Bible. Rather, he donates the money to the church and he depends on God not luck. Okay…whatever…)Later on, after everything is over, Kerissa finds a stray dollar bill and wonders where it came from…)

Sophia receives a beautiful leather study Bible from her grandparents and hopefully, she will use to rightly divide the word of God for herself rather than rely on erroneous misinterpretations. In another special moment at the party, she also receives a truck or jeep (I'm so not into cars) from her mother. In her excitement, Sophia, Roberto, Zora and Isaiah are allowed to cruise around Memphis in her new ride. However, when Sophia stops at a bowling alley, Zora wants them to skip bowling and go for beer at a club with Isaiah the gospel singer. Sophia asks her cousin, "Why can't you just stick with me for one night?"
After the party, Grace goes into her father's office at Calvary where she sees him writing a personal note in the Bible that he gave Sophia. For whatever reason, I guess he wasn't able to do that before he gave it to her. He writes Deuteronomy 32:2 in it. "Let my teaching fall like rain and my words descend like dew,
like showers on new grass, like abundant rain on tender plants." That's beautiful, huh? But Grace even finds a problem with that, telling her father that she doesn't want her daughter to follow in her footsteps. Bishop admonishes his daughter for treating her faith like it's a "sickness." He says, "What is it going to take to bring you back into the fold?" She answers, "Put Mac in jail." He advises her that vengeance is God's business and that when we try to take the wheel from God, we quickly find ourselves in a ditch." His last words to her, "You think on these things."
And then the episode ends….What do you think Gigi should do? Do you think she should keep pursuing Mac or do you think she should turn over the matter to God?
Thank you for reading my looong Greenleaf Season 2 Episode 6 recap (I will try to shorten next week's recap!).
Check out this video from "The Royal Family."
If you would like to read these recaps as soon as I post them, please click on this link to subscribe to my blog 🙂!
Any thoughts?
Comments
comments