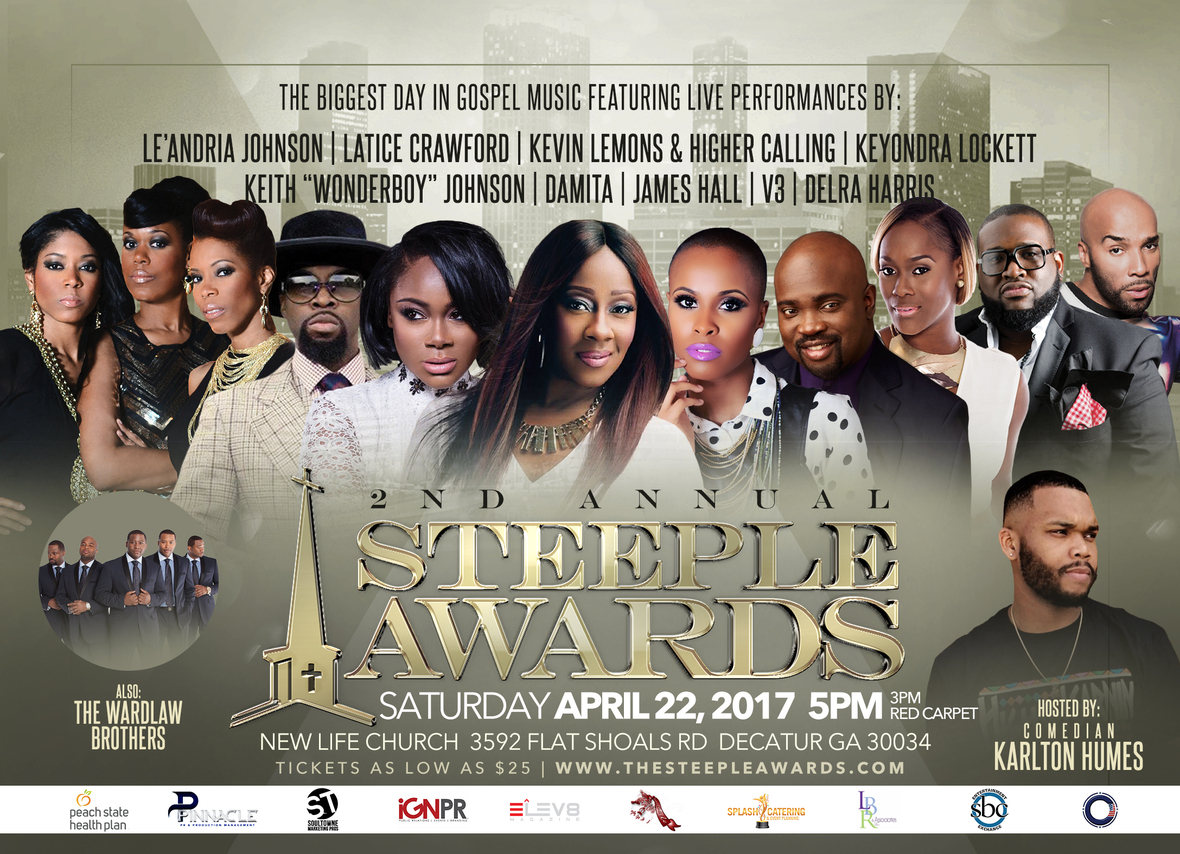 Hello World,
GRAMMY Award-Winning Gospel Artist Le'Andria Johnson, who is also pastor of IPC (Imperfect People Changing) Ministries, will perform at the 2nd Annual Steeple Awards this Saturday, April 22! The Steeple Awards bring together some of the biggest names in gospel music and ministry to celebrate their work on the frontline in the battle for souls. In addition to Le'Andria, who recently released her new single "Bigger Than Me," the show will also feature BET's Sunday Best Season 3 Finalist Latice Crawford, James Hall and Worship and Praise, Keith "Wonderboy" Johnson, Delra Harris, V3, Kevin Lemons & Higher Calling, The Wardlaw Brothers, Keyondra Lockett, and Damita.
Five ministry leaders will be honored with the prestigious Nehemiah Award, including Pastor Marlin D. Harris of New Life Church, Bishop Paul S. Morton of Changing a Generation FGBC, Apostle Travis C. Jennings of The Harvest Tabernacle Church, Pastor Jerry D. Black of Beulah Missionary Baptist Church and Apostle Thomas H. Vinson of Highpoint Tabernacle Church. Famed gospel singer Dottie Peoples will receive the Reverend Dr. Clay Evans Lifetime Achievement Award, presented by the Peach State Health Plan.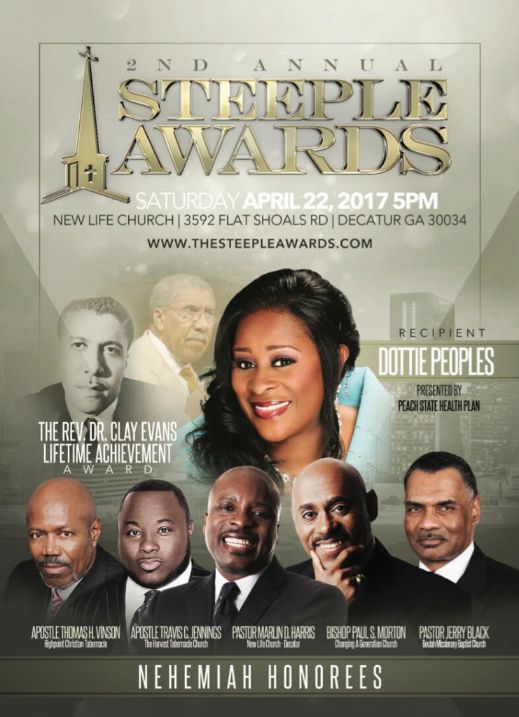 "The Steeple Awards identifies and celebrates ministry leaders and gospel music artists who have earned widespread acclaim as well as those whose contributions have previously gone largely unacknowledged," said C. Chandon Carter, the show's creator. "Prepare for a night of powerful testimonies and powerhouse performances. We're excited to showcase the work that God is doing through these faithful servants."
The awards show will be hosted by Christian comedian, social media breakout star, Karlton Humes. The list of 2017 presenters is still growing and includes GRAMMY Award winner Kevin Bond, Sheen Magazine's Kimberly Chapman and Sammie Hayes, TC Carson, Page Turner, Dr. Kevin Bond, Latavia Roberson and more.
The Steeple Awards takes place at New Life Church-Atlanta, 3592 Flat Shoals Road, Decatur, GA 30034. VIP Red Carpet and Reception begins at 3:00 p.m., followed by the awards show at 5:00 p.m. General admission adult tickets are available for $40. A limited number of VIP tickets are available for starting from $65 and include entry to the Founder's Reception, the Red Carpet Stroll, in addition to VIP seating.For more information and to purchase tickets, visit thesteepleawards.com.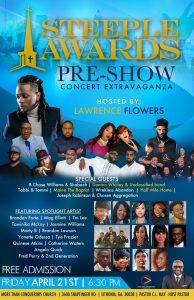 The Pre-Show Concert Extravaganza takes place this Friday, April 21st at 6:3o p.m. located at More Than Conquerors Church, 3600 Snapfinger Road, Lithonia, GA 30038. The pre-show will be hosted by rising gospel artist Lawrence Flowers and will feature performances from Urban Contemporary group Half Mile Home, B. Chase Wililams & Shabach, Tobbi & Tommi, among many more.
Any thoughts?
Comments
comments