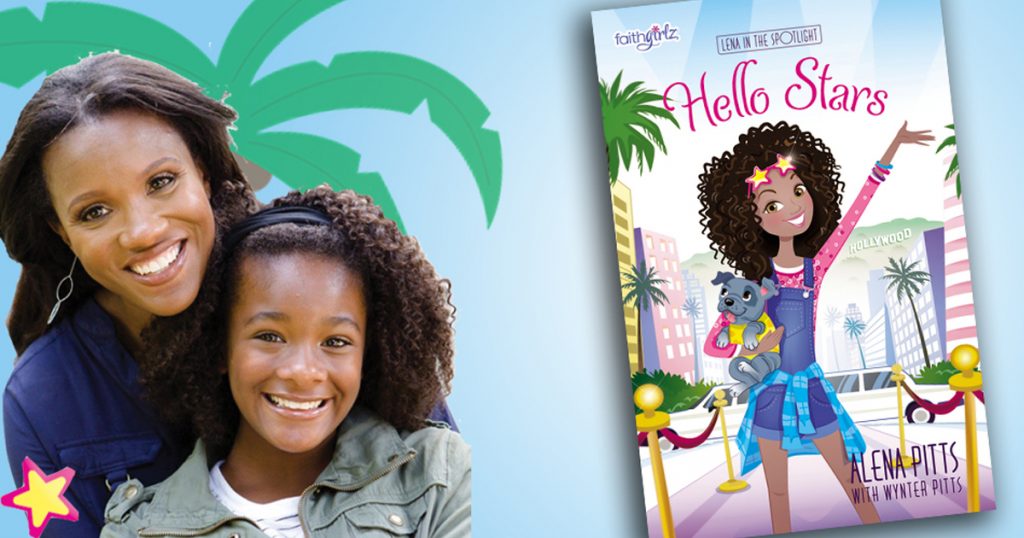 Hello World,
In honor of mothers on Mother's Day, I want to introduce you to 12-year-old Alena Pitts and her mother Wynter Pitts who co-wrote the new book Hello Stars, the first book in the Lena in the Spotlight series from Faithgirlz! Below is the synopsis of the book.

Young Lena Daniels never thought she'd get the chance star in a movie. Headstrong and determined, she has her life planned out to the minute. But when her best friends, Savannah and Emma, tell her about an audition for a part co-starring her favorite singer, she knows there's nothing else in the world she'd rather do. And now that she's gotten her wish, Lena finds that being in the spotlight is harder than it sounds. She got everything she never wanted! Her face turns up everywhere she goes, and everything in her life is flipped upside down. Lena wonders if this is a dream come true or a horrible nightmare. Even a visit from her best friends during filming turns into a disaster. With her little sisters—Ansley, Ashton, and Amber—and her mischievous pup, Austin, constantly at her side, Lena must face the challenges of everyday life while chasing her dreams of being a model and actress on the big screen. Lena tackles tough choices, learns the value of perseverance, and keeps her hopes high. She knows her faith and family will keep her feet on the ground and her eyes on the stars.
As an author for Faithgirlz, which is offered through Zonderkidz, the children's division of Zondervan, Alena is the youngest, African-American female author with a major book publisher! You may already be familiar with Alena, who portrayed Danielle Jordan in the 2015 hit film War Room! Below is my interview with Alena & her mother Wynter…
1. How does it feel to be the youngest, African- American female author to be represented by a major book publisher?
Alena: Kind of surreal still. Like it hasn't really hit me. So it's crazy. I'm just grateful that it happened to me! And then I'm like, 'Thank you God!'

And how did you get a book deal for Hello Stars?

Alena: So, my mom was like, 'Hey Alena, do you want to write a book together?' I was like, 'Sure.' My mom was like, 'That would be so fun!' I really didn't think that was going to happen, but she was like, 'Let's just pray about it.'  So I prayed about it not really expecting anything to happen. So like two weeks later, we got an e-mail from Zondervan asking if we wanted to write a book for them. So I was like, 'Wow, this must be God's plan!' (Laughter)

Wynter: It literally happened just like that! It was just this random thought I had one day, and I just looked at her and said, 'It would be so fun if we wrote a book together.' And that was it. And then, a few weeks later, we got an e-mail from Faithgirlz saying they wanted to talk to us about the project. It was so bizarre. Because of my ministry with girls, I had done some Faithgirlz product giveaways and helped them promote some things so I had a relationship with the publicist there. Since then, I found out the publicist mentioned our names to their team over the last year or so, but I didn't know anyone else on the team!
2. I understand that Lena's story is based on what has happened in your life as you starred in War Room.
Alena: Well, the book is about Lena Daniels, and my nickname is Lena. That was where I got her name from. And the book was about how she wanted to be in control, and she had her whole life planned out until God was like, 'No, you're going to be in a movie and then, you're going to do this for me. And none of this stuff you have planned for yourself is going to happen.' And she was like, 'Wow, I can't be in control.' But she found out over time that going with God's plan is way better than anything she ever dreamed of and that's kind of like my life.

I had my whole life planned out, my job and what I wanted to do when I grow up. But then I got an audition for a movie. And I was like, 'Wow, this is crazy!' And I had to learn to give it all to God! And let Him be in control. So the story line is based on my entire life. And a lot of the funny things that happen in the story are actually real.

So you had your whole life planned out already at 12 years old?

Alena: Yes. My original plan was to do a couple of things. One of my plans was to go to law school and become a lawyer because I love to debate and stuff. But then I figured out how long law school was! Then I was like, 'Nah!' Then, I was like, I guess I will be a singer and learn to play some instruments. I still kind of pursue that. But another part of me was like I want to be a professional volleyball player which I still want to do. But based on my life, anything is possible, and you don't have to stick with one thing your entire life. That's really boring.
3. So Hello Stars is just the first book in the Lena in the Spotlight series. What can your readers expect in the future books in the series?
Alena: Expect more surprises, more plot twists.

Wynter: Lena continues to grow in her faith and in learning to let go of her plans.

Alena: Yeah because she doesn't fully learn to let go in the first book! So she goes along on that journey in all three books.
4. You portrayed Danielle Jordan in War Room? How did you get to audition for that role?
Alena: My aunt [Priscilla C. Shirer] was one of the main characters in the movie, and she asked me if if I wanted to audition because they were looking for a little girl to play the part of Danielle. I was like, 'Sure, I would love to do that.' But I really didn't think I would get it. But I kept auditioning and auditioning, and it came down to me and this other little girl. I was like, 'Wow, this could actually be real. This could actually be what I do in the future.' I just kept praying about it, and I got a call and I was asked to be in the movie. I was like, 'Goodness. Sure!'
5. What was it like being on set every day with the Kendrick Brothers,  a the Christian brothers who produced the film?
Alena: I like to say it was like church. In the morning, we had prayers. It was different than a normal movie set. And it was a lot better than a normal movie set. And then throughout the day, we would stop and pray if something went wrong. And it was really fun because there were a lot of kids there who were a part of the movie like the double-dutchers.
(Check out behind-the-scenes footage of the double-dutch scenes from "War Room" below)
Where was War Room filmed?

Alena: It was filmed in Charlotte, North Carolina.

And now you want to be an actress?

Alena: I wouldn't say that. But like I was saying before, if another opportunity comes up, I would definitely say yes to something I felt had God had for me. But I wouldn't say I would be an actress for the rest of my life.

Wynter: I just encourage her and tell her that when God lays things on her heart or brings things to her just like auditioning for "War Room" to just say yes to it. Even in writing the book. I want her to say yes to the opportunities that God brings her way.
6. As a co-writer for Hello Stars, how did you contribute to the book?
Wynter: Well, Alena would write the outline and the plot, and she would sent it to me. And then I would help to stretch it out. I would add words and make the story longer.
7. Other than the book Hello Stars, is there something from the War Room experience that the both of you took away that stays with you today.
Wynter: For me, just the whole point of the movie is that prayer works. And not just saying, 'Lord, give me this, give me that.' But when we have a heart that really wants to serve God and wants to see Him glorified in our lives, when we commit that to prayer, He is able to do amazing things!

Alena: Yes, prayer works and prayer is possible. When I was younger, before the movie, I really didn't think prayer was something for me. I thought it was for older people because they always had testimonies about everything that happened. But I never heard a little kid talk about the power of prayer so I was like, 'Yeah, that's not for me yet.' I will wait until I get older. But then during the movie, I started to pray, and I was like, 'Wow, this is something that happens for everyone.' God doesn't just listen to older people. I like to say that God's favorite people are little kids! And I will keep saying that until I get older. (Laughter)
Below is a video of Wynter and her daughter Alena talking about Hello Stars.
About the Author: Alena Pitts is a young actress and model from Dallas, Texas.  As the oldest of four girls, Alena first cut her teeth in acting through making home videos and dramas with her sisters, using their entire home as their recording studio.  She has a natural love for all things creative which falls right in line with her gifts and talents. The Kendrick Brothers' War Room marks Alena's professional acting debut. With only school theater on her young resume, Alena jumped at a chance to audition for the role of Danielle Jordan. In addition to school and acting, Alena models and is a frequent contributor for the magazine For Girls Like You.
 About the Co-Author: Wynter Pitts is the founder of For Girls Like You magazine and the author of For Girls Like You: A Devotional for Tweens and You're God's Girl. The mother of four girls, Wynter's mission is to empower and equip girls to walk boldly into becoming who God has created them to be and to provide parents with the resources and support needed to raise strong Christ followers. In addition to publishing the quarterly magazine, Wynter is a frequent blogger, a contributor for LifeWay's ParentLife Magazine, and a public speaker. She is also the niece of Dr. Tony Evans. Wynter, her husband, Jonathan, and their four daughters (ages 6-12), reside in Dallas, Texas.
Thanks to  Alena and Wynter, I'm giving away a free copy of Hello Stars to the first person who emails the answers to these questions: What star from a '80s to '90s sitcom starred in a Kendrick Brothers film? What was the name of the sitcom? And what was the name of the film? Email your answer to me at jacqueline@afterthealtarcall.com.
Any thoughts?
Comments
comments