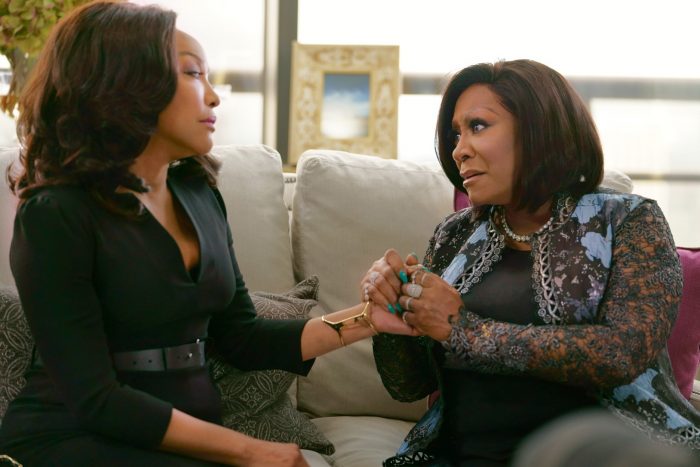 Hello World,
Since the title of tonight's Greenleaf episode was named "The Underdog," this Greenleaf Recap Season 3 Episode 4 will explore that theme through the titles of some famous movies that featured underdogs!
Facing the Giants…
As indicated by last week's episode, Lady Mae travels to Atlanta to see her old friend Maxine Patterson, who is now a preacher with a giant following. Her expansive office with gigantic portraits of Maxine along with the soundtrack of her sermons playing on the PA system speaks to the success of her ministry. And as she walks into Maxine's office, Patti LaBelle's song "When You've Been Blessed" begins to play. That was a perfect use of her song! When Lady Mae's name is announced as she comes in, Patti I mean Maxine says, "Ms. Greenleaf who? Mae McCready." That's the thing about old friends. They knew you before you had your new name and titles! She promptly tells her friend to "sit down before you fall down" and to put away that "first lady facade." And old friends can see past the masks that we wear too. Knowing that she can trust her friend, Mae tells her why she traveled all that way. "You were right." She should have gotten her master of divinity instead of her Mrs. degree and that she is divorcing her husband. Now, Mae wants to go back to school, get that degree and start her own church. Maxine says, "Why? You already got a good one." She says that Mae should not leave her church to start a new one. "Take OVER Mae. It's yours."
Since Bishop is Goliath in this scenario and Lady Mae is David, Lady Mae, affirmed by her friend's counsel, comes back to Memphis and her home where is determined to gain control of Calvary somehow and someway. But first things first. Bishop and Lady Mae are hosting a Bishop's Round Table party where they are honoring the movers and the shakers of the church. Of course, Clara, their $2 million-dollar benefactor whom they are counting on to bail them out of the IRS situation, is an honored guest.
Lady Mae isn't the only one with an alternative agenda. Bishop, however, is bringing out his big guns at the Bishop's Round Table party. He invites the man who introduced Lady Mae and Bishop to one another: Percy Lee Thompson, a local funeral home owner.
Rocky…
Lady Mae suspects that Bishop is up to something, but she tells him that whatever he has in the works will not stop the unraveling of their rocky marriage. In fact, even though Bishop is pleading for Lady Mae to recommit to their marriage (although he is the one who filed for divorce…smh…), Lady Mae just aine tryin' to hear that yang-yang no mo. "We're done James so whatever is going on tonight, we're done."
Speaking of being done, Kevin is done trying to reach Charity by just calling her, Kevin with Aaron in tow busts into the Greenleaf house and is about to disrupt the festivities. Luckily, Grace heads him off before too much commotion commences. "I'm looking for Charity," he says. "She is ignoring my phone calls." Before I get into what happens after that, I must say this: Kevin has some glorified nerve trying to track down Charity like he is a bounty hunter when he disappeared shortly after his son was born. Charity may be a mess but her ex-husband is a hypocrite. Anyhow, Grace offers to call Charity and is able to reach her. Charity is sitting poolside God knows where and has just ordered a Georgia Peach cocktail. (Oh, she's in Atlanta! LOL) I've lived in Georgia nearly all of my life and I didn't know that was such a thing, but I guess I should have guessed that was a drink. When Grace tells her little sister that Kevin is looking for her, she tells Grace to let him know that she is "taking care of business" although it's clear she's not on anyone's tour. She goes on to say, "Kevin did what he what he wanted and I can do the same." Charity is cray for running off with Nate like that, but she does have a point. Grace pleads with Aaron to persuade Kevin not to call the cops on Charity.
Bishop and Grace are not the only ones pleading with someone at the party. Kerissa pleads with Jacob to send Zora to Oregon for a behavior modification program for troubled teens, but Jacob doesn't like the idea. Lady Mae tells Jacob she has another idea. "You all should bring her to me for a while."
Before that conversation comes to completion, Bishop asks for everyone in the party to gather around for a speech he wants to make. He thanks everyone for coming to the annual Bishop's Round Table Party, but he also speaks uses the platform to speak publicly about his devotion to Lady Mae. He begins by quoting from Ecclesiastes 4:9-12. Saying phrases like "Two are better than one" and "How can one keep warm alone?" he praises Lady Mae by sticking by him for their 40-year marriage. He tells the audience that when he was young, he thought he was destined to be a "lonely creature" because he had had "never met a woman who took her faith as seriously as I took mine." But that all changed when he met Lady Mae. Since the Lord sent her to Bishop, he says he has never felt "cold, forsaken or unsure." He goes on to say, "This church, this family, let no man pull asunder." He wants at least another 40 years with her by his side. He kisses her to seal his words. Despite herself, Lady Mae smiles and seems to soften her stance just a bit. But just like in the Garden of Eden, the snake knows when to show up. Rochelle Cross, shiny in black sequins, steals the air in the room when she appears. For a moment, the sea encompassing Lady Mae's heart had stilled but the sight of Rochelle set her heart adrift again in rocky waters.  "What is she doing here?" Lady Mae sputters.
The Karate Kid…
Like Daniel, the underdog in "The Karate Kid," Bishop has to spring into action and protect his turf from the certain destruction that Rochelle Cross will cause if allowed to stay at this party. "Ms. Cross, may I have a word with you?" Bishop says with all of the gentility that he can muster given the urgency of the situation. After he pulls her aside, he says, "I'm trying to repair my relationship with my wife. You shouldn't be here." Rochelle declares that "she is still a member of Calvary. I'm not going to slink off into the night like I'm a shameful secret." At this point, she sounds as dumb as she looks. What does she think she has to offer that Bishop doesn't already have? I know she is a younger woman, but aside from her relative youth (because she aine all that young) she is not the type of woman who can hold down a shepherd of a flock. How do I know? I was raised by a woman who has stood by a shepherd of a flock. It's not easy and erebody aine able. Maybe Bishop has that in mind when he says, "If I've given you some reason to hope, I'm sorry." I think his words should have been stronger, but she gets the message…finally. But not soon enough for Lady Mae. When Bishop goes back over to his wife, she says, "Why are you talking to me? Your business is clearly with her and not with me. " She leaves him alone as he ponders their conversation under a portrait of them in happier times.
Rochelle is adding fuel to the fire. #GREENLEAF pic.twitter.com/5Popw9c6o9

— Greenleaf OWN (@GreenleafOWN) September 13, 2018
Rochelle makes her way to Grace and Darius although she is supposed to be on her way out. She ogles Grace's man right in front of her. She is like the evil spirit who lives among tombs in the book of Matthew. Restless. And to make matters much worse, she chats up Ms. Clara on her way out as well. "Do you mind if I have a word with you?" When Ms. Clara obliges, she asks, "What does the church have you tied up in?" Ms. Clara, thankfully, doesn't tell her anything, but Rochelle continues anyway. As a money manager, Rochelle advises that if it has anything to do with money, she should have her money manager vet any decision she makes.
Deaconness Connie is mixing and mingling as well and asks Grace about Kevin, who I guess she saw at the party earlier. She asks why Kevin has stopped coming to church. Grace, ever putting folks on the spot, says that their church should join the open and inclusive coalition which is a coalition of churches that welcome gay, lesbian and transgender church members apparently. Grace tells her Kevin would have to hide who he is at Calvary. In the line of the episode, Connie says she still the "same old Grace… When you are going to outgrow that old habit of agitating for every underdog except Jesus?" Grace retorts with, "Every underdog is Jesus."
Oh, sis tried it with Grace! #GREENLEAF pic.twitter.com/BJ6yK5xTdt

— Greenleaf OWN (@GreenleafOWN) September 13, 2018
But the drama is ratcheted up when Zora's issues are center stage. Sophia goes outside to spend some time with her boyfriend Roberto, but when his kisses become more intense, she suggests that they go back inside. Roberto, however, is hot under the collar and doesn't want to go back inside with Sophia. When Sophia returns, she tells her cousin what happened. "I think he wants to have sex with me." Zora responds with sarcasm and questions Sophia's stance on waiting until marriage for sex. When Sophia notices that her cousin was using her computer to communicate with Isaiah, Christian Breezy, their interaction quickly escalates. Zora is tired of Sophia's Miss Christian way of conducting herself. "It's Christian this or Bible that." "Every time I talk to you, you suck the life out of me." She calls her "God's little b****!" How disrespectful. Sophia comes back with calling her boyfriend a "pile of trash." When Zora threatens to hit her, Sophia says she can can "see what he taught you." And the girls get to scrappin'. Luckily, Kerissa is able to separate them! (As one of my readers suggested, a public awareness announcement about domestic violence between teenagers should be included at the end of the episode. I don't remember one being showed before, but I could be wrong.)
Sophia and Zora need to get it together! #GREENLEAF pic.twitter.com/N8dvMm6nUj

— Greenleaf OWN (@GreenleafOWN) September 13, 2018
Cool Runnings…
Although the Greenleaf grandkids were cooled down at least for the moment, there are still more fires to put out at the party. On her way out of the party with her granddaughter Karine, Clara tells Lady Mae that she wants to Bishop and Lady Mae to sit down with her money manager before the $2 million transaction is complete. Lady Mae keeps her cool and says, "Bishop and I would be happy to sit down with your money people."
After the festivities are over, Deaconness Connie goes to Grace's office. Concerned that the church may be losing their leaders with Bishop and Lady Mae's marriage in tatters and news of the IRS scandal spreading on the Internet, she realizes that a Greenleaf still needs to be at the helm of the church. "You may be need to step up and take over as head pastor." Of course, Lady Mae would lose her cool if that were to happen. Lady Mae needs to watch her back but she has watch Zora's back for right now at least as Jacob and Kerissa drop off Zora with her. Kerissa isn't thrilled about the proposition given that what happened with Faith Greenleaf wasn't exactly a testament to Lady Mae's parenting skills. But now that Mac is dead, things will be different. Some people think that Zora's out-of-control behavior is evidence that Mac may have abused Zora too. I don't know but I thought he preferred young, light-skinned girls. But that is a theory worth exploring. And if that is the case, maybe Lady Mae can reach her since she was abused by her father. Remember?
The episode closes with Charity singing her best rendition of Gloria Gaynor's "I Will Survive" accompanied by a pianist in a hotel lounge it seems. (I guess if gospel music aine working for her, secular music may be her next option…I disagree with that option for her though…)I thought it was Atlanta, but maybe it's Miami since you can see the ocean or a body of water along the skyline of the city. It was a cool vibe until the police showed up!
Well, that's all I got…
Thank you sooo much for reading my Greenleaf Recap Season 3 Episode 4: The Underdog and my other recaps so far. If you would like to keep up with OWN's "Greenleaf," and my recaps, please click on this link to subscribe to my blog 🙂!
Any thoughts?
Comments
comments