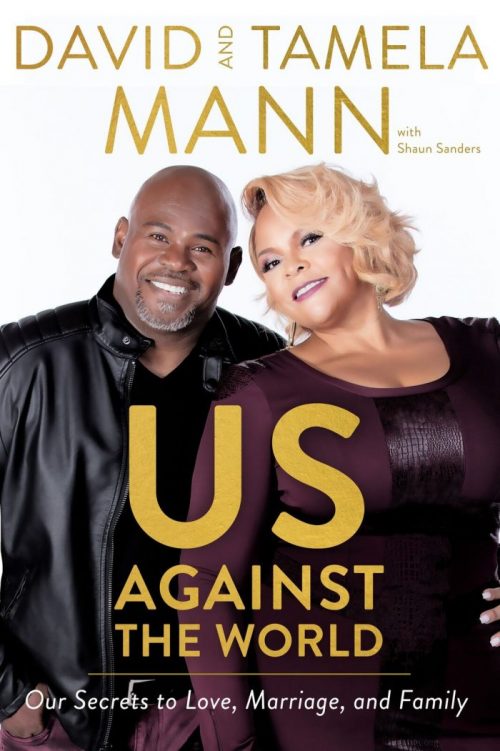 Hello World,
Two-time NAACP Image Award-Winning Actor and Comedian David Mann and his wife, Grammy® Award-Winning Recording Artist Tamela Mann, are celebrating their 30-year love story with the release of their new memoir, Us Against the World: Our Secrets to Love, Marriage, and Family (W Publishing/Harper Collins Christian), available November 13, 2018.
David and Tamela first met as teens when they attended an after-school chorus class. Tamela heard David and his friends Kirk Franklin and Darrell Blair (now pastor of the couple) sing; in those days, the boys were known as the "Humble Hearts." Tamela went on to a different high school, but impressed them with her voice. She and David became best friends, then married, and eventually began singing with Franklin and the large ensemble he created, The Family.
With a relationship spanning more than 30 years, David and Tamela are just as, if not more than, happily in love as they were in the early days of life together. In their new book, Us Against the World: Our Secrets to Love, Marriage and Family, the superstar couple who has delighted and inspired audiences through music, plays, movies, and the television series' Meet the Browns, TheManns, and Mann & Wife, candidly share a wonderfully inspiring, funny, and up-close look at their lives while offering hope and practical advice for building a strong relationship, marriage and family.
"We've always been transparent about our relationship and family with fans. In our first book we'll tell our whole story and share our secrets to a successful marriage," said David. "Our marriage is a top priority and our greatest accomplishment. We're excited to share what we've learned about doing life together as a couple and how to fully love your spouse," said Tamela.
Highlights of Us Against the World include:
Shares tips to help couples grow in love and commitment to each other.
No holds-barred honesty gives hope, no matter how difficult things may be.
Insight into how two successful people-built careers and a family together.
Lays out how to experience true unity and fulfillment in marriage.
Offers encouragement that though blending a family is difficult, it is definitely possible.
Check out the trailer for Us Against the World below:
To pre-order the book and or get on the Manns' mailing list, go to: tillymannmusic.com
For more information about the Manns, go to:
FACEBOOK: www.facebook.com/davidtamelamann
INSTAGRAM: @DavidandTamela
TWITTER: @DavidandTamela
Any thoughts?
Comments
comments