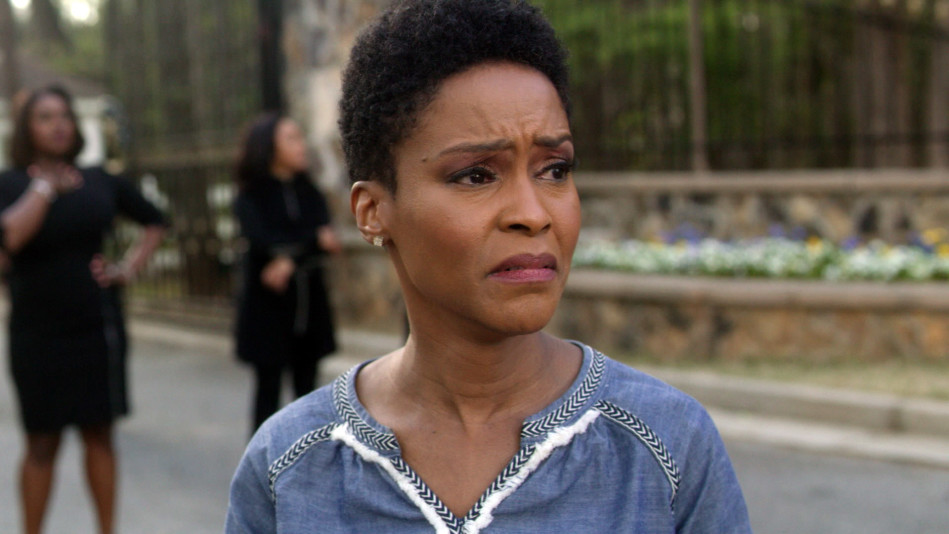 Hello World,
Let's skip the buildup and get right into this Greenleaf Recap Season 3 Episode 8: Dea Abscondita! As you can tell by the title of tonight's episode, which means Hidden Goddess in Latin, it was all about the women stepping up and taking control of their power…
Sisters Are Doin' It for Themselves…
Tragically, Zora is still determined more than ever to leave with Isaiah or as I fondly call him Christian Breezy no matter what her mother and especially her father has to say about it…When Jacob tries to get at Christian Breezy because Christian Breezy knows Jacob's father is not afraid to "lay hands" on the boy, Isaiah pulls out his cell phone, talkin' 'bout he gon film it all for his followers to see and that he is about to be attacked! At that, Kerissa gives her cell phone to her daughter, but that boy throws it out of the window. Kerissa's final words to her daughter are "Be careful. Please be careful." It's evident in her carriage that Kerissa, not Jacob, will leading the Save Zora Crusade from now on.
Kerissa, Jacob & Lady Mae return to the inside of the Greenleaf home to strategize about their next action to Save Zora. Kerissa calls Isaiah's parents. Jacob mentions replacing her phone. Kerissa says, "My daughter is gone. I'm not going phone shopping." For the last season or so, Kerissa has taken care to be deferential in how she speaks to her husband probably to build him up as the man of the house, but babay, she is no longer circumspect. Jacob immediately takes notice. "You can't just ice me out," Jacob says to her. Kerissa says, "I won't let Zora turn into Faith." She then pushes her hand onto his chest. "Take your phone."
Over at Percy's house, although Bishop says he can do it all by himself, his circadian rhythm betrays him.  Dude cannot sleep. He tells his new housemate that he didn't get to sleep until after 3 a.m. Percy, with his country self, draws from his folksy wisdom and tells him what happened after he split from his THREE wives – Joanne, Luella & Rhonda LOL! He was fine until Rhonda, he says. After Rhonda, he had panic attacks that he felt in his heart. What does that have to do with Bishop? Bishop has only been the husband of one wife…as far as we know anyway…who knows what the writers have up their sleeves…
Grace, ever on her crusade to save the world, has bailed Coralie Hunter out of jail! Along with Rochelle, the two walk out of the jail to a feeding frenzy of journalists. Rochelle tells Coralie, "I can replace that scrawny boy you have with a beast of an attorney."
Once again, Percy has hired Charity to be the funeral singer, but she arrives a little bit late to the funeral home. She says there was "drama at the house this morning." Bishop asks her to explain what she means and ends up calling Lady Mae. Lady Mae says, "James, we have everything under control. Resist the urge to make meaningless activity." Lady Mae is like, "I can do this." Did y'all notice that Bishop had on some green-framed glasses or were they blue? Either way, they were nice…
Run the World (Girls)…
Thelma & Louise I mean Kerissa & Lady Mae stake out Isaiah's parents' home waiting to see if the on-the-run lovers will show up there. While waiting, Lady Mae gets Kerissa straight. "If you think I didn't do everything I could to get my daughter back, you are mistaken." She further explains that some children just get away from you no matter what you do. Kerissa says, "I won't let that happen to Zora." "You may not have a choice," Lady Mae says to her daughter-in-law.
Since Jacob's plan of action is no longer needed, he is at Triumph where he sees Tasha for the first time since that kiss. He tells her that "what happened between us, that kiss was a mistake."  He tells she will need to stop texting him as well. So I was surprised by Tasha's reaction. She is genuinely brokenhearted that he doesn't want to continue down the road to a full-fledged affair. She starts to tear up and says, "Nothing seems to ever work out for me, Jacob." I mean I can sympathize with her to a certain extent as her husband just up and left her. But that doesn't mean she can just take someone else's husband. And I really feel her plot to take down Jacob has fallen by the wayside. What we see now are genuine feelings. And if I'm not mistaken, Jacob is feeling something too. Jacob wants to be righteous but I fear he just can't be right. Before the conversation can go even deeper though, Bishop stops by for an impromptu visit. He sees Tasha's tears and feels the tension in the air and says," Did I interrupt anything?" Jacob says, "Tasha just lost a friend."
A huge one. #GREENLEAF pic.twitter.com/m2luFOZ7Sm

— Greenleaf OWN (@GreenleafOWN) October 18, 2018
Once Bishop and Jacob are alone, Bishop suggests calling someone to help them retrieve Zora because Bishop seems to have friends everywhere. Jacob blows up at his father and says, "She is an adult. This isn't something you can fix with a phone call." Bishop responds with, "Kerissa wasn't wrong to send you away. That temper of yours is not helpful to anyone especially you. I'm still your father and that girl's grandfather." Awww, hush up Bishop. He is feeling left out of Greenleaf business and wants to feel needed.
Back at Calvary, District Attorney Price is waiting for Grace in her office. Grace tells Rochelle to wait for her outside and she goes into her office to meet with the man. He wastes no time in telling her that she has gone against his "strongly worded advice" and lets her know that Coralie Hunter will either be charged with 2nd degree murder for which she will be in jail for 20 years or get a life sentence without parole. Of course, Grace thinks both choices are unacceptable. The D.A. tells her that if she proceeds any further, that she could find herself on trial! He brings up Mac's murder again and says he has this "funny feeling" that what she did was actually premeditated murder. He says, "You think women should take the law into their own hands and kill men" and how what she did wasn't even Christian. "Have Ms. Hunter take the deal."
Coralie lawyer's echoes what the D.A. says and tells Coralie that if she agrees to the 2nd degree murder charge, she can get parole after 15 years. Grace points out that she is a victim of abuse. The lawyer, who is clearly overworked as he points out that he is working on 12 other cases, is unsympathetic. And apparently so is the judge. "He's not a fan of this #MeToo movement." He gives Coralie the option to think about what is being offered and says, "I've got to get to places where my work is more appreciated." In the mean time, Grace has made arrangements for Coralie to see her children.
Rochelle tells Grace that she knows someone at CPS, which I think is Child Protective Services. Grace asks how does she know someone at CPS because like Bishop, Rochelle knows people all over Memphis. She says she met this particular contact through the Big Sisters program where she MENTORED four girls! What? "I got four girls out there running the world," she says. "I won't stop till all the folks who try to hold them down are brought low." Grace remarks that she sounds like she is out for revenge. This all takes place as Coralie is visiting with her children. Once Coralie's visit is over, she tells Grace and Rochelle that she just can't go to prison. Rochelle's interaction with Coralie and her conversation with Grace shows that she does have a soft spot for girls in dire circumstances. It probably reminds her of how she felt after she lost her father in that church fire. Grace better watch out…
I'm Every Woman…
For the first time during this episode, Sophia shows up. As in the last few episodes, she is still in mourning and rightfully so. Marisol delivers a package to her bedroom. When she opens it up, it is a scrapbook that Roberto her boyfriend has made and includes pictures of the two of them. In one of the final pages of the scrapbook, he has placed a picture of them on top of a picture of Rhodes College, a Christian school the two had talked about attending together. She looks through the scrapbook but is unmoved.
Back at the stakeout, Isaiah and Zora finally show up! When Isaiah goes inside of his parents' house for a moment, Kerissa runs over to the jeep and pleads with Zora to give her a minute to talk to her. Zora hesitantly agrees. Kerissa describes the moment Zora was born. She tells her that she didn't have word to describe her and was just taken in by her wide, brown eyes. "You were everything," she tells her daughter. And she explains to Zora that she wanted to give her everything and meet her expectations for her life. She points out that Zora has nothing now except a "boy who beats you up. A ticket to nowhere." She also warns her that is the last time that she will try to get Zora to change her mind about the course of her life. After this, it will be "you, your bad decisions and God. And God is going to win." Smh…You do know that you can resist God for only so long before He gives you over to yourself to reap the consequences of your actions without the safety net of His love. Oh what a perilous state is that, Saints! Zora says, "I will take my chances" like she is hard. But when her mama walks away, you can see the formation of a tear. Girl, you're just a girl trying to be a woman…
Meanwhile Bishop is finally learning what it means to mess with Lady Mae. He returns to gate of the Greenleaf estate and tries to get in but the gate code has been changed! No time was wasted. She aine playin' with him. Once he finally gets into the home, he discovers Lady Mae working out her frustrations at the piano. Bishop comes in there whining about the gate code and talking 'bout he is still the head of the family. Lady Mae retorts with, "You're the head of no one" except for maybe Rochelle whom she refers to as a "pile of saggy cornbread and pantyhose you gave my money to." Tee-hee. Bishop says that he needs Lady Mae's assistance in "reminding these children that I exist." Cry me a river, Bishop. Lady Mae goes into her poetry again and refers to herself and Bishop as "two faded stars that went out long ago." It seems that she is starting to realize that she and Bishop have set things in motion that contributed to why things are the way they are for the Greenleafs. Bishop says, "You can soothe yourself with that poetry." She tells Bishop that he has her sympathy. "Sympathy is not a currency. It is not to be traded. It is a feeling. If you want a friend, talk to Jesus." Bishop just needs to realize that he aine runnin nathan no mo…
Bishop can read Lady Mae like a book. #GREENLEAF pic.twitter.com/Tr2x7G4g8l

— Greenleaf OWN (@GreenleafOWN) October 18, 2018
Upstairs, Sophia finds her mother sitting in a chair in the dark. Grace is obviously exhausted. She announces, "Mom, I don't want to go to Rhodes." She notes that Zora isn't going to college and that she is almost 18 as well. "I don't want to go to a Christian school. It's just not where I'm at right now." I get that. My parents encouraged me to go to a Christian college, but I never had any interest in attending one. I didn't want to feel cloistered away from erebody and erethang. But in the end, God found me anyway. My first job after college was working at a Christian newspaper! LOL Watch out Sophia, God aine lettin' you get away that easy 🙂
Now that his talk with his father has come to an end, Jacob can return to his tiff with Tasha. In the interim, Tasha has packed up her essentials in a box and is leaving the premises! She explains to Jacob that after Basie left, she decided to stay on at Triumph because she liked Jacob and now she more than likes Jacob. "You're married and I'm technically married. Just know that I'm sorry for everything." He doesn't quite understand what she means, but he will surely learn.
Once he returns home, he discovers Kerissa wrapped up in a blanket, looking through an album of childhood pictures of Zora. She says, "I didn't make dinner." Jacob says, "I don't care about dinner." Kerissa says, "Our little girl is gone." She gets up and leaves Jacob on the couch.
*Adds Zora to our prayer list. ** #GREENLEAF pic.twitter.com/HdVXlnkjNg

— Greenleaf OWN (@GreenleafOWN) October 18, 2018
Although Bishop doesn't believe that Charity has the chops to take over Calvary, his friend Percy believes that he has found a successor for his funeral home business in Charity! He tells her that she has a gift for comforting people. "You know what to say and what not to say…I've never met anyone that can take over." She says, "Thank you. It means a lot to be seen and valued." And that is what Charity has been seeking all along. She betta think seriously about that offer.
The next morning at Percy's, Bishop, who is wearing red pajamas, has not gotten any sleep. Percy breaks things down for this friend. He tells him that some people, who have found themselves in a crisis, have forethought while others have hindsight. Some, sadly, discover they have neither. "Jimmy, at least you've got one." I think Bishop has hindsight. He knows he needs to make things right with Lady Mae. The question is, "How?"
Once Percy leaves him on the porch by himself, Bishop whispers a prayer. "Not my will, Thy will be done. Nothing more and nothing less and nothing else." Somebody pass the offering plate because that should be a sermon preached every day in the heart of a Christian, but we all know it's easier said (prayed) than done.
Thank you sooo much for reading my Greenleaf Recap Season 3 Episode 8: Dea Abscondita and my other recaps so far. If you would like to keep up with OWN's "Greenleaf," and my recaps, please click on this link to subscribe to my blog 🙂!
Any thoughts?
Comments
comments