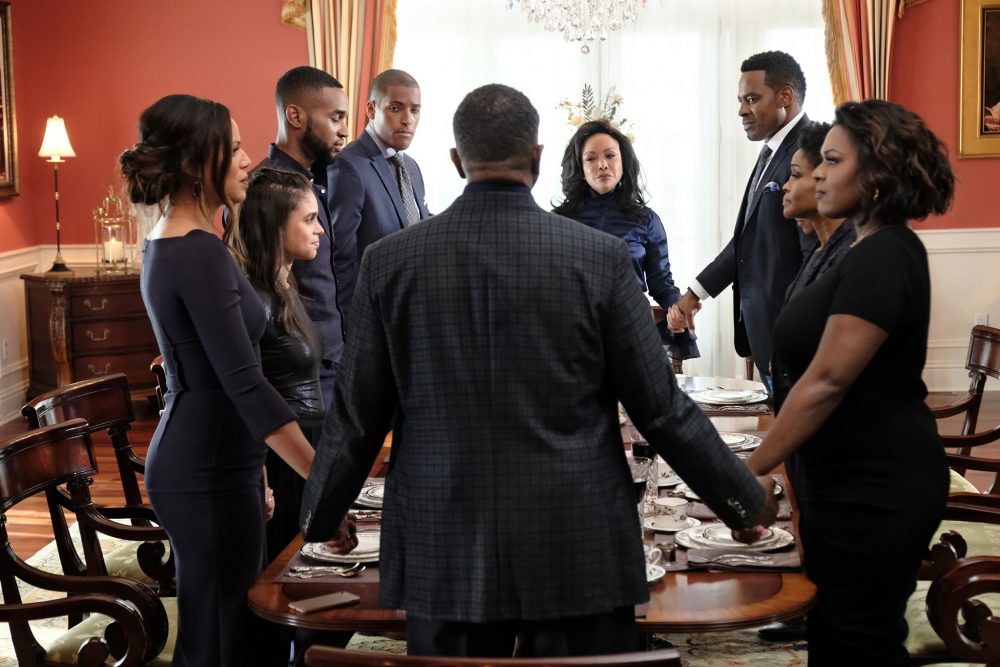 Hello World,
Happy Thanksgiving! I found myself smiling (although I almost lost it for a second) throughout this season finale despite all of the pain inflicted and promises broken during Season 3, but I'll stop starting and start this Greenleaf Finale Recap, Season 3 Episode 13: This New Life…
How To Save a Life…
Chile, Karine almost got herself killed when she interrupts Basie holding a gun ready to pull the trigger, sending Bishop on a one-way trip to Heaven's gates. But Bishop convinces Basie to let her leave and Basie ends up not ending Bishop's life on this earth after all. "Oh Bishop, you've got some amazing faith. Too bad it's misplaced," Basie says to Bishop.
Lady Mae and the rest of the church for that matter still have no idea what is going on as Lady Mae brings her sermon to a close. Maxine is pleased as punch with her protégé's performance. "Girlfriend, not even Peter could deny what happened up there. Girlfriend, you got a church!" But before the balloons can be released, they are quickly deflated when they are informed that Bishop was held up by Basie in his office. Lady Mae rushes to Bishop, grabbing him at the knees like she still has feelings for ex-husband. "That man came to kill you." "I'm okay," Bishop says as he sweats in his chair.
"You need to rest," Lady Mae says tenderly. "I'm sorry I didn't come to see you preach, but it sounded like the Spirit showed up. Mae, the church is yours." Lady Mae cannot believe that finally after all of this time, Bishop finally believes in her calling. "Oh thank you, thank you James," she says with tears in her eyes. "You've earned it," Bishop says.
The Bishops bows out. What's next for James? #Greenleaf pic.twitter.com/dLzRcq9X62

— Greenleaf OWN (@GreenleafOWN) November 22, 2018
Across town at Jacob's house, Charity calls her brother to tell him what happened. After making sure that his father is alright, Jacob leverages the family crisis to his advantage. "It was just one kiss. Can we stop talking about divorce?" Kerissa seems like she agrees that now especially is not the time to cause any more splits in the Greenleaf family. But unfortunately, there is more bad news to hear. Joseph from Triumph's accounting department calls and tells Jacob that he is out at Triumph after the FBI raid. "That son of a b**** stole our church."
After all of that, over lunch, Grace meets with Deaconess Connie and Phillip Demars of Harmony & Hope Ministries. Connie launches into a laundry list of Calvary's mishaps under the leadership of the Greenleafs. "No one understands my church's failures better than me," Grace says. However, Grace points out that Lady Mae showed out at "A Day With Lady Mae." "My mother raised the roof." But Connie and Phillip could care less about Lady Mae's calling. Connie wants the church to join forces with Harmony & Hope and Phillip asks Grace to be the interim pastor for a year while the merger is made. "Can I have a week to pray about it?" Grace asks. The two agree with her request.
Hard Knock Life…
As Grace and Lady Mae take a walk on the Greenleaf estate, Grace uses the moment to tell her what happened with Deaconness Connie. Bishop and Lady Mae will be able to retire will full benefits once Harmony & Hope take over with Grace as the interim pastor. Of course Lady Mae is mad that Grace didn't reject the offer outright and says that the church was "resurrected only to have it driven back to the grave." Wayment, Grace says. Well, not literally, but figuratively. "You have beaten me down for decades with for YOUR betrayal." Lady Mae tries to walk off, but stops when Grace keeps on talking. "Aaron and I took a blood test. Lionel is my father." Spouting off the poetry she has become known for, she says this news will mean that her "shameful mistake will be memorialized forever." Lady Mae also says she will tell Bishop he is not Grace's father and finally, FINALLY an apology. "I'm sorry, and I'm ashamed. I never meant to bring so much shame to so many," she says before walking away from her daughter.
In the next scene, Jacob goes to see his father at Calvary. "You're a sight for sore eyes," he says to his son. Jacob fills him on the fact that the Triumph board has removed him from the pastorate for being an irresponsible steward of the church's money. Bishop tells his son to keep his head up though. He's been watching him preach on TV and believes that his son can actually preach. Does Bishop really mean that or is he just feeling all sentimental and sweet since he almost lost his life? Anywho, Bishop invites Jacob to go with him to the deacon board meeting to watch Lady Mae do some damage. "Your mother is about to put down rebellion in the ranks."
Lady Mae reminds me Connie of how the church responded to her and while Connie says she has a "convincing case," the church still would rather be merged with Harmony & Hope. What did she do that for? Lady Mae lets her have it, calling her a "Judas in a bad pants suit" and saying the church should "launch you from the roof in a water cannon." LOL Connie then brings out some papers. Lady Mae asks her if that is a "list of grievances dating back to Genesis?" "No, it's a petition signed by 2,000 members," Connie answers. She says the Greenleafs have dragged the members of the church through their mud for over 40 years. Ouch. "It's time for a change." Bishop admits that he needs to step down, but he points out that Lady Mae should be allowed to step up.
But after the meeting, something unexpected again happens. "Are you headed over to Percy's?" Lady Mae asks Bishop. When he says yes, she says, "Would you like to come over for dinner? I will cook." "I would love that," Bishop replies. Awww, sookie, sookie, now…
Another reconciliation is underway at Jacob's house as well. "Who is going run Calvary?" Kerissa asks Jacob after learning about the Harmony & Hope merger. Kerissa tells Jacob he better make sure that he is on the short list of candidates because she needs her child support money. Then she tells him to forget about getting her child support money because she's not going anywhere. "You're not going to seize this opportunity without me to guide you. Harmony & Hope is a gigantic deal." And this is the Kerissa I remember from Season 1. A real goal digger. And maybe this is why Jacob married her because she can make his dreams come true. And maybe he is recalling their wedding night because the man clears the dinner table and serves himself a helping of Kerissa's love right then and there. And I'm here for all of it. As the helpmate to her husband, a woman should help her husband's dreams come true. Now, don't get me wrong. That should go both ways, but right now we're talking about Kerissa.
Speaking of culinary confessions, over dinner back at the Greenleaf estate, Lady Mae says, "James, I have something to tell you. Grace is Lionel's daughter." Surprisingly calm, Bishop responds with, "Well, now, we're even." "That's all you have to say to me?" says Lady Mae, who is truly stunned. With a smile, he tells her that, "You can't lose me over it, and you already kicked me out the door." And that was the final twist of the key that unlocks Lady Mae's love for Bishop once again. "Would you please come home?" He agrees if Lady Mae agrees to heal her relationship with Grace. "You and your daughter are more alike than you want to admit…It's no use coming back to this house if we can't live as a family. Real family."
Moment 4 Life…
Basie's back, but's it's just for a moment. He calls Tasha trying to lure him into going with him and Rochelle to Cancun. "Stop calling me please," Tasha says. Basie tells her that Jacob doesn't want her so she has no reason to stay around Memphis. But it's clear that Tasha wants a fresh start especially since she was able to make a deal with the FBI. "You need to take the money back, Basie." "Hasta Luego," Basie says. He's talking to her while he is shopping at a gas station convenience store where his bill comes up to $40.17. He puts down $40 and a big guy dressed in black, who is behind him, puts down the 17 cents. Basie says 17 is his "blessed number" and thanks the man although he is skeptical about the man given his appearance. He then hops into a black convertible with his half-sister and the big guy jumps in his black truck and follows them! (He probably owes him some money from his gambling days.) I guess more will be revealed in Season 4!
Speaking of money, but lots of money in this case, Aaron tells Grace that she will be receiving $3 million from Lionel's estate. Aaron, on the other hand, received nothing given the fact that his father never gave him love nor respect while he was alive anyway. And is it just me or do the two of them actually favor?
Apparently Grace has agreed to be interim pastor while Calvary is merged with Harmony & Hope after all. She meets with Bob Whitmore of Harmony & Hope. Apparently, he will oversee the merger. He tells her that he heard she is a prophet and she needs to be a "voice that can unify this congregation."
In the next scene, Grace meets with Bishop. She tells him that she wants to help him get out of trouble with the IRS. "Daddy, this is going to sound strange, but I've come into some money and I want you to have it." He seems to gloss over what she has just told him to get to the more important matter. "In this family, we don't live by the flesh. We live by the Spirit. In the Spirit, you are my daughter, my beloved daughter, and you always will be." Y'all, I just wanted to hug them both. That moment was one of the best moments this season. Grace is Bishop's daughter in every way that counts.
Blood or not. #Greenleaf pic.twitter.com/83Gn4UEFKq

— Greenleaf OWN (@GreenleafOWN) November 22, 2018
On Sunday, Bishop, dressed in his purple robe, reveals the status of Calvary as it stands now to the congregation. "This is my last Sunday preaching." He reminds them that Moses, who was a man of God but with faults, was not allowed to go into the Promised Land with the people he led there. Watching from a mountain, Moses couldn't go into the land of milk and honey because he failed to trust in God. "I always thought Moses felt angry and sad… but I know today that Moses felt proud to be on that mountain…He knew that each of them earned their ticket to glory. I know he felt grateful to have been on that adventure at all." Y'all this was a triumphant moment with the standing ovation, but I did feel sad too. Everything can't remain the same always, but I feel there is more work for Bishop to do at Calvary. What about you?
But maybe God has something else in mind because Bishop, with his hand raised in the air, gets to swaying and eventually drops to the ground. His family encircles him. "I think it's my heart," he manages to say. "God gave me a vision of my death and this is the moment. I love you. I love you so much." "James, stay with us," Lady Mae says to Bishop. I would have cried, but I was taking notes so I had to keep it together!
We are NOT ready to let go! #Greenleaf pic.twitter.com/Th20r9MDx1

— Greenleaf OWN (@GreenleafOWN) November 22, 2018
In the next scene, Bishop's granddaughters who are wearing black are walking with one another on the Greenleaf estate. Zora tells her cousin Sofia that she will be going to therapy to explore why she "wasted so much time on that piece of trash boyfriend" (Amen) and she is thinking of auditioning to go to a school in New York! "Good plan," Sophia says. They agree to never stop talking to each other again no matter what. Awww…
And then inside the house, Lady Mae, who is also in black, announces that Jacob and family are moving back home. She also tells Grace that she will "make things right between us" from here on out and wants to help her daughter! A miracle in their midst! (Aside: Kerissa announces that she is charge of her family with Jacob, not Jacob, when Zora did something that Kerissa did not agree with beforehand I guess. What's up with that?! More will be revealed about this in Season 4 as well. I don't think Jacob and Kerissa are going to make it as a couple after this comment. No man wants to be led by a woman…Get ready for Jacob and Tasha in Season 4…)
Y'all, I thought Bishop was for sure dead then, but then he shows up as the family (including Kevin & Aaron), all of whom are dressed in black, gather around the dinner table. Apparently, he was in the hospital for two weeks and he is now officially retired from the pastorate. "I thought the Lord gave me a vision for my last day on earth…In a sense it was, because I feel like I'm in heaven. He's given me a new day with my family. It's the real promised land."
"Grace would you do the blessing?" Lady Mae asks. What?!! "Pastor?" Bishop says.
"I'd be glad to," Grace says. She thanks God for "food, family and faith" and asks God that all three would sustain them enough to "take back what is ours!" The battle is over but the war is will still be waged in Season 4!
Thank you sooo much for reading my Greenleaf Finale Recap, Season 3 Episode 13: This New Life…and my other recaps so far. If you would like to keep up with OWN's "Greenleaf," and my recaps, please click on this link to subscribe to my blog 🙂!
Any thoughts?
Comments
comments