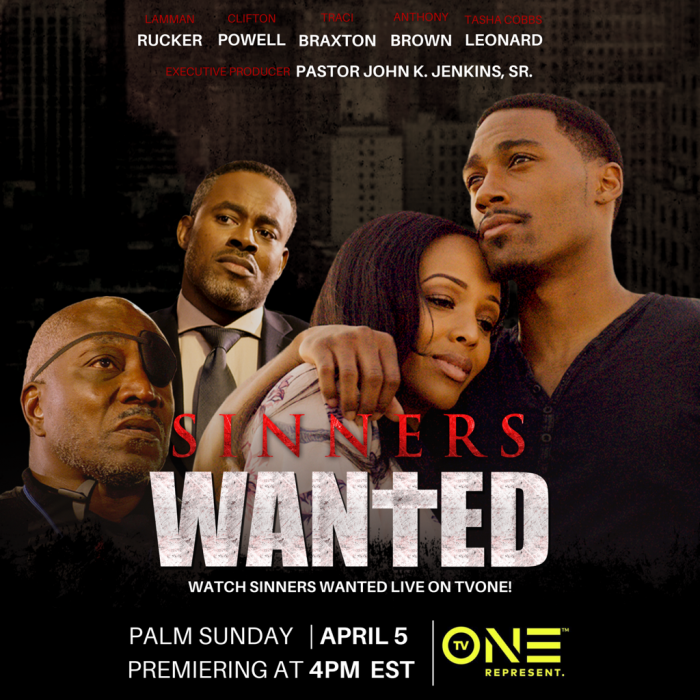 Hello World,
Still, no word on when OWN's "Greenleaf" is returning but the actors from our favorite church drama series are making moves…
TV One celebrates Holy Week with the cable-television premiere of SINNERS WANTED on Palm Sunday, April 5 at 4 P.M. ET/3C with encore airings on Saturday, April 11 at 12 P.M. EST/11C and Easter Sunday, April 12 at 4 P.M. EST/3C. The award-winning film features an all-star cast ensemble including Lamman Rucker, Traci Braxton, Clifton Powell, Roland Martin, Tasha Cobbs-Leonard, Joseph Curtis Calendar, Hope Blackstock, Tiana Melvina Woods, and Nasir Rhamim.
The movie tells the story of Leo Shepherd (Kenneth Wayne), an unconventional pastor ridiculed by his hypocritical congregation after rescuing and falling in love with Gigi (Ashley Rios), a woman with a troubled past.
"When asked to produce Sinners Wanted it was a no brainer," said Executive Producer Tressa Azarel Smallwood of MegaMind Media. "I knew that a movie addressing forgiveness and judgement teetering around a pastor marrying a prostitute would change the thinking of many. This movie had to happen and partnering with TV One was genius on behalf of all involved."
"I am very proud of my sons effort in producing this story," remarked Pastor John K. Jenkins, First Baptist Church of Glenarden, Washington, DC. "This film will help the next generation understand what God's Love truly means. It's amazing how they took the biblical story of Hosea and Gomer and made it present day. I encourage church communities all over to country to see it."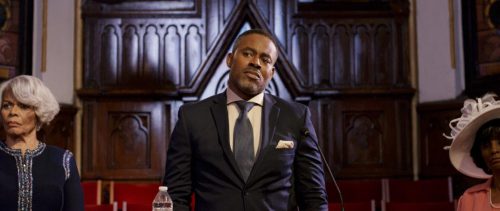 SINNERS WANTED follows the journey of Leo Shepherd (Wayne), a young vibrant minister from Macon, Georgia, who relocates to Washington, D.C., for an opportunity to pastor Grace Community Church. On his first day, Leo meets a prostitute named Ginger "Gigi" Clementine (Rios). (So this movie has a Gigi too?) Ironically, Leo is immediately drawn to her as she reminds him of his mother. They begin to grow closer and their feelings become stronger. The church finds out about the budding relationship and immediately voice concerns about the impact of the woman's past on the church's image. Despite the congregation's outcry, Leo continues to pursue Gigi and falls deeply in love, eventually asking for her hand in marriage. Their holy union, however, turns out to be catastrophic and reveals both Leo and Gigi's past.
"It's interesting to see what Leo and Gigi do, and whether or not they are gonna make it," commented Lamman Rucker. "I think it's a good script and it shows that Josh and Jimmy have alot of potential in writing good stories."
Here's the trailer:
For more information visit TV One's YouTube Channel and check out exclusive, behind-the-scenes content on www.tvone.tv. Viewers can also join the conversation by connecting via social media on TV One's Twitter, Instagram and Facebook (@tvonetv) and Facebook using the hashtag #SINNERSWANTED.
In Other News: Lovie Simone aka Jacob Greenleaf's daughter Zora has been cast in "Power Book III: Raising Kanan," according to Variety. "'Power Book III: Raising Kanan' at Starz continues to build out its cast with the addition of Lovie Simone, Variety has learned exclusively. The series will explore the early life of "Power" character Kanan Stark, played in the mothership series by Curtis "50 Cent" Jackson. She joins previously announced cast members Mekai Curtis, Patina Miller, Omar Epps, and Hailey Kilgore." Read more HERE.
Also, Bishop Greenleaf aka Keith David starred in a recent episode of "NCIS: New Orleans" according to cheatsheet.com. "The latest episode of NCIS: New Orleans, "Biased," tackled a difficult topic. When an NOPD officer shoots a black Navy officer he believed is armed, tensions rise. The procedural drama touched on racial disparities, pitting Dr. Loretta Wade (CCH Pounder) against her new love interest, Gene Holloway, played by legendary actor, Keith David. Who is David and what else has he done?" Read more HERE.
And y'all, I think I saw Sophia Greenleaf aka Desiree Ross AND AJ aka Jacob Gibson on some shows as I was going through channels recently…What's going on? Shouldn't they be filming more episodes of OWN's "Greenleaf" that we can watch now?!!!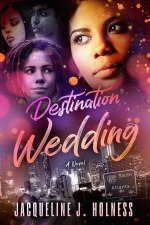 But if you're in need of a church drama fix now AND you like my OWN "Greenleaf" recaps, check out my debut novel Destination Wedding which features Minister Jarena Johnson (a mistress minister is what I call her!) who dates married men even as she teaches Bible Study at her church. Some of her antics would even catch Lady Mae and Gigi by surprise! The paperback is on sale for $7.93 today and the e-book costs $5.99 on Amazon! Click HERE. 
Any thoughts?
Comments
comments