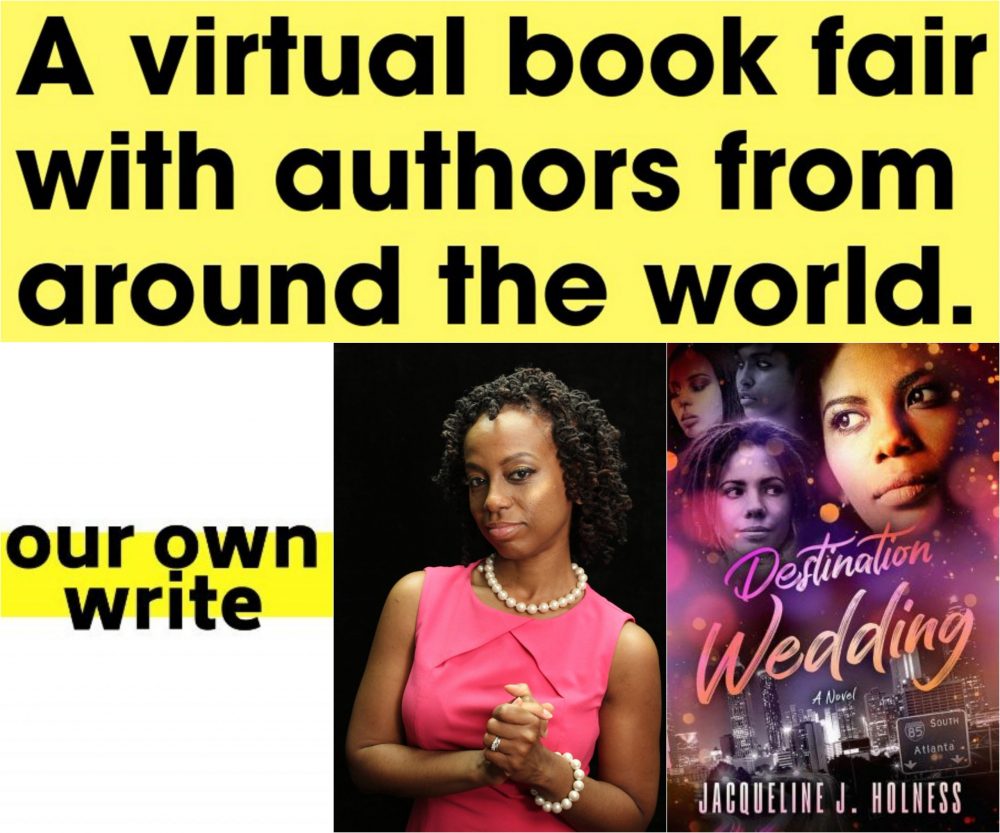 Hello World,
So as the world is still navigating the COVID-19 pandemic, I'm reasonably sure that every industry has been affected in some way. One industry that has definitely been negatively impacted is the book publishing industry. Authors typically are able to promote their work in person at various book fairs, festivals, signings and other book-related events throughout the country and the world. Although I'm just a debut novelist as the author of Destination Wedding, I, too, was scheduled for various appearances that have now been cancelled. (Don't cry for me Argentina though. There are worse things to be upset about but…I'm just sayin'…)
But thankfully, one organization – Our Own Write – has taken it upon itself to help authors who have found themselves without in-person events such as book fairs through its Virtual Book Fair!!! Below is Our Own Write's story:
As any great movement does, Our Own Write started with one woman and a box of books.

In the midst of the current pandemic, many authors from the Twitter #WritingCommunity are experiencing cancelled book tours and fairs, and closed book stores and libraries. They can't sell their books using traditional methods for the foreseeable future—so it's time to get creative.

That's where we met Rachel Churcher, YA author from the UK. Her biggest book event of the year was cancelled, and she wasn't sure what to do with the boxes of her own books that were waiting to be hauled to the event. After chatting with Rachel and a few other authors, Our Own Write was born just days later.

Our #VirtualBookFair is a way to connect authors like Rachel with their readers, while giving everyone a chance to engage their global community and share their love of art.

These are strange times, and strange times call for creative re-thinkings of the norm.

Won't you establish a new normal with us?
Isn't that awesome? And you know what else is awesome?! I'm one of four writers who will be reading an excerpt of our work tomorrow on Twitter as a part of Our Own Write's #VirtualBookFair!!! So join me at 9:30 a.m. EST on Twitter on my account @jackiehwrites to watch me read an excerpt of Destination Wedding! And if you have read Destination Wedding, please suggest a passage that I should read!!! Comment or send me an email at jacqueline@afterthealtarcall.com.
Finally, I will be having a hectic 24 hours as I will be watching the Season 5 premiere of OWN's Greenleaf which starts tonight at 9 p.m. and recapping the episode afterward!!! (Will I get any sleep tonight? Pray for me!!!) And if you want to find out behind-the-scenes details about Season 5 and the Greenleaf Spinoff, read:
OWN 'Greenleaf' Creator Craig Wright & Executive Producer Kriss Turner Towner Share How 'Greenleaf' Started, Secrets from Season 5 & the Spinoff & MORE (MY INTERVIEW)
if you haven't already…
Any thoughts?
Comments
comments