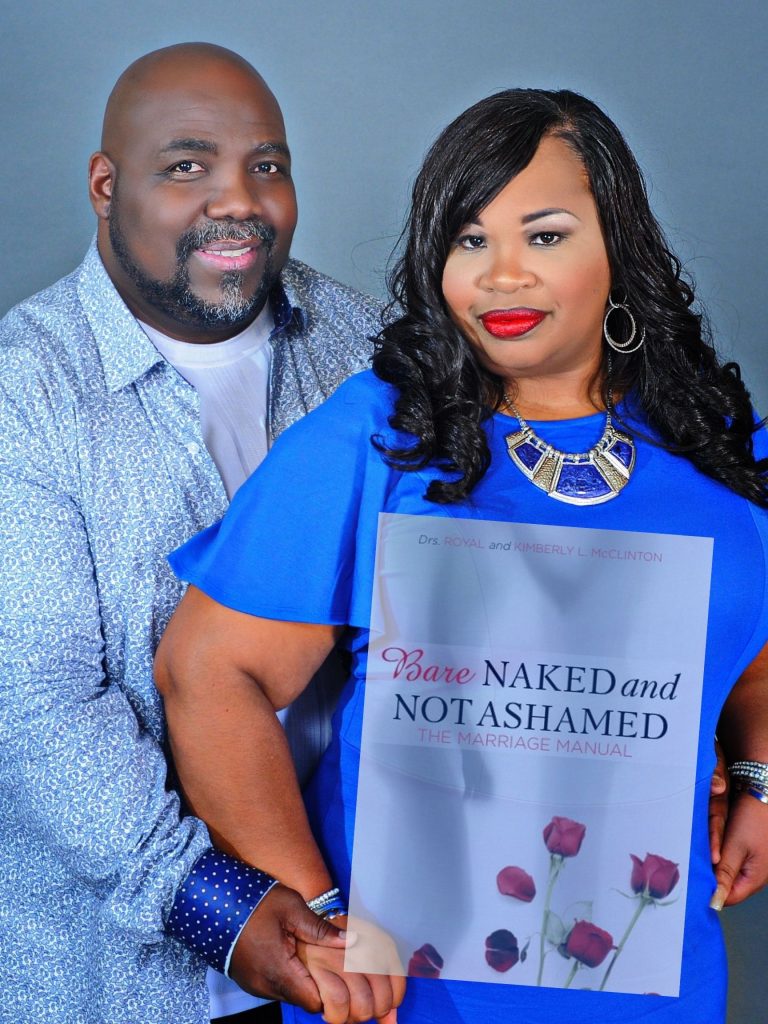 Hello World,
It's common knowledge that half of all marriages end in divorce. Recent figures have shown that divorce in the church is high as well. The failure of marriages not only leaves dreams dashed but it also leaves lives crushed. Having experienced divorce themselves – after 20 years of marriage, Drs. Royal & Kimberly McClinton, pastors of the Chicago-area church, Life in Christ Family Worship Center International, understand the challenges that couples face in keeping a marriage together. They also know with the help of the Lord broken marriages can be healed. Their own testimony of remarriage, after 4 years of divorce, is a testament to hard work, strong commitment and an unshakable faith. Now celebrating thirty-five years of marriage, they are inspired to help other couples "keep it together".
"We have been counseling couples for years and decided to put what we've been sharing in a book, Bare Naked and Not Afraid: The Marriage Manual," says Dr. Kim. "People were regularly encouraging us to share our testimony and they wanted us to write a book so that they could come back to the information from our counseling sessions or our Bare Naked and Not Ashamed Conferences. We also realized that we have a voice and if we can help others through a book, we wanted to do it."
Initially, they pondered writing two separate books, but Dr. Royal believed it would be more impactful if they wrote a book together. He says, "In addition to people asking us to write a book, the Lord really impressed upon our hearts to share what we had learned – through our first marriage, our divorce and our remarriage. We want to help others through the hard times and the challenges that come in marriage. We also desire to help those who want to marry and those who are engaged. We want to make sure couples are aware of the realities of marriage; we told them the truth so that they aren't surprised after the wedding is over."
Apostles McClinton have chronicled the lessons they've learned through their marriage journey in Bare Naked and Not Ashamed. Throughout the book, the couple reveals the realities of marriage that few choose to delve into. Starting with God's intention for marriage and focusing on topics like oneness and partner expectations, they provide tools for couples seeking to begin their journey off right. Conflict resolution and the acknowledgement of spouses' strengths and challenges are mentioned, too, and they tackle that dreaded word, submission, explaining the true meaning behind it. One of the most powerful insights is the couples' description of love – not the world's definition of love, but the sacrificial, agape love that is described in 1 Corinthians 13.
Their testimony of marriage, divorce and remarriage is one that is needed and is important to be shared in the church. Dr. Royal McClinton grew up in the church; he knew he was called to serve others from his youth. The son of a pastor, as a child, he had a strong desire to serve in ministry, helping others. Very familiar with the inner workings of the church, the Chicago native was the youngest of five boys and was ordained as a Deacon in 1989 at Bread of Life Church of God in Christ in Chicago, IL. Later he became a licensed minister and then in 2011, he was ordained pastor.
Prior to becoming the Senior Pastor of Life in Christ Family Worship Center International in Sauk Village, IL, he held a variety of positions including Bible Class Teacher, Sunday School Teacher, Fellowship Administrator, Board Member and Pastoral Armor Bearer. Dr. Royal has majored in Early Childhood Development at Chicago State University and obtained his Bachelor Degree in Theology; he received his Masters and Doctorate Degrees in Philosophy: Theology through New Life Theological Seminary/The Williams-Clemson-Davis Bible College.
Apostle Kimberly McClinton, Pastor of Life in Christ Family Worship Center International, was also raised in Chicago.  Raised by a mother who was a practicing Pentecostal and a father who was a committed Catholic, faith was a major part of her life. A lover of Word of God, she enjoyed sharing the Bible with others. She was licensed as a minister in 2001 at To God Be The Glory Ministry. Like her husband, she's held numerous positions in the church including Church Administrator, Choir President, Section Leader, Praise and Worship Leader, Bible Class Teacher, Youth Teacher, Fellowship Administrator, Board Member and Trustee. In addition, she is an ordained Prophetess, Apostle and Pastor.
She launched Pure Life Bible Institute, an accredited Bible college, offering degrees through the Midwest College of Theology and attended Chicago State University and DePaul University. She is a recipient of Masters and Doctorate Degrees in Philosophy: Theology through New Life Theological Seminary/The Williams-Clemson-Davis Bible College. An entrepreneur at heart, she is the owner of both Completely Yours Events and Stationery and Earnest Ease, LLC. Dr. Kim is a singer/songwriter, having released her debut CD entitled, Restored, in 2018. She holds the positions of Board Member for ReFresh Global, as well as the Chief Operating Officer of Psalmist Raine Ministries.
Together, Dr. Royal and Dr. Kimberly McClinton aim to stop divorces in their tracks.
Any thoughts?
Comments
comments