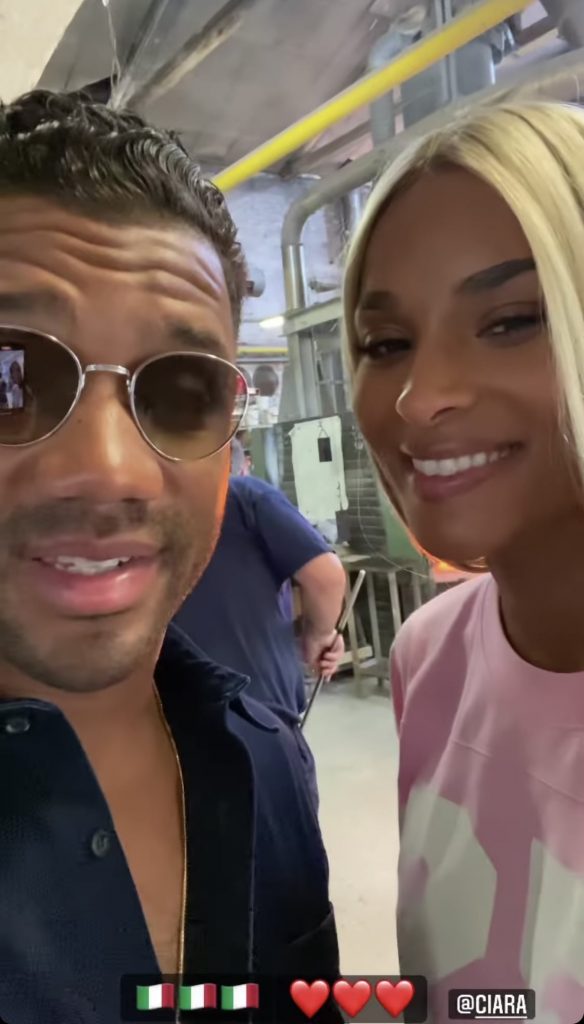 Hello World,
In more Ciara news, since I shared with you that Ciara is on Maverick City Music's album "Jubilee: Juneteenth Edition" on Wednesday, apparently Russell Wilson surprised Ciara with a fifth wedding anniversary getaway to Venice, Italy!  See an excerpt of the ESSENCE article "Russell Wilson Surprised Ciara With A Romantic Getaway To Venice For Their Five-Year Anniversary" by Victoria Uwumarogie followed by a few photographs from the trip!
Ciara and Russell Wilson are celebrating their fifth wedding anniversary today (July 6) and what better way to do it than living it up in Italy?

The celeb power couple jetted off to Venice to take in the the sights and sounds of the northern city. It all happened, according to Ci Ci, after Russell told her "Pack your bags….We're going to Italy." They enjoyed fine Italian dining (including a variety of delicious pastas), did some shopping for souvenirs (parasol shopping for Sienna), rode in a gondola where an accordion player and singer serenaded them, and stopped at a glassmaker's shop to get a heart made to commemorate their anniversary.

As there are no roads, only canals and footpaths, they took a luxurious boat everywhere and dressed to the nines (including Russell in his Good Man Brand brand, made in Italy) for just about every outing. The latter choice made sense as photogs were following them across the city and they also had their own personal photographer in tow throughout the trip. See more HERE.
POETIC. Year 5. @Ciara 🇮🇹 pic.twitter.com/mcQM5GqBWc

— Russell Wilson (@DangeRussWilson) July 6, 2021
The Canal Life. 🇮🇹
5 Year #AnniversaryTrip pic.twitter.com/j4cUsngkpj

— Russell Wilson (@DangeRussWilson) July 5, 2021
Venice Nights. @Ciara 🇮🇹 pic.twitter.com/ZO6X1WKjIH

— Russell Wilson (@DangeRussWilson) July 5, 2021
A few things: I wonder what it's like to have a personal photographer capturing your every moment? It's hard to imagine that five years has passed by. It seems like yesterday that I wrote, "The Top 10 Christian Clichés to Congratulate Christian Couple Russell Wilson & Ciara on Getting Engaged!!!" I truly love that they flaunt their love in such an extravagant way because we need examples of married black couples loving each other…
Any thoughts?
Comments
comments