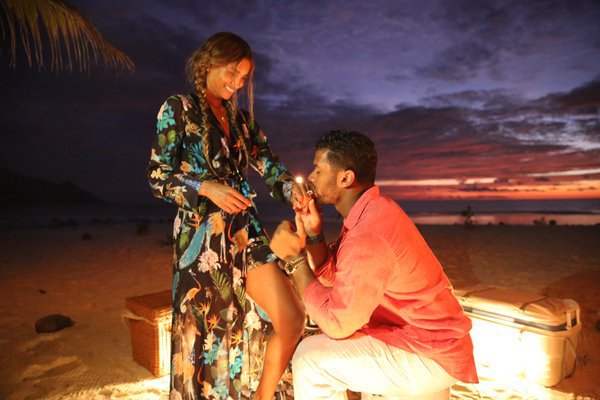 Hello World,
Everyone loves a good comeback story! I think that's part of the reason the Innanet went crazy on Friday when Seattle Seahawks quarterback Russell Wilson announced that he and singer Ciara are finally engaged!!! They've been on everyone's radar since they showed up at the annual White House Correspondents' dinner last April together. From the beginning, they seemed to be a couple that makes sense. According to the ABC News article "Inside Seahawks QB Russell Wilson and Ciara's Relationship," Russell said, "She's been through some heartaches, I've been through some heartaches. I was married before. I married the person I was with in high school."
And they truly have been through some heartaches for all of the public to see unfortunately. Ciara and her former fiancé rapper Future got engaged in October 2013 (She even appeared on the cover of Brides magazine in August 2014), she announced she was pregnant with their baby on The View in January 2014 and by June 2014, the couple broke up allegedly because Future cheated on her. Meanwhile, although Russell Wilson and his ex-wife Ashton Meem were high school sweethearts and had been together four years when he proposed in August 2010, they divorced after two years of marriage in April 2014. There have been rumors that his ex-wife had an affair with one of his former Seahawks' teammates.

Last July everyone marveled when Russell revealed in an interview with Pastor Miles McPherson from The Rock Church in San Diego, California that he and Ciara had opted to be celibate in their then dating relationship of five to six months. He explained his reason for wanting to be celibate. "For me, I knew that God had brought me into her life to bless her and for her to bless me and to bless so many people with the impact that she has, that I have. We're not gonna be perfect, by any means. Life's not perfect. Nobody's perfect, but he's anointed both of us, and I know that He's calling for us to do something miraculous, something special. I said to her, and she completely agreed: 'Could we love each other without that?' If you can really love somebody without that, then you can really love somebody."
Everyone including Ciara's ex had something to say about it. In a Huffington Post interview with Marcus Lamont Hill, Future said that while God never told him to wait for sex, Ciara did say she wanted to pray when the deed was done. "God told me something else. He ain't tell me to wait. I guarantee you that," Future said. "We prayed afterwards though. After we did it, we prayed. That's a true story." And Future kept talking too after that interview, criticizing Ciara for having their son Future Jr. around Russell and her parenting skills. Basically, he proved the lyrics of her song "I Bet" to be true. And Ciara is not having it!. It was announced last month at Ciara is taking Future to court, suing him in a $15 million lawsuit for libel and slander.
Whew…that made me tired from just typing all of that…
But despite the relationship drama that both Russell & Ciara have been through in their past, it looks like better days are ahead since they are engaged. And since Christians come up with the best clichés or slogans to explain away rough times, I thought I would list the most popular ones to congratulate the cute couple!

Below is the Instagram Russell posted on Friday of their engagement…so sweet…
Won't He Do It For Real?!
Any thoughts?
Comments
comments