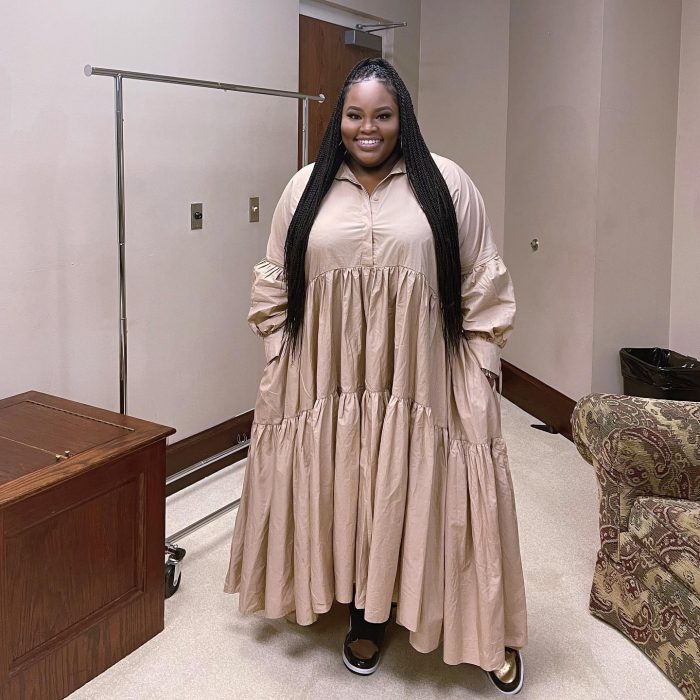 Hello World,
On the same day that Lizzo cried on an IG Live video about "fat-phobic" "racist" and "hurtful" comments directed toward her after she released her new song "Rumors" featuring Cardi B., in the gospel music world, Tasha Cobbs Leonard also received some negative comments after she posted pictures of herself in a new dress. Below are some of the negative comments:
Beautiful dress but it's too much for an already big person.

You are beautiful young lady But that dress does you no justice. Those kind of styles make you look two sizes larger. That's why I don't wear those type. Just being honest with love. Blessings 

Tasha, I love you and I love your music – every song. I am not trying to put you down or anything, I am just being honest in a loving way. The color of the dress suits you very well but the style is not for you. I have seen you in some gorgeous gorgeous outfits!

This dress is really ugly but she is beautiful.

Y'all stop trying to butter up her cookie… you know this dress is wrongly made for her.

Agreed. It's not made well for her. Looks like she's in a curtain.

When I first saw the dress I kept thinking float, ugly and wrong that dress is not cute it's too much fabric and she need to go back to wearing clothes that snatch her body into shape not tents.
Despite the negative comments, most of the comments were overwhelmingly positive. Below is the Facebook post…
As someone who has struggled with body image issues over the years, I hesitate to comment specifically on these types of issues, but my basic thought is: If you like it, I love it. However, because your girl is thick from the waist down, I tend to wear form-fitting clothing to make me look more "snatched." Sometimes, they are too form-fitting for my husband's tastes, but I have to live and be confident in this body, not him so…
Regarding Lizzo though, Jill Scott is a beautiful curvy woman and has never received the feedback that Lizzo has…I wonder why…anywho, I digress…
But what say you?
Any thoughts?
Comments
comments