Hello World,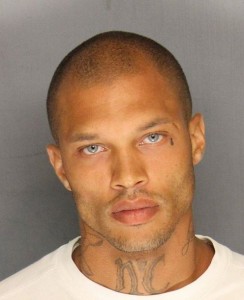 Every once in a while so many Christian news stories cross my path that I cannot devote a singular blog post to any of them…I MUST include them ALL…What you will read next ranges from righteous to ratchet…Some of the stories may inspire you and some may just cause you to shake your head…All of them are worthy of perusal to read on…
1. Jeremy R. Meeks aka Fine Felon aka #FelonBae aka Dreamy McMug Shot has been blowin' up the Innanet since the Stockton, California Police Department posted a mugshot of the 30-year-old felon on its Facebook page on Wednesday. The picture of Meeks, who was arrested for felony weapon charges, was posted as a part of the department's Operation Ceasefire enforcement mission. Little did the department know this post would have fired up a viral storm of women from all over the world declaring their "admiration" for the blue-eyed, gun-toting, practicing Christian of seven years…At least, that's what his sister said…Yes, the fine felon is also saved… Hallelujah! Say Amen! LOL…Read more at The Christian Post…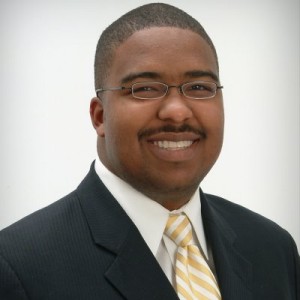 2. There is almost nothing more unsettling than a Christian crook…especially one that that uses the church to steal money…And then again, the first treasurer of the church, Judas, was a Christian crook and stole money…Thankfully, there is one less Christian crook stealin' folks money through the church…It was announced last Tuesday that Efren Taylor II was arrested on a federal indictment…According to an article on ABC News, "some congregants from some of the most prominent mega-churches, including Bishop Eddie Long's New Birth Missionary Baptist Church in Lithonia, Ga., and Joel Osteen's Lakewood Church in Texas, turned over their life savings to Taylor. The DOJ claims that more than 80 people from Georgia alone lost more than $2 million because of Taylor's scheme." I don't want to judge, but I have to wonder did the Holy Spirit tip any of these Christians that this man was a thief…What about the gift of discernment?
3. While Actress Meagan Good was promoting the movie "Think Like a Man Too," which came out this weekend, she also discussed her forthcoming book with husband DeVon Franklin, a minister and vice president of production for Columbia Pictures, entitled "The Wait" on Jimmy Kimmel…Good and Franklin waited until they were married to have sex…Simultaneously, Good has been criticized for her sexy attire and belief that Christians can be sexy…Rolling Out has a new interview with Good in which she fleshes out her belief…Do you think that Good can promote being sexy yet advocate being celibate unless married at the same time?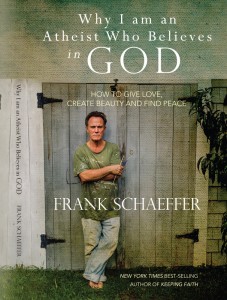 4. Apparently, Frank Schaeffer, son of famous American evangelicals Francis and Edith Schaeffer who founded Switzerland's L'Abri, is now an atheist who believes in God according to his new book "Why I aAm an Atheist Who Believes in God,"…I actually enjoyed Schaeffer's book "Crazy For God" in which which he reveals his conflicted views about the church…but now he is saying he is an atheist?! That's just asinine…Read more at The Huffington Post… 
5. In other atheist news, "Tim Lambesis, lead singer and founder of Christian metalcore band As I Lay Dying, recently confessed that he and other members of his band had become atheists but kept claiming to be Christians so they could keep making money selling records to Christians," according to an article on The Christian Post…Lambesis, who was recently sentenced to prison for attempting to order a hit on his estranged wife (Yes, I actually typed that), said that most Christian bands he met had similar beliefs!!! Again, I'ma need my fellow Christians to pray for more discernment…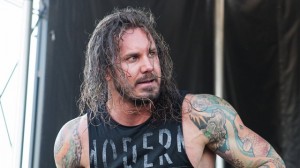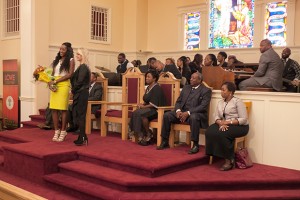 6. In positive Christian news, have you ever heard of the new GSN dating show "It Takes a Church" The show, hosted by Natalie Grant, debuted earlier this month…Here is the description from the website : Each week, IT TAKES A CHURCH visits a congregation from across the country to surprise one unsuspecting single with the news that they're about to be saved from the dating world. The church's Pastor will task their congregation of cupids, to find the best possible matches for the dater, but in the end, our single will decide which suitor to put their faith in. The congregant who brought the chosen suitor will make a difference to their church by winning a donation on its behalf. The new show already has a lot of fans including Gospel Artist Donnie McClurkin…Here is Elev8's article about the new show…
7. President Obama showed up in the most unlikely way at the The Faith and Freedom Coalition's Road to Majority Conference on Friday…According to TIME Magazine, "small figurines of Obama's head, first spotted by the Huffington Post's Igor Bobic, were placed inside the urinals in the mens' restroom outside the conference hall." One has to wonder what faith these attendees have if they allowed such a filthy and degrading depiction of our nation's president to be a part of the conference?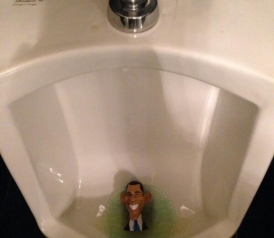 Any thoughts?