Hello World,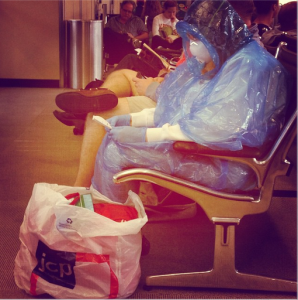 It's time to get back in the Word again…I live in metro Atlanta…yes, that's right…Ground Zero for Ebola treatment in the entire United States of America…
I have started carrying hand sanitizer and every time someone sneezes or sniffles near by me, my mind starts spinning all kinds of dramatic scenarios…What if she has Ebola? What if he has been in contact with someone who has Ebola? What if she is a family member of the nurse who has been transported to Atlanta for care?
I have even considered walking around like this…
ok what MT @AlexPappas: Photo of passenger at Dulles waiting for flight — wearing Hazmat suit http://t.co/urLycHlqZe pic.twitter.com/7iHAkK3k2D

— Bradd Jaffy (@BraddJaffy) October 15, 2014
So when my F.E.A.R. (False Evidence Appearing Real) of anything starts getting bigger than my faith in Jesus…It's time to get back in the Word and dispel it…Below are a few verses to help me and you when we are tempted to make our own hazmat suits, avoid the area of town where the CDC and Emory are located or stay home altogether…
I sought the Lord, and he answered me and delivered me from all my fears. Psalm 34:4…
The Lord is my light and my salvation—whom shall I fear?The Lord is the stronghold of my life—of whom shall I be afraid? Psalm 27:1
When I am afraid, I put my trust in you. Psalm 56:3
Even though I walk through the valley of the shadow of death, I will fear no evil, for you are with me; your rod and your staff, they comfort me. Psalm 23:4
For God hath not given us the spirit of fear; but of power, and of love, and of a sound mind. 2 Timothy 1:7

Do not be afraid of those who kill the body but cannot kill the soul. Rather, be afraid of the One who can destroy both soul and body in hell. Matthew 10:28
For you did not receive a spirit that makes you a slave again to fear, but you received the Spirit of sonship. And by him we cry, ""Abba," Father." Romans 8:15
These verses help me to realize that my life and times are in God's hands alone…God had an appointed time to bring me here and even though I don't like to think about it, God has an appointed time for me to leave here…In the mean time, I will trust God and carry hand sanitizer…In other words, I trust God and I use the common sense that He gave me, but outside of that, that is all any of us can do…at least individually…
But here is something we can do collectively…let's pray for those in West Africa who are suffering from Ebola, pray for those in the healthcare industry all over the world (my husband is in the healthcare industry), pray for those nurses here in the U.S. who are sick with Ebola and pray for the family of Thomas Eric Duncan (Read a touching article about his funeral in The New York Times )and all families who have lost members of their family due to the deadly virus…and sending some money to worthy and reputable organizations who are combating Ebola wouldn't hurt either…
Any thoughts?